The convenience of a reliable microwave is a luxury many homeowners cherish. When these trusted appliances succumb to age-related wear and damage, you need a reliable service professional. That's where Mr. Appliance of Leesburg and Martinsburg comes in with our trusted microwave oven repair service in Leesburg and Martinsburg, VA.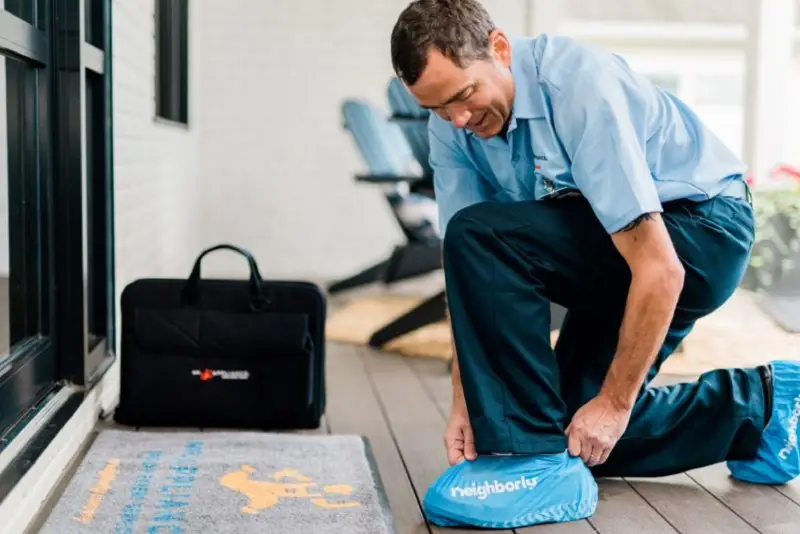 Restore Your Microwave With Ease
Potatoes, eggs, corn on the cob, and many other dinner favorites are made easy with the help of your trusty microwave oven. That's why when microwave repair becomes a reality for your home, Mr. Appliance of Leesburg and Martinsburg is here to provide prompt and efficient microwave repair service to get you back to pleasant meal preparations in no time.
Detail-Oriented Microwave Oven Repair Service
Our microwave oven repair is fast without compromising on quality. We offer a range of common microwave repair service options to accommodate all of our customers' microwave repair demands, including the following:
Microwave transformer replacement
Microwave circuit board replacement
Microwave control panel replacement
Microwave oven door latch repair
Microwave door replacement
Opt For the Best Microwave Repair
Eliminate the need to search for microwave repair service near you and rely on the time-honored service professionals at Mr. Appliance of Leesburg and Martinsburg. Backed by years of experience and an unwavering dedication to premium microwave appliance repair, we offer exceptional services that get you back to normal as soon as possible.
Types of Microwave Repair We Provide
Mr. Appliance of Leesburg and Martinsburg provides a wide selection of microwave repair service options to accommodate microwave brands, including GE, KitchenAid, Whirlpool, Maytag, and Samsung. Furthermore, we are well-versed in different microwave styles, including:
Drawer-style, slide-out microwave repair
Countertop microwave repair
Over-the-range microwave repair
Built-in microwave repair
Symptoms of Microwave Oven Malfunction
It's not always obvious how big of a role your microwave plays in your life until you suddenly can't use it. When a microwave repair service is needed, you will likely detect one or several of the following:
The microwave will not turn on despite being plugged in
You notice sparks inside your microwave when in use
The microwave turntable will not rotate
The microwave will not heat food adequately
The touchpad is not working
Microwave Repair Service Parts
When it comes to repairing and replacing damaged components during a microwave repair service, Mr. Appliance of Leesburg and Martinsburg has you covered with premium-quality replacement parts, including the following:
Lights
Fuses and switches
Capacitors
Fan motors
Tray motors
Drive bushings
Diodes
Stirrer belts
Magnetrons
Microwave Oven Repair FAQ
When pursuing a microwave oven repair service, you may have questions and concerns regarding your upcoming service. That's why our trusted service professionals have compiled a helpful microwave repair FAQ to guide you through the process with ease, so you can feel confident when you rely on our microwave appliance repair service.
Can You Repair Microwave Holes?
If you have a hole inside your microwave, a microwave repair may not be the most suitable solution to remedy your problem. In these cases, we suggest a microwave replacement to promote total safety and enhanced performance that brings comfort to your home.
How Do I Get Rid of the Burnt Smell in My Microwave?
If Using dish soap and water, scrub the inside of your microwave. Then plug in the microwave, place a cup of water with an optimal tablespoon of vinegar or lemon juice inside, and turn it on for three minutes to loosen debris and clean it again.
How Do I Make My Microwave Quieter?
If the beeping or dinging noise is a nuisance to you, you can shut it off. Some models of microwaves have a mute feature that can be enabled with a button labeled as volume or sound. If the unit is older, that feature may not exist.
How Do I Unlock a Child Lock On My Microwave?
If your microwave is locked with a child lock, you can disable the lock by pressing and holding the clear or off button for a few seconds. If this doesn't work, review the owner's manual or contact our service professionals, as it may be a sign of microwave repair.
Schedule Trusted Microwave Appliance Repair Today
If your microwave is not working as it should, Mr. Appliance of Leesburg and Martinsburg is here to remedy your discomfort and inconvenience with trusted microwave oven repair. Contact our friendly team to schedule your microwave repair and request your microwave oven repair service estimate.