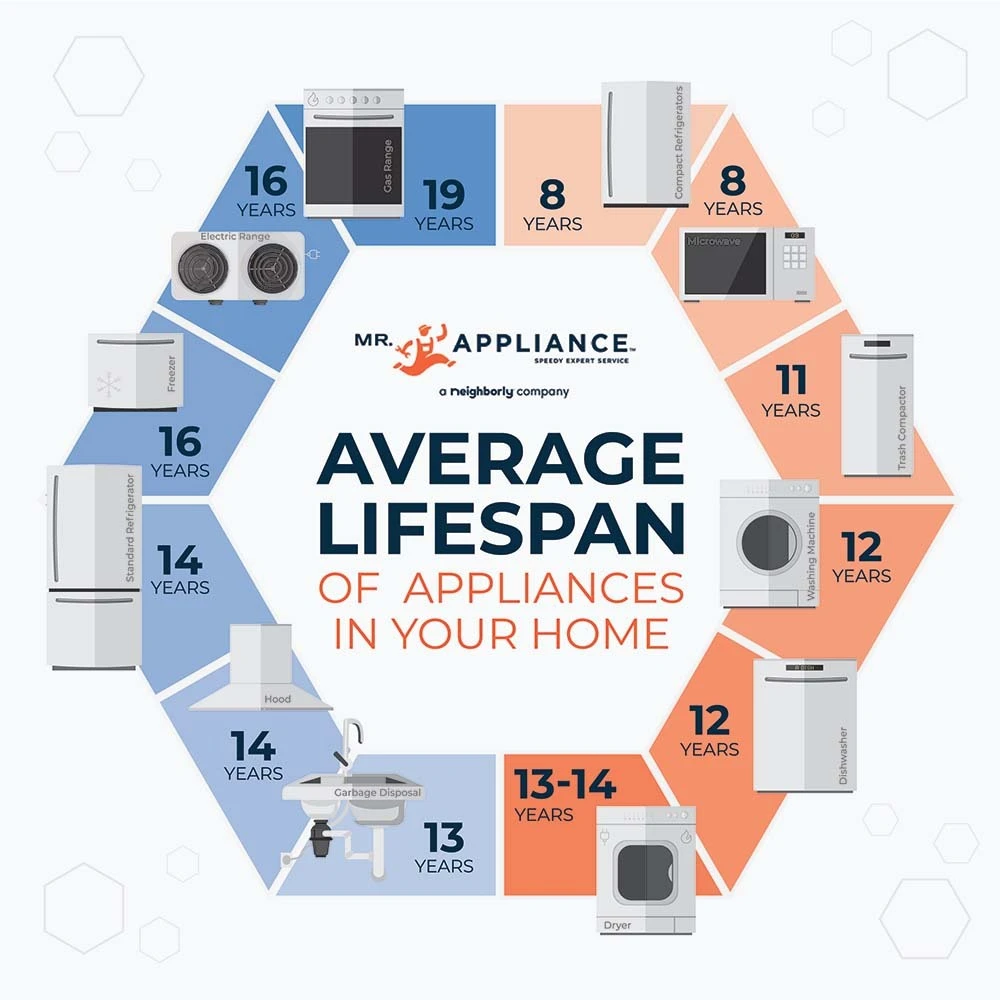 From washing and drying clothes to cooking a holiday meal the entire family will enjoy, we rely on appliances in our everyday lives.
When it comes to fixing malfunctions, professional appliance repair is a lifesaver. Let Mr. Appliance of Clarksville be your trusted local repair company. We're backed by positive reviews and we waive your service call fee if you proceed with our recommended repairs!
Need quick and professional home appliance repair near you? Call us or schedule your service online. We warranty our services!
Why Choose Us for Home Appliance Repair in Clarksville?
Our appliance repair experts provide quality services that include:
Best-in-class supplies, parts, tools, and equipment
Flexible scheduling via our online Service on Your Schedule® calendar
Contactless payment options
1-year guarantee on parts and labor for all repairs
Punctual, uniformed, and respectful repair technicians
Seasonal discounts
Maintaining Residential Appliances with Integrity
In compliance with our "leave no trace" policy, Mr. Appliance of Clarksville restores each residence to its pristine, original condition.
As a proud member of Neighborly®, we ensure every service is completed according to the standards outlined by the Neighborly Done Right Promise®. When we say we provide flat-rate, upfront estimates that will not change, we mean it. If anything delays or prolongs the repair, we will not charge extra for the additional time and work.
For residential appliance repair in Clarksville, call us today. You can count on us to get the job done right the first time!
Kitchen & Laundry Room Appliance Repairs
We are well versed in servicing every major type and brand of refrigerator, washing machine, and dryer. This experience allows us to navigate tricky scenarios quickly.
In fact, our technicians specialize in repairing all kinds of kitchen and laundry room appliances, including:
Dishwashers
Trash Compactors
Garbage Disposals
Freezers
Ice Machines
Microwaves
Dryer Vents
Licensed, bonded, and background-checked, every member of our team undergoes mandatory screenings during the onboarding process. Whether you are dealing with a defective microwave, a broken ice maker, or a clogged dryer vent, we are here to help.
We can service and repair all major home appliances. Request your service online or call us today. We'll be over in a jiffy to help!
Clarksville Appliance Repair You Can Count On
At Mr. Appliance of Clarksville, we take pride in our work—no matter what home appliance we're repairing. For instance, if you're looking for dishwasher repair near you, our team of dishwasher maintenance technicians will step up to the plate!
We can help with all types of dishwasher repairs, such as these common ones:
A dishwasher that can't clean dishes, such as if it leaves dishes grimy, greasy, or with a strange odor
A dishwasher that won't stop filling
A dishwasher that won't fill or drain
A dishwasher that won't turn on or start at all
A leaking dishwasher
After troubleshooting the problem and getting the go-ahead from you, our local dishwasher repair team will get to work.
Our team is just as skilled in all other types of home appliance repairs!
Home Appliance Repair - FAQ
What are common problems of appliances?
Common home appliance problems can range from small issues, such as clogged hoses and filters, to bigger problems like faulty wiring or compressor failure. Appliances like refrigerators, washing machines and stoves can experience a wide range of difficulties, such as leaks, power supply disruptions and noise.
This is why home appliance repair is often necessary; even when an appliance appears to be running well, there could be underlying issues that need to be addressed in order to prevent more costly repairs down the line.
While many home appliances are made with quality components and are designed to last for years, it is important to regularly assess your home's appliances for any potential problems or signs of damage.
Which appliance breaks down the most?
With residential appliances continuing to proliferate, residential appliance repair services are becoming increasingly important. Depending on the brand and model, certain items seem to break down more frequently than others.
Refrigerators often experience issues due to their frequent use and long run times, while dishwashers can cause problems due to soap accumulation. By far the most common appliance that breaks down is the dryer—clogged filters or broken belts can prevent a dryer from operating correctly, leading many homeowners to invest in residential appliance repairs.
This is why regular maintenance on appliances such refrigerators, dishwashers, washing machines, dryers are important in order to extend its life and save money down the road.
Call us or reach out online for dishwasher repair near you—or any other repair service!