Out of all the appliances in your home, your refrigerator may be the most important. Whether it's storing fresh produce, various dairy products, or your medicine, a malfunctioning or outright broken fridge can spell disaster for you and your family's comfort, health, and safety.
If your fridge is starting to show you signs of trouble or has broken altogether, rely on the team at Mr. Appliance of Clarksville for convenient, reliable, and professional refrigerator repair.
Call or contact us online to repair your broken refrigerator today!
Some common fridge models we can repair include:
Top freezer refrigerators
Bottom freezer refrigerators
French door refrigerators
Side-by-side refrigerators
Compact refrigerators
Single door refrigerators
Counter-depth or built-in refrigerators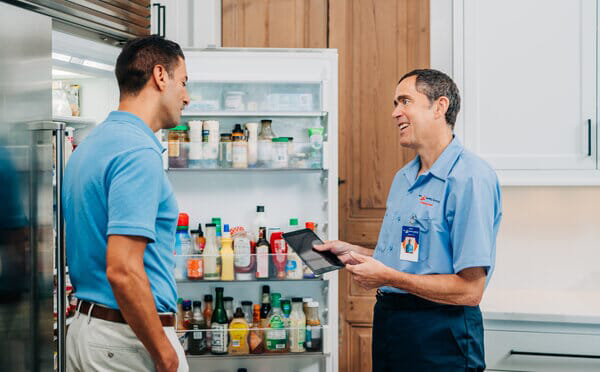 Utilizing our decades of experience, extensive training, and some of the best tools and parts available in the industry, our Clarksville appliance repair technicians are ready to quickly locate the cause of your fridge's problem and provide you with a worthwhile solution.
Early Warning Signs You Need Fridge Repair
While there's certainly a chance your fridge may go out overnight, there's a bigger chance that your fridge will give some indicators that it's time for maintenance.
When you know what to be on the lookout for, you'll have a better chance at getting things fixed before damage is caused to your kitchen and your food spoils.
Some signs that your fridge may need service include:
Loud or excessive vibrations or noises
Continuously running
Premature food spoilage
Any type of leakage onto the floor
Ice accumulating in freezer or fridge
The door is not sealing properly
Increased levels of humidity
A sudden spike in energy consumption
If you have noticed at least one of these early warning signs of fridge trouble, it's important to reach out to our team as soon as possible.
The sooner you give us a call, the sooner our team can inspect your unit and work towards crafting you the perfect solution to get your fridge working properly and efficiently again.
Frequently Asked Questions
Do you offer whirlpool refrigerator repair?
Yes we do! In fact, Whirlpool is only one of the 70+ brands we service!
Need Clarksville residential fridge repair? Call or schedule your service appointment today!