Do you like laundry day?
For some, it's a relaxing process; for others, it's a time-wasting pain. While our washing machines certainly make the ordeal more convenient, things become overwhelming when they don't work as they should.
Gathering a massive pile of dirty clothes, you load them into the machine, pour in the soap and fabric softener, turning the dial to your preferred setting. You press the power button, but nothing happens.
You try again. Still nothing.
Rather than spiral because your plans for the afternoon are in disarray, call Mr. Appliance of Aurora! We offer fast, affordable, and effective washer and dryer repair near you, including Aurora and all surrounding areas.
Need expert washing machine repair in Aurora? We can repair all kinds of washers. Request your service online or call us today.
Same-Day & Emergency Washer Repair in Aurora
When you count on our professionals at Mr. Appliance of Aurora, you can expect:
Prompt arrival times from knowledgeable washer repair technicians in identifiable uniforms
A thorough inspection of your appliance to ensure we find and address all issues
Honest, flat-rate pricing rather than hourly service fees
A job well done with the Neighborly Done Right Promise®
Comprehensive services that cover all major brands
National service standards from a local team
Whether you have a top load, front load, or combination unit, our Aurora washing machine repair team has the expertise to help.
Working around your schedule, our professionals will quickly diagnose the problem and offer solution options to you, along with a pricing breakdown. Before any work begins, we'll ensure you're aware of our findings and the repairs to be done. Soon, you'll be back to your normal routine.
Give us a call us and we will be right over to troubleshoot and fix your washing machine in Aurora.
Frequently Asked Questions
Do you offer Kenmore washer repair?
Yes, we can service and repair Kenmore washers!
Some of the other well-known washer brands we service include:
These are just some of the 90+ brands of appliances we can service.
Should I repair or replace my washer?
With proper maintenance and care, washers last an average of 12 years. In many cases, repairs will work well to get your washing machine running again. But, there are some instances where your machine is past its prime.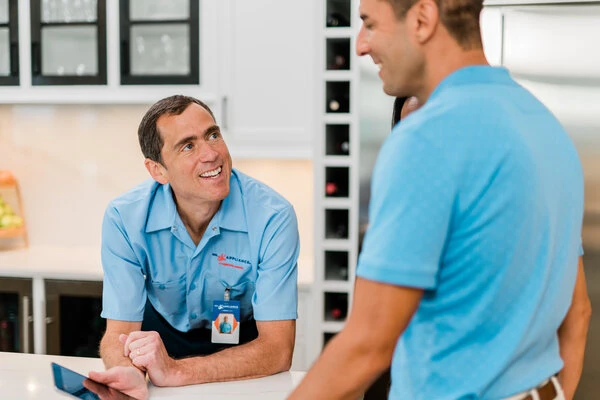 In these cases, a repair becomes a band-aid fix before investing in a replacement down the line. During the inspection, we'll determine the most cost-effective solution for your situation and share our findings so you can make the most informed decision.
For speedy and expert washing machine repair in Aurora, give us a call today or schedule service online.