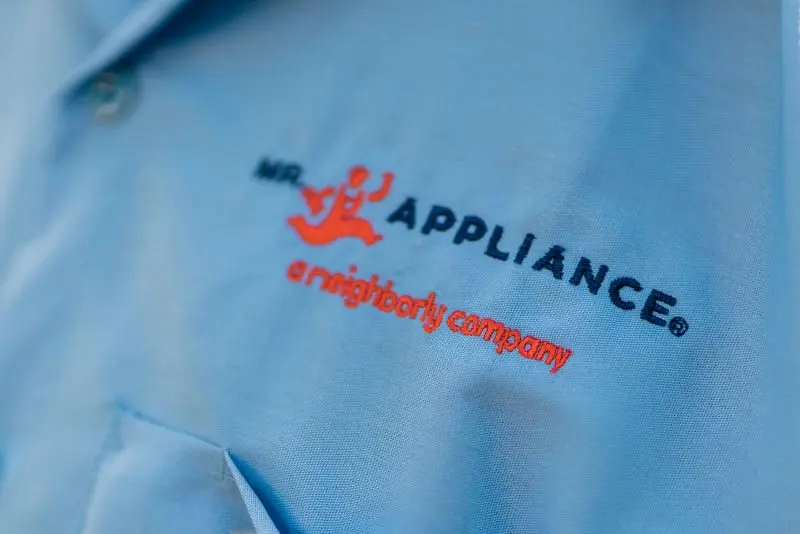 As one of the most used appliances in your kitchen, we understand how frustrating it can be when your dishwasher isn't working correctly. Before you know it, your routine has been interrupted, and your sink is full of dirty dishes. When you experience problems with the dishwasher in your home, you can count on the expert repair technicians at Mr. Appliance of Greater St. Louis. We have years of experience providing professional residential dishwasher repair services for homeowners throughout St. Louis, Ballwin, and Chesterfield, MO.
Whether your dishwasher is leaking or not cleaning your dishes properly, our team will be there to assist with quick, reliable, and cost-effective solutions so you can get back to your regular schedule. We have experience fixing everything from dishwashers that run too long to ones that make strange sounds. To extend the lifespan of one of the most used appliances in your household, we also offer dishwasher maintenance services. Reach out to your local Mr. Appliance of Greater St. Louis today to learn more and schedule an appointment for service!
Common Dishwasher Problems
As a complex appliance with many different working parts, your home's dishwasher can run into several problems. If you're experiencing any of the following issues with your dishwasher, be sure to call Mr. Appliance of Greater St. Louis to schedule professional dishwasher repair:
Dishes Aren't Clean– Do you feel like your dishes aren't as clean as they once were when you take them out of the dishwasher?If your dishwasher is running but not cleaning your dishes properly, you could bedealing with blocked spray armholes, a burned-out heating element, or a worn pump assembly or wash impeller.
Glassware Is Cloudy– You could be dealing with extremely hard water at home if you notice cloudy dishes. If you have hard water and no water softener, it's important to rinse your dishes well before loading them into your dishwasher to avoid cloudy-looking glassware.
Wash Cycles Run Too Long– Is your dishwasher running longer than it should? It might be having trouble finishing the cycle because the thermostat is defective or the timer is malfunctioning.
Dishwasher Hums & Turns Off– A dishwasher that produces a humming noise could mean the motor is defective. Our technicians can help you with repair or replacement if necessary.
Water Doesn't Pump Out– If your dishwasher isn't draining water properly, you might have a worn-out drain solenoid, a clogged drain line, or an issue with the dishwasher's drain impeller.
Dishwasher Doesn't Fill with Water– If your dishwasher is running but not filling with water, it could be due to a failed valve, defective water inlet solenoid, malfunctioning timer, or stuck or defective overflow float switch.
Dishwasher Leaks– If your dishwasher leaks, it could be as simple as using the right type and amount of detergent. Check to ensure the soap you're using won't damage your appliance. Other problems that can cause leaking include worn door gaskets, a leaking pump or motor assembly, or issues with your spray arm assemblies or tub-to-motor gaskets.
Repairing All Major Dishwasher Brands
The team at Mr. Appliance of Greater St. Louis is proud to service all major brands of dishwashers for homeowners throughout St. Louis, MO, and the surrounding areas. Our residential dishwasher repair service is available for the following brands:
GE
Bosch
Whirlpool
KitchenAid
Maytag
We Carry All the Dishwasher Parts You Need
Our professional appliance dishwasher repair service includes the replacement of high-quality parts. The experts at Mr. Appliance of Greater St. Louis carry a wide range of dishwasher parts, including:
Timers
Thermostats
Gaskets
Heating elements
Float switches
Pump assemblies
Solenoids
Wash and drain impellers
Valves
Motors
And more!
Dishwasher Maintenance Tips for Homeowners
One of the best ways to ensure your residential dishwasher lasts as long as possible is by performing regular maintenance on the appliance. Some of the things you can do at home to extend the life of your dishwasher include:
Decrease hard water buildup by cleaning your dishwasher with vinegar every three to four months. You can pour one cup of vinegar into your dishwasher and run a normal wash cycle with no dishes.
Clean your filters regularly and replace them if they're damaged.
Thoroughly scrape off all the leftover food from your dishes before putting them in the dishwasher.
Avoid overloading the dishwasher with too many dishes.
Clean out food residue collected inside your dishwasher by wiping the door seal with vinegar.
Contact Mr. Appliance of Greater St. Louis Today
When you need a reliable, professional team to restore the appliances in your home, we're confident Mr. Appliance of Greater St. Louis is the best choice for the job. Our technicians are highly skilled and have years of experience fixing residential dishwashers throughout St. Louis, Ballwin, and Chesterfield, MO. We'll arrive on time for all scheduled appointments and offer upfront pricing and honest recommendations. We're happy to answer any questions, whether you're curious about the cost of dishwasher repair services or our repair process. The Neighborly Done Right Promise® backs up our work, and you can trust our courteous, uniformed professionals. Contact us today to learn more and schedule your residential dishwasher repair service!