The FDA recommends keeping your refrigerator set at 40° Fahrenheit and your freezer at 0° Fahrenheit. When food is kept at these temperatures, it can safely be preserved. If your refrigerator is set to these temperatures, but it is still not cold enough, then your refrigerator probably needs to be repaired. When food isn't kept at the proper temperature, it will spoil quickly. Storing food in a warm refrigerator can cause you to have to throw out a lot of food that was otherwise good. Luckily, Spencer, Iowa's Mr. Appliance of Spencer knows how to fix a refrigerator that's not cold enough. Learn more about our solutions for when your refrigerator is not getting cold enough.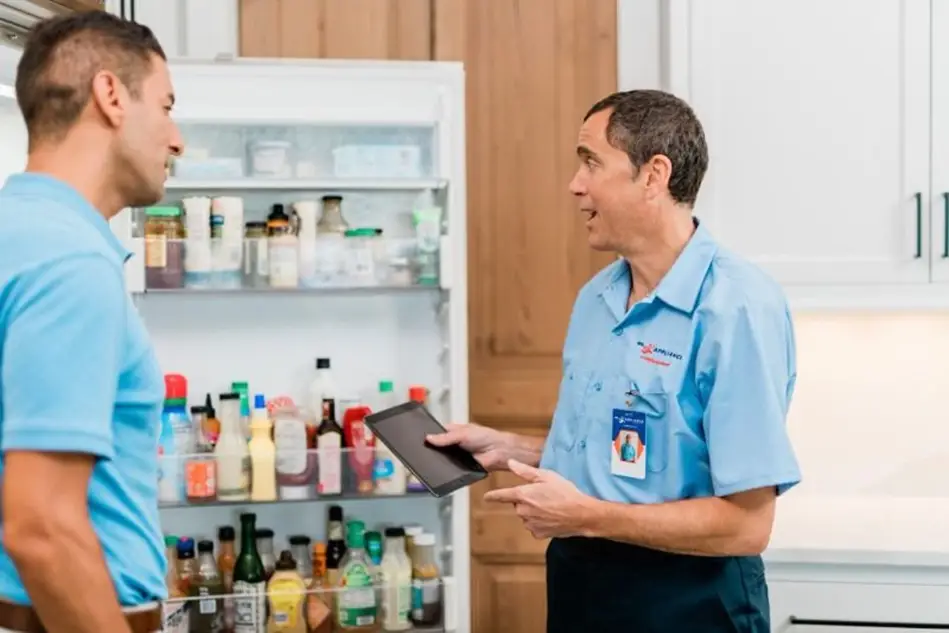 Diagnosing Your Refrigerator's Issue
Diagnosing a broken refrigerator takes experience, training, and a keen eye. However, some of the problems that cause a refrigerator to not get cold enough are simple. When you first notice your refrigerator getting warm, there are a few things you should check. The situation will vary depending on whether your refrigerator is not cold enough, but the freezer works, or if the refrigerator freezer is not cold enough too. Some of the first things you should look for when your refrigerator is warmer than you expect include the following:
Is the Refrigerator Plugged In? – If your refrigerator has been accidentally unplugged, then it will start to get warm. In this case, plugging it back into an electrical outlet can solve the problem.
Is the Thermostat Set Correctly? – Your refrigerator's thermostat controls the temperature. If it's set at the wrong temperature, your refrigerator may be working properly. Side-by-side units have thermostats in the back, while over-under refrigerators have thermostats underneath them.
Is Your Door Closing Properly – When warm air leaks into your refrigerator from outside, it can make it impossible to keep it cool. Check the doors and gaskets to ensure they are firmly closing.
Is Cold Air Circulating? – Often, a stack of Tupperware or a carton of milk will block the vents in a refrigerator. This restricts airflow, which prevents your refrigerator from cooling properly. Reorganize your refrigerator to free up all vents and fans.
These Components Could Be Part of the Problem
When a refrigerator is not getting cold enough, the problem is often a faulty part. Refrigerators are complex appliances that rely on an interconnected network of parts to work properly. When any single part fails, the entire refrigerator can fail to work the way it normally would. Some of the parts that Mr. Appliance of Spencer often needs to replace include the following:
Compressor – A compressor is responsible for pressurizing and circulating refrigerant into your condenser coils. When a compressor breaks, you will usually notice that your fridge is warm even though the fan is still running.
Condenser Coils – Condenser coils expel heat from your refrigerator, leaving nothing but cold air inside your refrigerator. When this component is blocked, clogged, or otherwise damaged, your refrigerator will begin to get warm.
Condenser Fan – When your condenser fan fails, it can cause your compressor to overheat. Condenser fans keep condenser coils and compressors cool while they work. If your compressor is running, your condenser fan should be running too.
Evaporator Fan – Your evaporator fan is responsible for circulating cool air. It pulls air across your evaporator coil, causing it to get colder. When this part breaks, your refrigerator will slowly lose its ability to circulate cool air.
Air Damper – If your freezer is cold enough, but your refrigerator is warm, the air damper is the most likely culprit. This part of your refrigerator controls the flow of cool air between your freezer and refrigerator.
Get an Appointment to Diagnose Your Warm Refrigerator!
Don't get worried about what to do if your refrigerator is not cold enough. Mr. Appliance of Spencer is here to help. We have helped countless homeowners in Spencer, Milford, and Lake Park get their refrigerators and freezers working again. We have quickly become known as the most trusted team in the area, offering a guarantee on all parts and workmanship. Contact us today to schedule an appointment to fix a refrigerator that is not cold enough!