The modern stove has become the most versatile cooking appliance. Whether you need to bake, broil, roast, fry, or grill, you can do it with your oven, stove, and range. Unfortunately, when your stove breaks down, it can disrupt your meal plans for the foreseeable future. Repairing a stove is a job that is best left to the pros, as it often involves working with gas lines, burners, and other delicate components. Mr. Appliance of Spencer offers oven, stove, and range repairs in Spencer, Iowa, and the surrounding areas. Learn more about our oven, stove, and range repair services.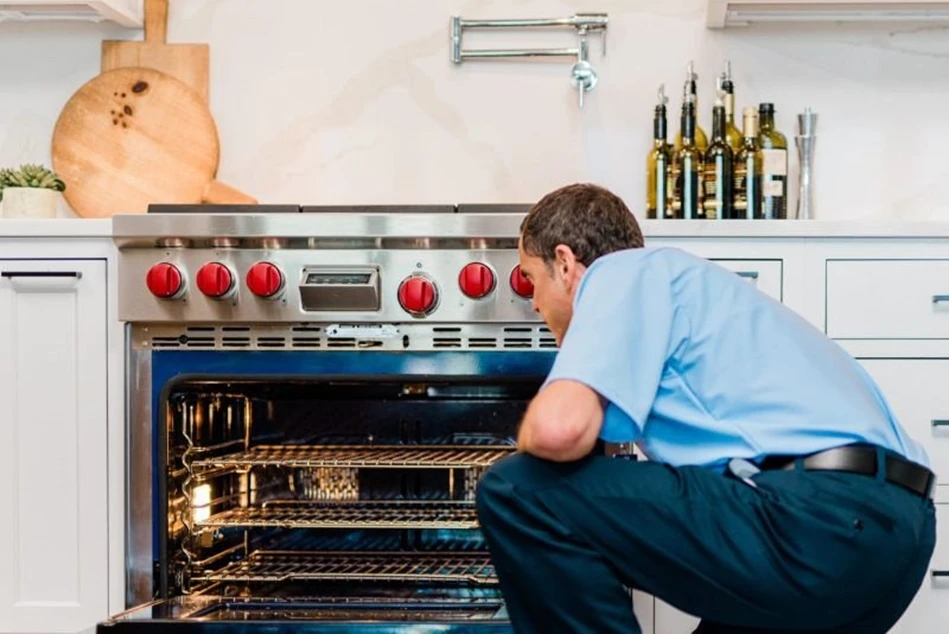 What's Wrong With Your Stove, Oven, or Range?
There are many things that can go wrong with your home's stove. With multiple burners, thermal sensors, and circuit boards, it's difficult to know what caused a problem. That is why it's crucial to have an experienced professional working with you on the residential oven, stove, and range repairs. However, there are some problems that we see frequently. Some of the most common problems we see with stoves include the following:
Burner Gets Too Hot – Some homeowners notice that their burners don't regulate the temperature correctly, getting very hot when placed on a low setting. This is often a problem with your burner surface switch, which tells your burner when to heat up and when to cool down.
Burner Won't Come On – When a single burner won't heat up at all, the problem can usually be found in the burner, the burner surface switch, or the burner's receptacle.
Oven Door Is Stuck Closed – A misaligned self-clean latch or a faulty oven control can cause your oven door to stay shut and refuse to open for you.
Indicator Light Stays On – If a burner switch is broken, it may confuse your indicator light, causing it to think your stove is warm when it is not.
Oven Will Not Self-Clean – Your oven will refuse to self-clean if there is a problem with the self-clean latch switch or the function selector.
Oven Does Not Get Hot – Many different circumstances can prevent your oven from heating up. Very often, we can fix this issue by replacing bake or broil heating elements.
Oven Won't Bake or Broil – An oven that won't bake or broil typically has a problem with the bake igniter or valve. Mr. Appliance of Spencer can replace these parts for you.
Oven Produces Erratic Temperatures – If your food always seems to overcook on one side or undercook in certain spots, we might need to replace your temperature sensor, bake oven ignitor, or selector switch.
We Work With Stoves Made by All Major Manufacturers
The range, stove, and oven repair technicians at Mr. Appliance of Spencer have worked on nearly every brand of appliance, from GE to Whirlpool. We know that each of these manufacturers designs their stoves in a slightly different way. Still, we have the training, experience, and expertise to repair any problem with any range, stove, or oven. Some of the most common brands that we repair include the following:
GE
Dacor
Maytag
Frigidaire
Whirlpool
KitchenAid
Thermador
Fixing Your Stove May Be as Simple as Replacing a Part
When you purchase a stove for your home, you count on it to last a long time. When it stops working, you don't necessarily need to buy an entirely new stove. Mr. Appliance of Spencer can usually fix your stove's problem by simply replacing one or more of the internal components. We offer a guarantee on all parts and workmanship. So, you can trust us to always use the best replacement parts on the market. Some of the parts that we frequently replace include the following:
Dials
Valves
Relays
Gaskets
Igniters
Burners
Switches
Safety valves
Bake igniters
Ignition wires
Spark modules
Thermocouples
Thermometers
Spark electrodes
Heating elements
Controlled boards
Self-cleaning latches
Temperature sensors
Schedule an Oven, Stove, or Range Repair Appointment!
Spencer, Milford, and Lake Park residents trust Mr. Appliance of Spencer with oven, stove, and range repairs because they know we have a track record for reliable service, friendly technicians, and upfront pricing. Our experienced technicians work diligently to ensure they always arrive on time and finish the job on schedule. We also answer questions and explain your oven, stove, and range repair costs ahead of time. That's the comfort you'll get from working with the area's favorite appliance repair team. Schedule your oven, stove, or range repair appointment now!