Trash compactors are a convenient solution to reduce the hassle of taking out the trash frequently. At Mr. Appliance of Salem, we offer professional trash compactor repair services in Salem, MA. Our experts understand the importance of a properly functioning trash compactor, which can reduce your household trash volume by up to 80%, saving space in your garbage can and landfills. When your trash compactor stops working, our service specialists will promptly diagnose the issue and get it back to efficient operation. Don't let a malfunctioning trash compactor disrupt your routine. Learn more about us and schedule our home trash compactor service today.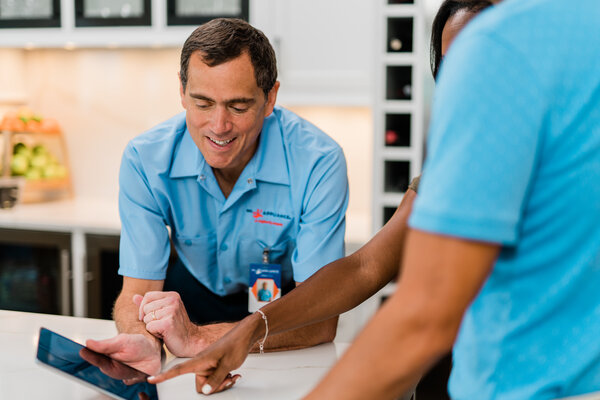 Repairing Multiple Types of Trash Compactors
Discover the convenience of a well-working trash compactor by relying on Mr. Appliance of Salem for repair services. We specialize in repairing various trash compactor types, including:
Freestanding Compactors: Featuring finished tops and flexible features like built-in cutting boards.
Under-the-Counter Compactors: Seamlessly installed between cabinets with a trim kit for a seamless look.
Convertible Compactors: Versatile options that can be installed as freestanding or under-the-counter appliances.
Replacement of All Trash Compactor Parts
In Salem, Beverly, Danvers, and Peabody, MA, our appliance experts handle trash compactor repairs for both residential and commercial clients. Our comprehensive trash compactor service includes replacing all parts and components to ensure optimal functionality. We work with major trash compactor brands and provide authentic factory-certified parts and accessories, including the following:
Pedals and handles
Switches
Roller bearings
Wheel assemblies
Motor components
Belts
Drive gears
Ram stops
Trash compactor bags
Charcoal filters
Solving Common Trash Compactor Problems
For routine maintenance and professional solutions to common trash compactor issues, Mr. Appliance of Salem is your go-to choice. We can resolve the following problems:
Trash compactor not working: Check for proper closure, fuse, circuit breaker, GFCI, and power cord. Ensure the key lock switch is set correctly. If issues persist, contact us for assistance.
Trash compactor not compacting garbage: This may be due to a burned-out motor or broken driving belts.
Door or drawer not opening: Inspect for damaged or dirty guides, tracks, wheels, or rollers.
Noisy trash compactor: While some noise is normal, excessive noise may indicate a problem with belts, motor, or gears.
Trash compactor smells bad: Regular cleaning or professional trash compactor cleaning service can help resolve lingering odors.
Why Choose Mr. Appliance of Salem?
At Mr. Appliance of Salem, we understand the crucial role your trash compactor plays in your daily life, and while there are other companies offering similar services, we stand out with our commitment to excellence. When you choose us, you can be confident in working with highly qualified experts who possess the knowledge and experience to tackle various appliance issues. Our dedication to quality is reflected in our guaranteed workmanship and parts, ensuring that your appliance repairs are completed effectively on the first attempt. Unlike conventional hourly pricing, we offer upfront, flat rate pricing, providing accurate quotes before commencing any work, offering transparency and peace of mind regarding the cost. Our technicians not only possess exceptional skills but also exhibit professionalism with their courteous and uniform approach throughout the service process. We highly value your time and guarantee punctuality for all scheduled appointments, arriving promptly as promised. Moreover, we strive to enhance your experience by offering contactless authorization and payment options, ensuring convenience and safety for our valued customers. We are truly grateful to be the preferred choice for trash compactor service among Salem homeowners.
Schedule Your Trash Compactor Repairs Today
Don't let a broken trash compactor disrupt your daily routine. We offer trash compactor cleaning services for homeowners, as well as commercial trash compactor services.
Contact our friendly professionals today to schedule our efficient and cost-effective trash compactor repair services, so you can continue to enjoy the convenience of a properly working trash compactor.