Your kitchen is equipped with modern conveniences that make cooking a breeze. However, when your oven or stove encounters issues, it can disrupt your daily routine. Don't worry; Mr. Appliance of Salem is here to help with top-notch repair services for stoves and ranges in Salem, MA. Our skilled technicians also serve homeowners in Beverly, Danvers, and Peabody, MA, ensuring you can get back to enjoying home-cooked meals in no time. Discover the most common problems with these appliances and learn how our team can assist you. Get in touch with us today to schedule stove repairs or range repairs.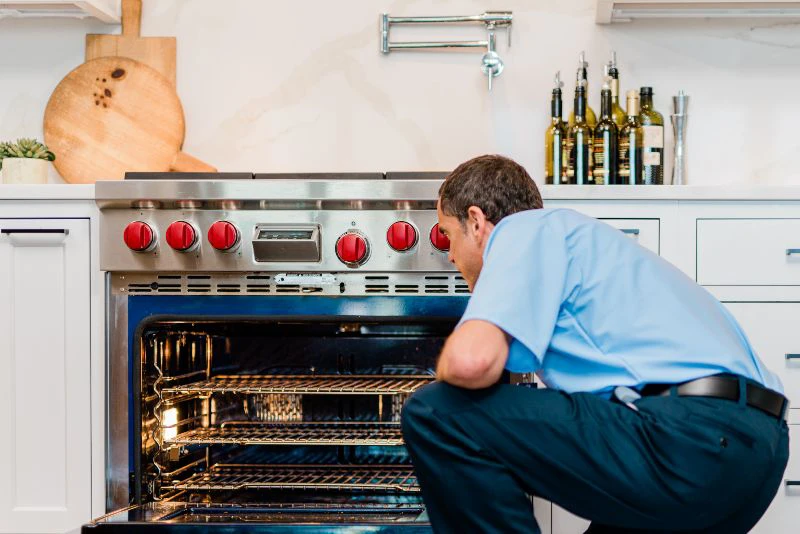 Common Problems Addressed for Stoves & Ranges
Our experienced technicians provide comprehensive repair services for ovens, stoves, and ranges, efficiently handling any issues your appliances may encounter. We quickly diagnose and resolve problems to restore your kitchen's functionality. Here are some common issues we can fix:
Burner gets too hot
We'll address faulty switches causing burners to overheat.
Burner won't come on
If a burner doesn't turn on, we'll check and repair the burner, switch, or receptacle.
Indicator light stays on
Damaged switches causing indicator light issues will be resolved.
Servicing All Range & Stove Brands
With a wide variety of kitchen appliances available, we have the expertise to work on all stoves, ovens, and a range top brands. Count on Mr. Appliance of Salem for quality repair services for popular brands like:
GE
Maytag
Whirlpool
KitchenAid
Frigidaire
Thermador
Dacor
Swift Replacement of Range and Stove Top Parts
When your cooking appliances need replacement parts, we've got you covered. Our extensive inventory includes all the necessary parts to get your kitchen back in action. Our skilled technicians can replace various electric oven and range parts, such as:
Temperature sensors
Gaskets
Heating elements
Thermometers
Igniters
Switches
Valves
Burners
Bake igniters
Spark electrodes
Spark modules
Relays
Safety valves
Control boards
Dials
Ignition wires
Self-cleaning latches
Thermocouples
Indications You Need Oven or Stove Repair Services
Addressing appliance issues early on is crucial to preventing costly repairs or replacements. If you notice any problems with your cooking appliances, don't hesitate to contact our experts. Minor adjustments or part replacements can save you time and money in the long run. Trust our skilled team to handle any stove or oven issues with professionalism and efficiency. We perform residential stove repairs, including electric stove repairs and gas stove repairs.
The Benefits of Repairing Your Range or Stove
Repairing your range or stove offers several benefits that can save you time, money, and hassle. First and foremost, it extends the lifespan of your appliance, allowing you to continue using it for years to come. Repairing specific components can also improve the overall efficiency and performance of your range or stove, ensuring even cooking and reliable temperature control. By opting for repairs instead of replacing the entire appliance, you can significantly reduce your expenses, as repair costs are generally more budget-friendly. Additionally, repairing your range or stove is an eco-friendly choice, as it reduces electronic waste and minimizes your environmental impact. Overall, choosing to repair your range or stove not only keeps your kitchen running smoothly but also contributes to a more sustainable and cost-effective lifestyle.
Why Choose Us for Stove & Range Repairs?
At Mr. Appliance of Salem, we recognize the vital role your stove or range plays in your daily life. While other companies offer similar services, we distinguish ourselves through a firm commitment to excellence. When you select our services, rest assured that you'll be partnering with highly qualified experts who possess the knowledge and experience to handle various appliance issues. Our dedication to top-notch quality is evident in our guaranteed workmanship and parts, ensuring effective and efficient appliance repairs from the outset. Unlike traditional hourly pricing, we provide upfront, flat-rate pricing, delivering accurate quotes before starting any work, guaranteeing transparency and peace of mind regarding costs.
Our technicians not only exhibit exceptional skills but also exemplify professionalism with their courteous and uniform approach throughout the service process. We greatly value your time and pledge punctuality for all scheduled appointments, arriving promptly as promised. Additionally, we prioritize enhancing your experience by offering contactless authorization and payment options, ensuring convenience and safety for our esteemed customers. As Salem homeowners' preferred choice for range and stove repairs, we are sincerely grateful for the trust you place in us.
Book Your Stove or Range Repair Today
Choose Mr. Appliance of Salem for expert stove repair service and experience service tailored to your schedule. Our courteous and uniformed professionals stand behind their workmanship and parts with warranties, backed by the Neighborly Done Right Promise®. Schedule your service with us today by contacting us now.