Your refrigerator is a vital appliance that keeps your food fresh and cool every day. At Mr. Appliance of Salem, we understand the importance of this household appliance and offer expert refrigerator repair services tailored to Salem, MA, residents. Our residential refrigerator repair specialists are equipped to handle any issues, preventing food spoilage and ensuring food safety. When your fridge malfunctions, trust our team to provide swift and effective repairs, safeguarding your food from waste and potential foodborne illnesses. Reach out to us today to learn more about our residential refrigerator repair solutions and schedule service.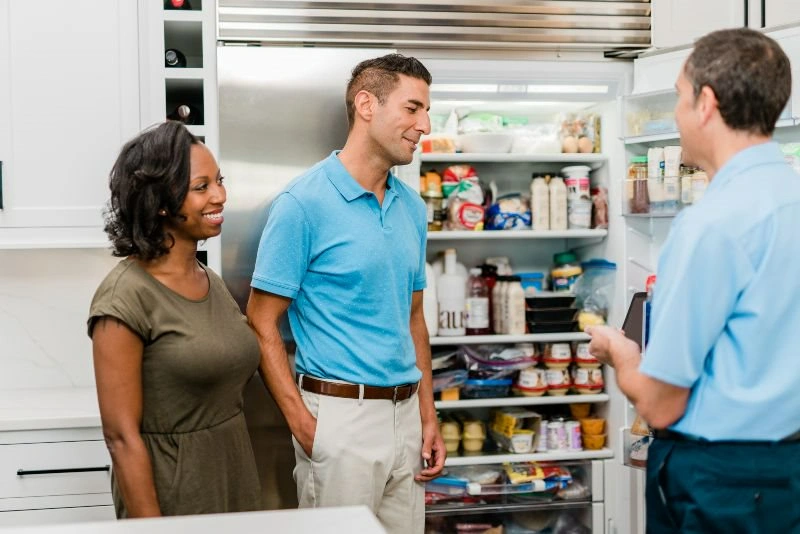 Comprehensive Repair Solutions for All Refrigerator Types
At Mr. Appliance of Salem, our skilled experts specialize in repairing a wide array of refrigerator types and brands across Salem, Beverly, Danvers, or Peabody, MA. Our knowledgeable team can provide estimates for repair costs. We have expertise in repairing all the following types of refrigerators:
Bottom freezer refrigerators
Built-in refrigerators
Compact refrigerators
Counter-depth refrigerators
Freezer-less refrigerators
French door refrigerators
Side-by-side refrigerators
Top freezer refrigerators
Signs Your Refrigerator Needs Repair
Several common indications suggest your refrigerator requires repair. If your fridge fails to maintain a cold temperature within the range of 37 to 41 degrees Fahrenheit, it may need attention. A refrigerator door that doesn't close properly can lead to cooling problems and moisture accumulation, resulting in food spoilage and mold growth. If your refrigerator is leaking water or making unusual noises while running, or if it's not operating at all, contacting an appliance repair service is crucial.
Servicing Refrigerators From Leading Manufacturers
When your refrigerator requires repairs in Massachusetts, our dedicated team is ready to assist. At Mr. Appliance of Salem, we have the expertise to repair refrigerators from all major brands. Some of the refrigerator brands we proudly service include:
Bosch
Electrolux
Fisher & Paykel
Frigidaire
GE
Kenmore
KitchenAid
Maytag
Thermador
Viking
Whirlpool
Making the Right Choice to Repair or Replace Your Fridge
Deciding whether to repair or replace your refrigerator can be challenging. Our team at Mr. Appliance of Salem is here to help. We can handle various refrigerator repairs, but in some cases, a fridge may be beyond repair. Attempting DIY repairs on complex or dangerous issues is strongly discouraged. For newer fridges, our team can restore their condition, but older ones may experience issues due to wear and tear. If you find yourself frequently spending on repairs, upgrading to a newer model might be a more viable option. Count on Mr. Appliance of Salem for reliable refrigerator repairs and replacements, including various parts such as the following:
Bins, drawers, and shelves
Cold controls
Compressors and condensers
Defrost heaters
Door switches and seals
Fans and evaporators
Ice maker components
Replacement lightbulbs
Solenoids
Thermostats
Valves
Water filters
Why Choose Us to Work on Your Fridge?
At Mr. Appliance of Salem, we realize that your refrigerator is an essential appliance you need every day, and there are other fridge repair services companies that offer similar services. When you choose us, you can rest assured that you'll be working with qualified experts who have the knowledge and experience to handle a wide range of appliance issues. Our commitment to quality is evident through our guaranteed workmanship and parts, ensuring that your appliance repairs are done right the first time. Unlike traditional hourly pricing, we offer upfront, flat-rate pricing, allowing us to provide accurate quotes before starting any work, giving you peace of mind about the cost. Our technicians are not only skilled but also courteous and uniform, providing a professional experience from start to finish. We value your time and promise punctuality for all scheduled appointments, making sure we arrive promptly. Additionally, we offer contactless authorization and payment options, ensuring a convenient and safe experience for our valued customers. We are thankful to be the residential refrigerator repair company of choice for Salem homeowners.
Schedule Your Refrigerator Repairs Today
Now that you understand the importance of maintaining a properly functioning refrigerator and the potential issues it may encounter, it's time to entrust the professionals when your fridge fails to stay cold and needs refrigeration repair.
Contact us today to schedule our reliable fridge repair services and request your refrigerator repair service cost estimate.