Your oven is a crucial appliance for preparing delicious meals at home. When it starts showing signs of decline or stops working altogether, it can disrupt your daily routine and cause stress. Mr. Appliance of Salem is here to help you with top-notch residential oven repair services in Salem, MA, and nearby areas, including Beverly, Danvers, Peabody, MA, and more. Learn more about our gas oven repair service and electric oven repair service, and get in touch with us today to schedule service.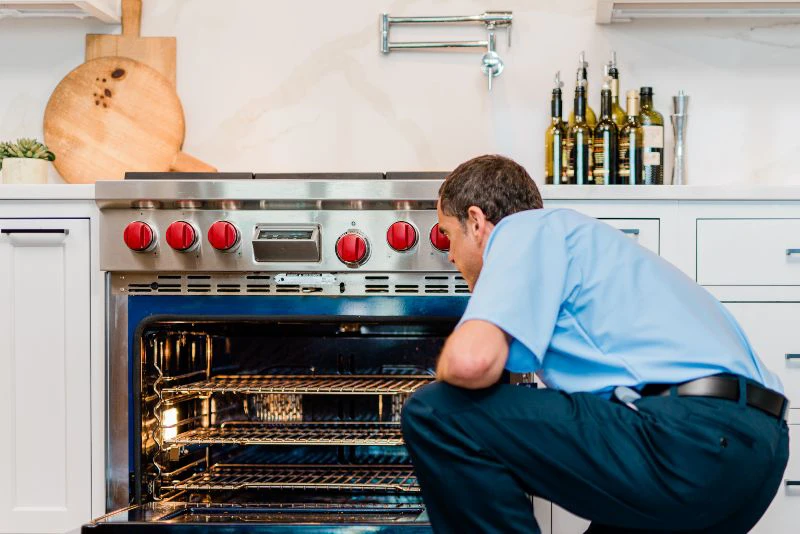 Restore Your Oven's Longevity With Mr. Appliance of Salem
At Mr. Appliance of Salem, we understand the inconvenience of a malfunctioning oven. Our team is dedicated to providing fast, safe, and reliable home oven repairs throughout the local Salem region. Whether it's a faulty heating element, broken door latch, or any other issue, our skilled technicians possess the necessary expertise to diagnose and fix the problem with ease and efficiency, bringing your oven back to optimal condition.
Common Signs Your Oven Needs Repair
Over the years, Mr. Appliance of Salem has encountered and resolved numerous home oven issues. Recognizing early warning signs of damage or mechanical decline in gas or electric ovens can save you time and money. If you notice any of the following signs, it's time to seek help from our kitchen appliance repair experts:
Oven Isn't Heating
This could be due to a malfunctioning igniter, thermostat, electrical problem, or a need to replace the bake or broil heating element.
Oven Door Won't Open
A damaged latch or broken spring can cause this frustrating and potentially dangerous issue.
Oven Won't Self-Clean
A clogged vent, faulty thermostat, or bad control board could be responsible for the malfunctioning self-clean function.
Oven Won't Bake or Broil
Damaged heating elements, valves, or igniters might need repair or replacement if your oven's bake or broil modes stop working.
Indicator Light Won't Turn Off
A faulty switch may be causing the indicator light to persistently remain on.
Oven Doesn't Maintain a Consistent Temperature
The bake igniter, temperature sensor, or selector switch might need attention to ensure a controlled and consistent oven temperature.
Servicing All Oven Makes & Models
Mr. Appliance of Salem takes pride in being experts in repairing all makes and models of ovens from major manufacturers. Whether you have a traditional gas oven or a high-end electric oven, our technicians have the experience to deliver quality repairs and long-lasting results. Some of the many oven brands we frequently service include Frigidaire, GE, KitchenAid, LG, Maytag, Samsung, Thermador, and Whirlpool.
The Benefits of Having Your Oven Repaired by Our Professionals
Having your oven repaired by our professionals offers numerous advantages that make it a wise choice. Firstly, professional technicians possess the expertise and knowledge required to accurately diagnose and fix complex oven issues. Our skills ensure that the repairs are done right the first time, avoiding unnecessary callbacks and further inconvenience. Additionally, hiring professionals ensures that genuine and high-quality replacement parts are used, guaranteeing the longevity and optimal performance of your oven. Moreover, professional oven repairs come with warranties, providing you with peace of mind and protection in case any issues arise after the service. Safety is also a significant benefit, as experts can identify and address potential hazards associated with faulty ovens. Overall, relying on professionals for oven repairs ensures efficient, reliable, and safe operation, prolonging the lifespan of your appliance and making your kitchen experience more enjoyable.
The Mr. Appliance of Salem Advantage
When it comes to oven repair service, Mr. Appliance of Salem stands out from the competition. We understand how crucial your kitchen oven is in your daily life, and that's why we are dedicated to excellence in everything we do. Our team of highly qualified experts possesses the knowledge and experience to tackle various appliance issues effectively. With our guaranteed workmanship and parts, you can be confident that your appliance repairs will be done right the first time. No more worrying about unexpected costs, as we offer upfront, flat rate pricing, providing you with accurate quotes before any work begins, ensuring transparency and peace of mind. Our technicians not only have exceptional skills but also conduct themselves with professionalism, courtesy, and a uniform approach throughout the service process. We value your time and always arrive promptly for scheduled appointments. Convenience and safety are paramount, which is why we offer contactless authorization and payment options. Salem homeowners have chosen us as their preferred oven repair service provider, and we are sincerely grateful for your trust in us.
Schedule Oven Repair Service With Mr. Appliance of Salem Today
Don't let a faulty oven disrupt your household's lifestyle. Mr. Appliance of Salem is here to provide elite repair service, avoiding sudden breakdowns, extensive repairs, and costly replacements. As part of the Neighborly brand, we are committed to delivering precision repairs that last, ensuring customer satisfaction. We offer upfront pricing for your oven repair service cost, and you can feel good about our conventional oven repair services. Trust Mr. Appliance of Salem for all your kitchen appliance repair needs. Call or schedule your oven repair service online today.