A freezer is a modern convenience that most homeowners rely on for fresh, frozen food. When your freezer isn't working properly, it can mean spoiled food. Mr. Appliance of River Oaks provides professional freezer repair services in Bellaire, TX. Our appliance service professionals will quickly diagnose your freezer's problem and offer a solution. The job of your freezer is to keep your food frozen until you're ready to thaw and eat it. We recommend setting the freezer at zero degrees Fahrenheit or lower. Contact us to request an estimate on our professional freezer repair services today.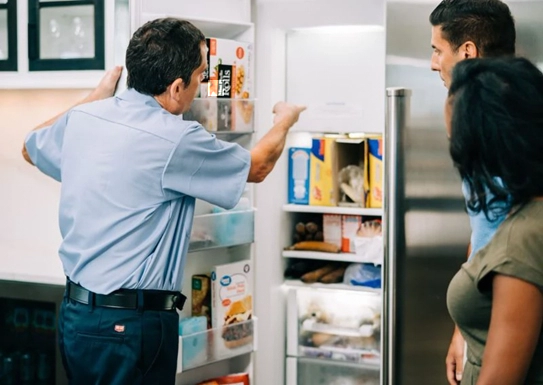 We Service All Freezer Brands & Types
Our service professionals are highly trained to service and repair all brands of freezers. Some of the most common freezer brands we repair include the following:
GE
Kelvinator
LG 
Revco
KitchenAid
Whirlpool
Samsung
Common Freezer Problems
It can be a shock when you open the door to a warm freezer. We will quickly help your freezer get back to cold temperatures. The most common types of freezer problems we repair include the following:
Freezer not cooling – When your freezer is not cooling at all, the most common issues are loose door seals, broken condenser fan motors, or dirty condenser coils.
Freezer door not sealing – A loose freezer door seal or damaged gaskets will cause the door to inadequately close.
Freezer makes strange noises – Engine problems or a damaged compressor sometimes cause a freezer to make unusual noises.
Freezer is too cold – Excessive frost in your freezer often indicates damaged heaters, defrost timers, or thermostats.
Inconsistent freezer temperature – We check for dust or debris in your freezer when the temperature won't regulate.
Freezer Replacement Parts
We can typically repair your damaged freezer parts with new ones. Our high-quality freezer replacement parts are easy to install by a professional. Some of the most common freezer replacement parts include the following:
Thermostats 
Evaporators
Door Seals
Motors
Relays
Defrosters
Compressors
Door switches
Defrost control times
Seals and gaskets
Fans
Overload protectors
Evaporator coils 
Evaporator fans 
Defrost timers and heaters 
Tips to Maintain Excellent Freezer Health
We offer freezer maintenance services to ensure your freezer is always in excellent health. We will routinely inspect and service your freezer. We also offer freezer care maintenance tips, including the following:
It's important to change the water filter every six months if you have an ice machine.
Inspect the freezer for dust or debris.
Clean the freezer coils yearly.
If you notice any signs of freezer issues, reach out to our professionals.
Why Do I Need Professional Freezer Repairs?
Our service professionals are trained to professionals repair your appliances. We understand the multiple components of your appliances. Our team carries convenient freezer replacement parts. We will quickly locate the issue and offer an estimate for necessary repairs. It's essential to your safety to contact a professional when dealing with appliances and electricity.
Why Choose Mr. Appliance of River Oaks?
Mr. Appliance of River Oaks provides appliance services in Bellaire, West University Place, Rice Village, Bunker Hill Village, Hedwig Village, Hunter's Creek Village, Piney Point Village, and Tanglewood. We know it's a hassle and can be dangerous to have freezer problems. You risk spoiled food that can be unhealthy to consume. Our service professionals act quickly to help with your freezer issues. You can trust our service professionals to explain your options in detail and help you understand your appliance problems. We offer flexible scheduling for your convenience. When you need installation, repairs, and maintenance for your appliances, we are here for you.
Contact Us for Expert Freezer Repairs
Don't let a warm freezer get you down. Trust our professional freezer repair services to fix your issues. We will explain if we believe a freezer repair or replacement is in your best interests. We try to repair your freezer with our replacement parts before determining if you need a new appliance. Contact us today to request an estimate or schedule services on freezer repair services.