Undoubtedly, having an ice machine makes it easier to host get-togethers, enjoy picnics with the family, or enjoy a cool drink during a hot Texas summer day. Regardless, having a working ice machine makes things more convenient. If you ever notice your ice machine isn't working the way it should, it's time to call the professionals at Mr. Appliance of River Oaks for help. Regardless of the issue, our ice machine repair services will help keep things cool in your Bellaire, TX, home. You can rely on our technicians to quickly identify the issue and deliver quick, efficient, cost-effective repairs. Whether you have a stand-alone freezer, or your ice machine is attached to another appliance, we can get it back up and running in no time. To learn more about how we can help your ice machine work like new, give our team a call!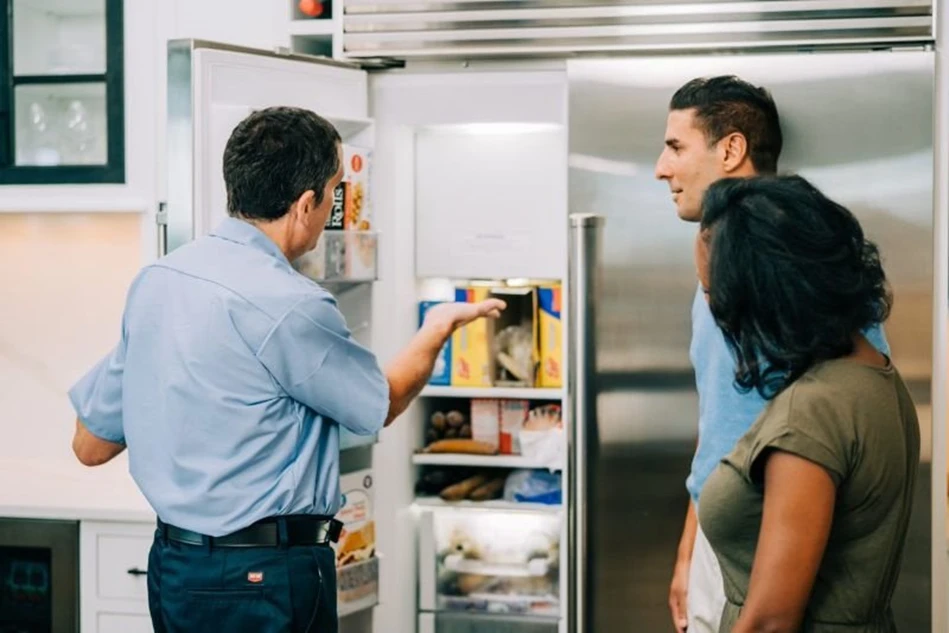 We Service All Types of Ice Machines
While there are several types of ice makers on the market today, you can rest assured knowing our ice machine repair technicians have the experience and skills necessary to repair all ice machines. Whether it's a portable ice maker or a freestanding ice machine, we'll get it back to working like new. Our seasoned technicians are well-versed in repairing and maintaining a broad range of ice machines, including:
Freezer Ice Makers
Under-The-Counter Ice Machine
Built-In or Freestanding Ice Machines
Combination Ice Makers and Water Dispensers
Common Ice Maker Issues We See
Your ice maker may make and dispense ice, but it's comprised of several complex parts and components that work together seamlessly to ensure everything works smoothly. When your ice maker doesn't turn on, dispenses misshapen ice cubes, or no longer produces ice, it's time to give our technicians a call. You can rely on our team to thoroughly inspect and diagnose issues while delivering cost-effective repair solutions. Here are some of the most common residential ice machine issues we repair:
Ice Machine Not Getting Cold Enough to Make Ice
Defective Freezer Door Switch
Insufficient Water Supply
Lowered Water Pressure
Faulty or Damaged Ice Level Control Boards
Clogged Water Filters
Faulty or Defective Mold Thermostats
Oddly Shaped Ice Cubes
Water Leaks Inside or Around the Appliance
Failure to Make Enough Ice
Not Making Any Ice
We Repair All Major Brands
Our seasoned ice machine technicians have years of experience offering top-notch ice machine repair services throughout Bellaire, TX and surrounding areas. We can efficiently repair almost any make, model, and brand of ice machine available. Regardless of your brand of choice, you trust our repairmen to restore it like new. Take a look at some of the most common ice maker brands we repair, including:
KitchenAid
Whirlpool
Frigidaire
Hoshizaki
Scotsman
Manitowoc
Marvel
And More
Trust Us for Ice Machine Parts Replacement
After years of service, it's not uncommon for ice makers to need a few parts replaced to get the maker back up and running smoothly and efficiently. Mr. Appliance of River Oaks offers a one-year parts and labor warranty for all our residential ice machine repairs. We keep only the highest quality parts in stock. Here are some of the ice machine parts our technicians may need to replace, including:
Solenoids
Condensers
Timers
Tubing
Valves
Motors
Thermostats
Control Boards
Water Filtration Systems
Storage Bin and Baggers
Schedule Your Ice Machine Repairs Today
Whenever you notice your ice maker not working as efficiently as before or if it won't turn on, it's time to turn to the professionals at Mr. Appliance of River Oaks for help. We'll work with you to quickly identify the source of the issue and deliver long-lasting results. With years of experience, our technicians provide residential ice machine repair services for homeowners throughout Bellaire, West University Place, Rice Village, Bunker Hill Village, Hedwig Village, Hunter's Creek Village, Piney Point Village, and Tanglewood, TX. When you call Mr. Appliance of River Oaks, you can expect us to arrive on time and solve your issue promptly. We're backed by the Neighborly Done Right Promise™, which holds our work to the highest standards possible. Don't hesitate to request service for your ice machine today!