Whether you're running a restaurant or convenience store, having a working commercial refrigerator is essential. At Mr. Appliance of River Oaks, we understand the urgency of commercial refrigerator repairs and will work hard to get your essential appliances back up and running smoothly and efficiently. From schools to hospitals, we've repaired refrigerators in a variety of commercial spaces to ensure food stays fresh for customers, employees, clients, patients, and other important visitors of your business.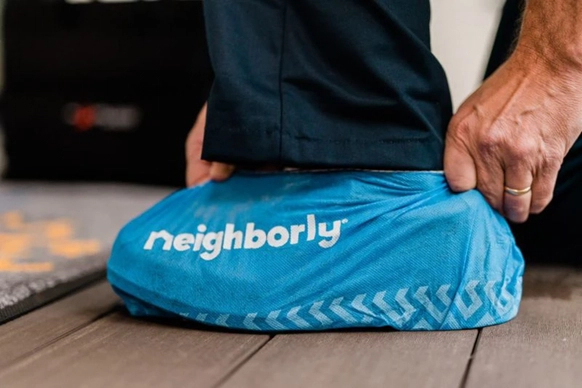 Our appliance repair technicians have years of experience accurately diagnosing down and out commercial refrigerators and providing the repairs they need to run properly again in Bellaire, TX, and the surrounding areas. Whether your fridge isn't staying cold enough or leaking water, you can count on us to provide quick and reliable commercial refrigerator repair services that are always backed by warranties on all parts and workmanship. Contact our team today to learn more and schedule service for your broken appliances!
Common Commercial Refrigerator Problems
If you suspect something isn't right with your commercial refrigerator, we encourage you to contact the appliance repair experts at Mr. Appliance of River Oaks so they can take a look. If you neglect signs your refrigerator isn't working correctly, your appliance may be damaged further and need expensive repairs or even replaced prematurely. Reach out to Mr. Appliance if you're experiencing any of the following issues with your commercial refrigerator:
Your refrigerator is leaking water
There's fluid in fresh food compartments
There's excessive frost in the freezer
Your refrigerator stopped running
Your refrigerator isn't cooling properly
Your refrigerator is making strange sounds
What Types of Refrigerators Can Mr. Appliance Repair?
Most commercial refrigerators are used 24 hours a day, seven days a week. They're complex appliances that are susceptible to wear and tear over time. The repair technicians at Mr. Appliance of River Oaks are fully equipped to repair a variety of commercial refrigerator types throughout Bellaire, TX, including:  
Walk-in refrigerators
Reach-in refrigerators
Under-counter refrigerators
Display case refrigerators
Bar and restaurant refrigerators
Heavy-duty refrigerators
Hotel and motel refrigerators
Pharmacy and medical office refrigerators
Convenience store and gas station refrigerators
And more!
We Repair Refrigerators of All Major Manufacturers
Commercial refrigeration systems can be complex, requiring proper installation and regular maintenance to keep them in top condition. Mr. Appliance of River Oaks can repair refrigerators of all major brands and manufacturers. Some of the most common commercial refrigerator brands we repair include:  
KoolMore
Arctic Air
PremiumLevella
Lucky Kitchen
EdgeStar
Avantco
Dacor
And more!
Commercial Refrigeration Repair vs. Replacement
Our professionals have the experience, expertise, and equipment necessary to repair all types of commercial refrigerators. If we determine your commercial refrigerator is beyond repair during the process and needs to be replaced, we'll make expert recommendations for your best options based on your business's needs, preferences, and budget. Performing regular maintenance on your commercial refrigerator is the best way to ensure it lasts as long as possible. Some things you can do to ensure your refrigerator runs efficiently for as long as possible include:
Make sure the doors are closing and sealing properly
Ensure it's set at the right temperature
Periodically wipe off the condenser coils to keep them free of debris
Wipe down the inside and outside of the appliance
Keep enough distance between the appliance and the wall
Avoid blocking the vents with stacked food
Schedule professional maintenance services and repairs as needed
Complete Parts Replacement for All Your Needs
Commercial refrigerators and other commercial cooling systems have several complex parts and components that require special tools to repair or replace. It's essential to have professional, experienced technicians perform appliance repairs on your commercial refrigerator due to safety concerns. Our team can replace a variety of commercial refrigerator parts, including: 
Thermostats 
Solenoids 
Valves 
Compressors
Condensers
Ice maker parts
Cold controls 
Defrost heaters 
Water filters
Door seals and switches 
Fans and evaporators 
Replacement bulbs
Bins, drawers, and shelves 
And more!
Schedule Commercial Fridge Repair Services Today
At Mr. Appliance of River Oaks, we understand the importance of getting your commercial refrigerator running smoothly, efficiently, and reliably again. Other refrigeration repair companies might not understand the urgency of commercial refrigerator repairs, but you can count on our team to prioritize your needs so your business can continue operating normally. No matter what type of problem you're experiencing with your commercial refrigerator, we offer timely repairs so you can get things back up and running without interrupting your business in Bellaire, TX, and the surrounding areas, including West University Place, Rice Village, Bunker Hill Village, Hedwig Village, Hunter's Creek Village, Piney Point Village, and Tanglewood.
Whether you need restaurant refrigeration repair or services for your medical office, we're here to help. The qualified experts at Mr. Appliance stand behind all parts and workmanship with warranties, and our work is backed up by the Neighborly Done Right Promise for your peace of mind and protection. We're happy to answer any questions you have, whether you want an estimate for refrigerator repair costs or to learn more about our repair process. Contact us today to schedule service!