Freezers store and preserve food for much longer than their seasonality, allowing fruits, vegetables, and meats to be stored safely for months without spoiling. Maintaining a functional freezer is essential for preserving perishables and keeping your household running smoothly, but just like any other appliance you have at home, freezers can malfunction and require at least some degree of repair. At Mr. Appliance of Richmond TX, we are dedicated to Richmond, TX area residents like you, providing residential freezer repairs designed to help you get the most out of your home investments.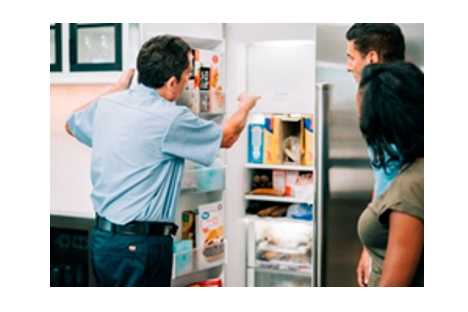 Our repair technicians possess industry-leading expertise and decades of combined experience to repair and restore the integrity of your home appliances, no matter the scope or complexity. Learn more about our residential freezer repair strategies and contact Mr. Appliance today.
Four Reasons Your Freezer Door Does Not Seal
If your freezer door isn't sealing properly, you may notice frost and freezer burn buildup, reduced cooling performance, and increased energy consumption. Freezers are designed with a rubber strip affixed to the freezer door frame called a gasket to seal and contain the cold air to keep food fresh. A defective freezer door seal puts all your food at risk and can result in perishables going bad before you've had time to notice!
Dealing with a faulty freezer door gasket can be frustrating, but pinpointing the problem isn't as challenging as you may believe. Read on to explore four common freezer door seal issues, along with Mr. Appliance's effective do-it-yourself techniques you can perform at home to fix your old, faulty freezer door seal.
Reason 1: Dirty Freezer Door Gasket
A dirty door gasket can prevent your freezer from sealing. Over time, the gasket can accumulate dirt, debris, and food particles that compromise its sealing ability. Luckily, this is an easy fix.
How to Fix It: Mix dishwashing soap and warm water in a bowl. Use a toothbrush and apply the soapy mixture to the gasket to eliminate grease and debris. Wipe the seal and dry it with a clean, dry towel. Generally, cleaning the outer edge once a week will prevent buildups from developing on the seal.
Reason 2: Defective Freezer Door Gasket
Freezer door gaskets can slowly unfasten from the door. Once the gasket loosens from the door frame, it won't maintain an adequate barrier that keeps the cold in, and the freezer will struggle to preserve your food.
How to Fix It: Move your hand along the edges of the freezer door and try to locate a wave of cold air escaping while the door is closed. You can use a cotton swap to apply petroleum jelly – such as Vaseline – into the groove of loose rubber and push the seal back into place.
Reason 3: Freezer Door Gasket Needs Reattached
It's common for a door gasket to get twisted and detach from the door frame, which eliminates its suction and ability to maintain a cold and steady temperature.
How to Fix It: Correcting a mangled, misaligned, or unattached freezer seal can be a relatively simple task. Some freezer door gaskets are connected using adhesive tape, while other models use a cement-like glue specifically made for gaskets.
Reason 4: The Gasket Needs Replaced
Because of the conditions it's repeatedly exposed to, freezer door gaskets will eventually become worn out, diminishing their elasticity and suction power. If your freezer door gasket is cracked, torn, or otherwise damaged, it may potentially be beyond a repair solution and must be replaced with a new one.
How to Fix It: Try conducting a "paper test" to see if your gasket needs to be replaced. Slide a piece of paper between the freezer and gasket, close the door, and pull on the paper. If it slips out with little to no effort, you'll need to have your freezer door gasket promptly replaced.
Replacing an old freezer door seal can be done at home or by calling our professional appliance technicians at Mr. Appliance. If you're considering the at-home approach, we recommend soaking your new gasket in warm water for at least 10 minutes while you remove the old gasket. Doing this will help increase the new gasket's pliability, making installation much easier. Before mounting the new seal, be sure to dry the gasket and wipe down the edges of the freezer door.
Freezer Problems at Home? Help is on the Way!
Our service technicians at Mr. Appliance are committed to serving the needs of residents throughout Richmond, Hockley, Waller, Katy, Brookshire, Sealy, Rosenburg, Needville, TX, and the surrounding local region. If your home freezer isn't working properly, we're here to help! Contact us to schedule freezer repair service today.