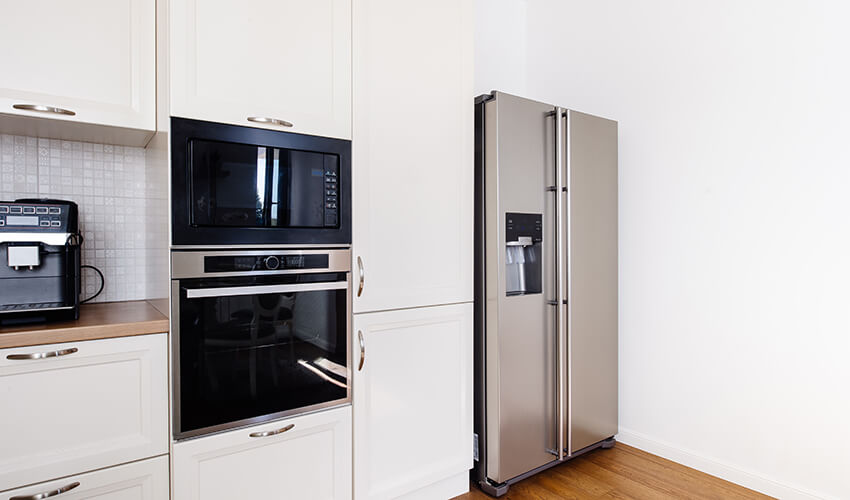 Your refrigerator's gasket helps to create a vacuum, air-tight seal, forming a barrier for the cool inside your refrigerator and freezer. It's located along the edges of the appliance doors. Clean this important part of the appliance with these three steps:
Make Your Cleaning Solution
General Electric recommends mixing of 1 quart warm water with 1 tablespoon of baking soda. You can also use with a mild soap and water solution.


Gently Wipe Gasket
Using a microfiber cloth and toothbrush to dip in your solution, gently wipe down the gaskets. It will help to remove residue, mold and mildew, along with providing odor reduction. By cleaning your gaskets, you are making it easier for them to remain sealed, meaning your refrigerator cools more efficiently.


Check the Seal
Use the task of cleaning as an opportunity to check the gasket for any tears or holes while you're cleaning. To test the integrity of the seal seal, our Mr. Appliance president, Ron Shimek, suggests shutting a dollar bill in the refrigerator door. If it offers resistance when you pull it out, the seal is good. If it pulls out easily, the gasket needs to be replaced. You should inspect the corners, top, bottom and sides of the gasket.
Ensuring your gasket air-tight seal is strong will also help your food last longer, by keeping it cooler and better protected. Use the tips above to cut down on your grocery bill too!
Have you noticed your refrigerator not cooling as well as it used to? Here's some expert tips from Mr. Appliance on troubleshooting steps you can try yourself before you schedule an appointment with a professional appliance repair technician. To help extend the life of your appliance, it's best to make sure it's running optimally. Doing this could also help you to lower your electric bill by making your refrigerator run more efficiently, and enhance its performance. Scheduling a simple maintenance check could also extend the life of the appliance. CLICK HERE to make an appointment online for service on your schedule.
Did you clean the gaskets inside your fridge door, only to notice the sticky stains coating the drawers, walls and shelves of the inside too? Here's some tips on cleaning the refrigerator from our fellow Neighborly brand, Molly Maid. These cleaning professional also offer refrigerator cleaning, if the job is just too big to DIY!