The technicians at Mr. Appliance of Richmond TX offer comprehensive dryer repair solutions for homeowners throughout Richmond, Hockley, Waller, Katy, Brookshire, Sealy, Rosenburg, and Needville, TX. Your home's dryer offers comfort and convenience by quickly drying your clothes, bedding, and towels for a clean and soft feeling. However, if your home's dryer fails, it can be more than an inconvenience. It can lead to a potentially dangerous situation inside your home. Our knowledgeable and highly-trained professionals have the experience to work on nearly any dryer make or model, including the industry's top-name brands. Our team will come to your home, diagnose the issue, and then recommend the correct repair solution. Contact our technicians today if you're experiencing a problem with your home's dryer.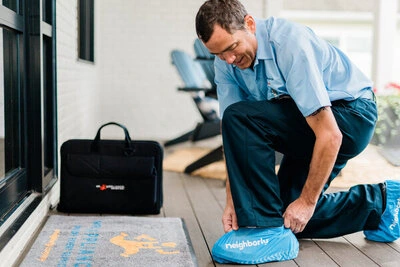 Common Dryer Issues We Can Repair
Before you spend money replacing your dryer, why not have one of our qualified experts look? We offer flat-rate pricing for all our repair services, so you'll know exactly how much you'll spend on repairs before we start. Our team has access to the proper tools and high-quality parts, so you can feel confident we'll complete the job correctly the first time. We'll start by conducting a full diagnostic on your dryer to identify the issue. Then, we give you an accurate project quote based on what needs to be done. We have helped countless homeowners throughout the communities we serve save money by repairing their dryers instead of purchasing new ones. Some of the most common issues we encounter include:
Dryer Won't Run – Depending on the source of the problem, your dryer issue may be as simple as a circuit breaker tripping. However, the problem may be a bad thermostat, a damaged terminal block, or a broken start switch.
Clothes Stay Damp or Wet – If your dryer runs, but your clothes don't dry because it doesn't produce any heat, we can help. We can replace your bad fuse, temperature switch, and heating coil
Drum Doesn't Spin – A drum that doesn't spin won't evenly dry your close and is most likely due to a broken belt, bad roller, damaged motor, or idler pulley.
Dryer Is Too Hot – A dryer that runs too hot represents a significant fire or injury hazard to you and your family and should be repaired immediately. The issues may be a bad thermostat, clogged vent, or faulty heating coils.
Discover the Benefits of Repairing Your Dryer
There are numerous benefits to hiring a qualified expert for dryer repair, including lower energy costs, better safety, and increased dryer lifespan. At Mr. Appliance of Richmond TX, we're committed to delivering fast and reliable service to homeowners throughout the area. We can handle almost any repairs and will provide you with an accurate assessment of the work. We have access to high-quality repair parts, which ensures the job is completed the first time correctly. Some of the parts we carry include the following:
Thermostats
Timers
Motors
Heating coils
Belts
Rollers
Idler pulleys
Temperature switches
Fuses
Switches
Dryer Brands Our Team Can Service
Regardless of the make or model of your dryer, you can count on the knowledgeable technicians at Mr. Appliance of Richmond TX to fix it. We have experience repairing some of the most popular brands in the industry. All our repair work is backed by our Neighborly Done Right Promise™, so you can feel confident you're receiving high-quality repairs that last. The dryer brands we service include the following:
Samsung
Whirlpool
Maytag
Kenmore
LG
GE
Trust Us for All Your Dryer Repair Solutions
Mr. Appliance of Richmond TX is the local leader you can trust for high-quality dryer repair services. Whether you own an electric dryer or a gas dryer, our team has the skills, knowledge, and experience to repair whatever problem you have. As a locally-owned and operated business, we're dedicated to providing our customers with the best solutions. Our continual dedication to exceptional customer service has made us the most reliable choice for dryer repair in the area. If your dryer is beginning to fail, contact our technicians today to schedule a repair.