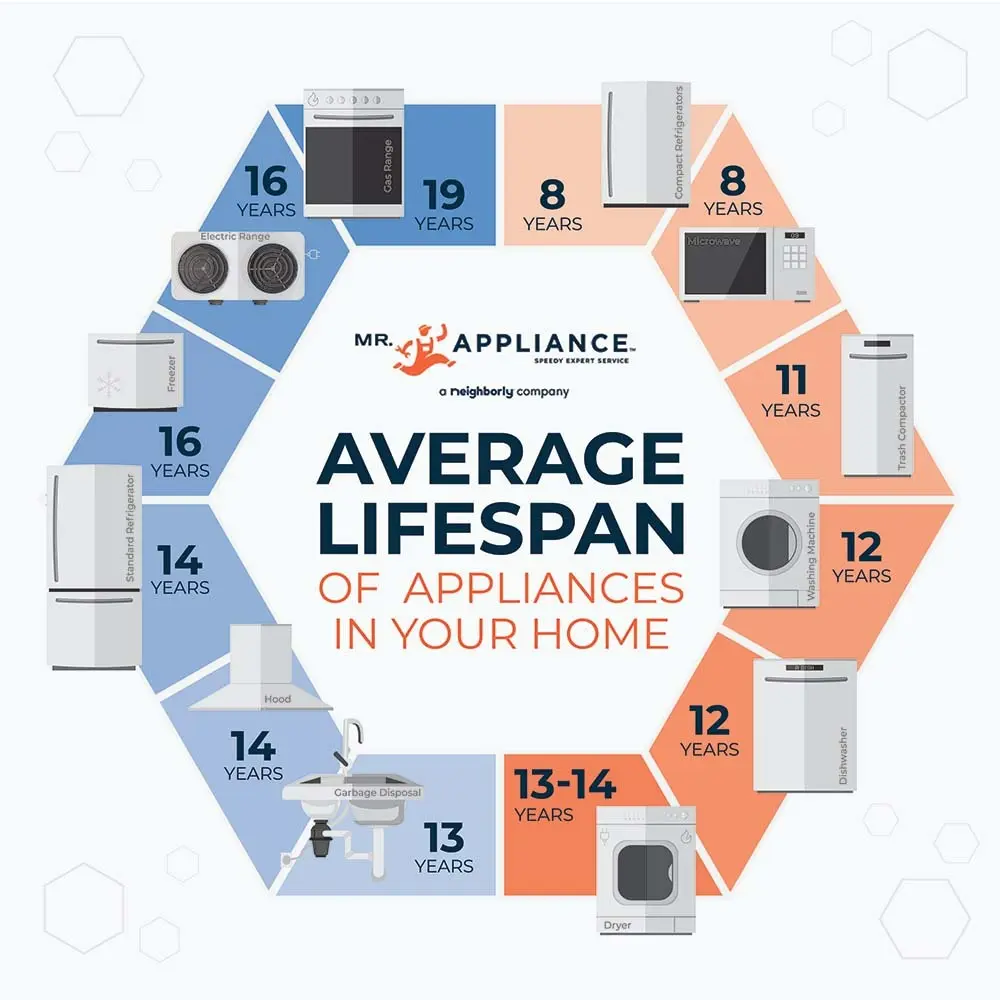 Are you stressing out over your broken appliances? With our 15+ years in the appliance repair industry, we know how stressful it can be finding your dishwasher won't drain, your oven won't light, or your dryer won't heat up. In this situation, we're ready to put your worries at ease with our speedy, expert, and reliable residential appliance repair services.
Give Portland residential appliance repair team a call or schedule your service online to book your appointment. We'll be over in a jiffy to get you and your appliance taken care of!
Should I Repair or Replace My Residential Appliance?
When you find a broken appliance, the first question you probably ask is: "Should I buy a new one?". There is a time and a place to replace an appliance but you can probably save money and time by trying to have your favorite appliance repaired.
As it is, it can be tough getting a new appliance since you'll need to make sure it fits in the allotted space. Some folks bought a new dishwasher and had to have the delivery and installation rescheduled three times due to unexpected mishaps. The appliance repair route can be easier on your schedule and your wallet.
With our speedy and expert residential appliance repair services, you get to book your service according to your schedule. You could very well have your appliance repair quicker than it would take to shop for a replacement, schedule the drop-off, and deal with the installers.
Repairs for Your Kitchen Appliances
We're capable of performing repairs for your major kitchen appliances including:
Refrigerators
Freezers
Ovens, stovetops, and ranges
Dishwashers
Trash compactors
Repairs for Your Laundry Appliances
Dealing with a washer that won't spin or a dryer that makes a bunch of thumping noises? We can help! We can effectively service:
Top-loading washers
Front-loading washers
Top-loading dryers
Front-loading dryers
Gas-powered dryers
Electric-powered dryers
Experience Speedy and Expert Repairs with Mr. Appliance of Portland
With over 15 years of experience in the appliance repair industry, we've seen it all! We're knowledgeable in countless brands, makes, and models so you don't have to worry over whether or not we can service your appliance.
Additionally, our appliance repair techs undergo training and we operate in such a way that eliminates any "guesswork" from your service. This means you won't be surprised with any hidden fees at the end of your repair service.
Looking for an honest and reputable appliance repair company? Visit our testimonials page to see why our customers love our services!
Appliance Repair | Frequently Asked Questions
Why does my oven turn on but not heat up?
Trying to make dinner but it's not getting cooked? From the oven not heating up at all to your oven not heating to the correct temperature to your oven not cooking food evenly, heating issues can throw a kink in meal plans.
All of these heating issues could be due to:
A faulty igniter,
A broken heating element,
A faulty or improperly placed temperature sensor,
A calibration issue, or
Poor food position in the oven (this can be fixed by simply repositioning your food in the oven!).
Before throwing in the towel and purchasing a new oven, there's a good chance it's reparable. Whatever the issue may be, our oven repair pros can help! Reach out to us and we'll be over ASAP to take a look!
Is it worth it to repair my 7-year-old washing machine?
On average, washers last about 12 years so you can likely save your 7-year-old washer by having it professionally repaired. There's also some care and maintenance practices you can perform to help your washer last up to its average lifespan.
For instance, if your washer starts to shake, try leveling it by adjusting the little legs at the bottom and make sure your laundry is evenly distributed inside the main tub. And transferring your clean laundry to your dryer as soon as the wash cycle is done can help prevent mold and mildew growth in your washer.
Why does the ice from my fridge's ice dispenser smell and taste bad?
Did you know the air circulation in your freezer is shared with fridge? Smelly ice is likely caused by old food and improperly-sealed food in your fridge; the food odors will then circulate into your freezer and get into your ice.
To help fix this, throw out old food, properly seal your food, try wiping down the plastic walls in your fridge with a paper towel soaked in vanilla extract, and deodorize your freezer by opening up a box of baking soda and leaving that in your freezer.
For quick and professional residential appliance repair services, simply give us a call. Your service call fee is waived if you proceed with our recommended repair!