Residential ice makers and ice machines are incredibly convenient to have in your home, allowing you to enjoy cold drinks day in and day out. They're also perfect for filling up coolers to take to the beach or hosting parties. However, your ice machine only makes life more convenient when it's working properly. If you're experiencing issues with your residential ice machine, the team of experts at Mr. Appliance of Midtown Phoenix is here to help.
Our appliance repair technicians have years of experience providing ice machine repair services to homeowners throughout Midtown Phoenix, AZ, and the surrounding areas, including Phoenix and Cave Creek. Whether your ice maker is leaking or not making enough ice, we'll make residential ice machine repairs to get your appliance back up and running correctly and efficiently. Call us today to learn more about our ice machine repair service!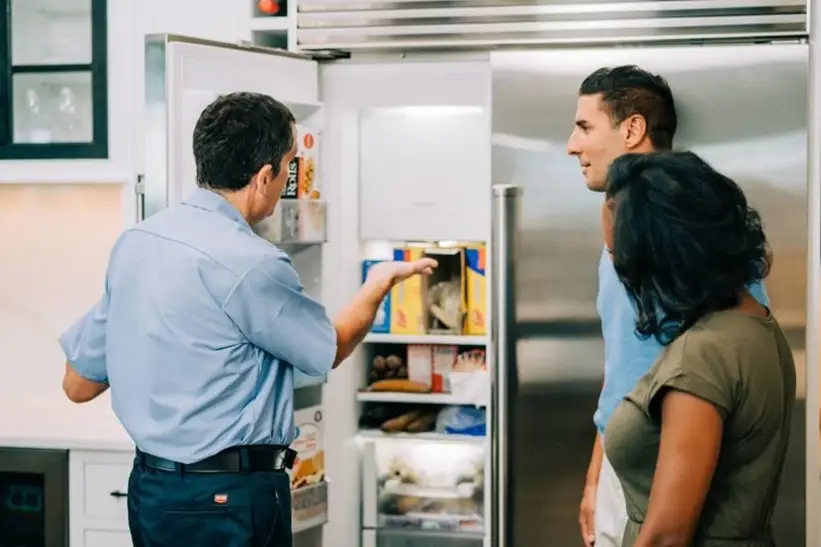 Our Experts Can Repair All Types of Ice Makers
With so many different types of ice makers available today, you might wonder if our technicians know what it takes to get your appliance operating again as it should. You can rest assured our team has experience repairing all types of ice makers, whether you have a portable unit or it's located underneath your counter. Our experts have the experience, skills, and equipment to service and repair a wide range of types of ice machines throughout Midtown Phoenix, including:
Freezer ice makers
Portable ice makers
Under-the-counter ice machines
Built-in or freestanding ice machines
Combination ice makers and water dispensers
Common Ice Machine Problems We Repair
At Mr. Appliance of Midtown Phoenix, our technicians have seen it all regarding issues with ice machines. We're highly knowledgeable about the various parts and components that allow ice makers to continue running smoothly and efficiently. Our technicians will quickly diagnose the problem and provide a quick, cost-efficient solution for repair so you can return to your regular household routine. Some of the common problems with residential ice machines include the following:
Ice machine isn't getting cold enough
Faulty switches
Insufficient water supply
Water pressure is too low
Ice level control board fails
Water filters are clogged
Ice maker mold thermostats are defective.
Ice cubes are misshapen
Water leaks from the appliance
Ice machine doesn't make enough ice
Ice machine doesn't make any ice
And more!
Restoring All Major Brands of Ice Makers
With years of experience providing effective, reliable ice machine repair services throughout the region, Mr. Appliance of Midtown Phoenix can restore practically every make, model, and brand of residential ice maker. Some of the most common brands our team repairs include:
LG
GE
KitchenAid
Whirlpool
Frigidaire
Samsung
Kenmore
Ice Machine Parts Replacement
At Mr. Appliance of Midtown Phoenix, we keep the highest quality parts in stock for any parts your ice machine might need to run efficiently again. We also include a one-year parts and labor warranty for all our residential ice machine repair services for your peace of mind. Some of the ice machine parts we might need to replace on your appliance include the following:
Solenoids
Condensers
Timers
Tubing
Valves
Motors
Thermostats
Control boards
Water filtration systems
Storage bins and baggers
Schedule Ice Maker & Ice Machine Repair Today
Having an ice maker in your home can be beneficial for all sorts of occasions. When it stops working properly, you might find yourself scrambling to find a local appliance repair technician to help you get it back up and running. Fortunately, the team of appliance repair experts at Mr. Appliance of Midtown Phoenix provides residential and commercial ice machine repair services for home and business owners throughout Midtown Phoenix, AZ and the surrounding areas, including Cave Creek and Phoenix.
No matter what issue you're experiencing with your ice maker, we'll diagnose the issue quickly and provide an effective repair solution. When you schedule appliance repair services with Mr. Appliance, you can expect our technicians to arrive on time and solve the issue correctly the first time. We're confident our repair services will exceed your expectations. Contact us today to learn more or schedule service online for your ice machine!