Our Experts Repair Dryers for Reliability & Efficiency
At Mr. Appliance of Midtown Phoenix, we understand how frustrating it is when you go to put your clothes in the dryer and your appliance either won't turn on or you experience other issues with it. There's no need to let your clothes pile up or take trips to the laundromat when your dryer quits working properly. The highly qualified repair technicians at Mr. Appliance of Midtown Phoenix have years of experience providing exceptional residential dryer repair services for households throughout Midtown Phoenix, AZ and the surrounding areas.
Whether your clothes dryer won't turn on or you've noticed it's been taking longer to dry your clothes, we'll diagnose the issue promptly and provide clothes dryer repair services so you can get back to your regular household routine in no time. Call us today to learn more about how our team specializes in repairing residential dryers for efficiency and reliability!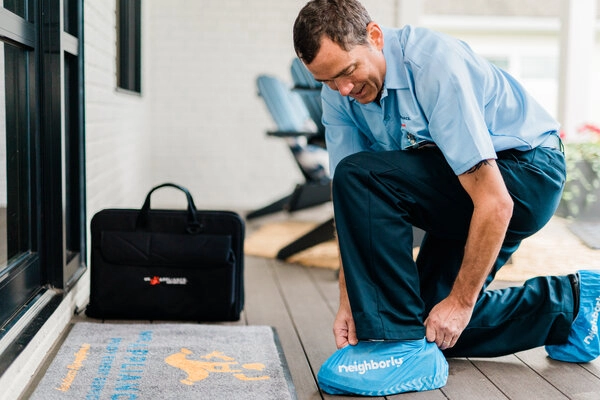 Our Clothes Dryer Repair Services
Dryers might seem like simple appliances from the outside, but several complex parts and components work hard inside to ensure your clothes are dried thoroughly and efficiently. In addition to repairing your dryer, our team performs dryer vent repair and maintenance services to keep your appliance operating safely and smoothly. We have years of experience repairing all types of dryers and replacing the parts they need to continue working correctly. The two main types of residential dryers our experts repair include:
Electric Dryers – Electric dryers only use steam venting to dry clothes, so the exhaust requirements are minimal, making this an affordable option for homeowners that's also easier to install.
Gas Dryers – Running on propane or natural gas, they typically cost more upfront because they're more complex to install. However, gas dryers are more energy-efficient in the long run. They also require specialized venting when installed.
Common Dryer Problems We Fix
Our team has seen it all when it comes to dryers. No matter what issues you're experiencing, Mr. Appliance of Midtown Phoenix can quickly diagnose the issue and deliver cost-efficient solutions for repair. Reach out to our team if you notice any of the following problems with your residential dryer:
It isn't getting hot
It won't turn on
The drum isn't spinning
It gets too hot
It vibrates excessively
It makes strange noises
It takes a long time to dry your clothes
It runs and then shuts off quickly
And more!
Servicing All Dryer Brands
Mr. Appliance of Midtown Phoenix proudly offers dryer repair services for all major dryer brands, including Samsung, Maytag, LG, Whirlpool, GE, and much more. Our experts can provide all the high-quality parts your dryer may need to run efficiently again, including:
Belts
Fuses
Heating coils
Idler pulleys
Motors
Rollers
Switches
Temperature switches
Thermostats
Timers
Dryer Repair vs. Replacement
In most cases, repairing your dryer rather than replacing it is more cost-efficient at the end of the day. If your dryer is more than ten years old and you find yourself paying for frequent repairs, it would be a wiser investment to have it replaced with a new, energy-efficient model. If our technicians believe your residential dryer is beyond repair and should be replaced, we'll discuss all your options with you.
Schedule Dryer Repair Services Today!
When you own a home with essential appliances that keep your household running smoothly, it's essential to have a team of experienced appliance repair technicians on your side to help you when something goes wrong. The highly qualified repair technicians at Mr. Appliance of Midtown Phoenix have years of experience providing professional dryer repair services to households throughout Midtown Phoenix, AZ and the surrounding areas, including Cave Creek and Phoenix. Whether your dryer isn't getting hot or you've noticed your energy bills increasing, we're here to help. We provide warranties on all our parts and workmanship and always stand behind the Neighborly Done Right Promise. Contact our team today to schedule service for your residential dryer!