Your dishwasher is one of the most used appliances in your household, helping to speed up the process of conveniently washing, sanitizing, and drying your dishes. When your dishwasher stops working properly, dishes in the sink begin to pile up, and you might find yourself scrambling to find a trusted professional to diagnose and repair the issue. Fortunately, the team of appliance repair technicians at Mr. Appliance of Midtown Phoenix has years of experience providing high-quality residential dishwasher repair services for households throughout Midtown Phoenix, AZ and the surrounding areas, including Phoenix and Cave Creek.
Whether your dishwasher is leaking or running too long, our team can help diagnose the problem and deliver cost-efficient repair solutions. When you have Mr. Appliance on your side to get things back up and running, there's no reason to let your dishes pile up and start washing them by hand. Reach out to our team today to learn more about how we expertly repair dishwashers and perform preventative maintenance services to keep them running reliably!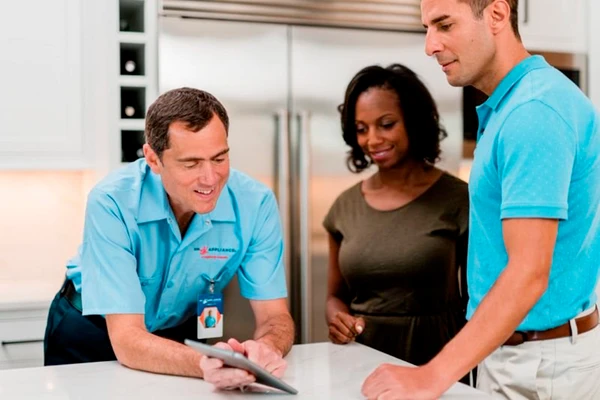 Solving All Your Residential Dishwasher Problems
Homeowners buy dishwashers because they make washing and drying their dishes more convenient. When you experience a problem with one of the most used appliances in your home, it can be frustrating trying to figure out what's wrong with it. When you schedule residential dishwasher repair services with our highly qualified technicians, we'll quickly discover the problem and provide an effective solution, whether we need to repair or replace some parts and components within the appliance. Some of the most common dishwasher problems the appliance repair technicians at Mr. Appliance of Midtown Phoenix resolve include the following:
Dishes aren't cleaned thoroughly
Dishes come out cloudy or have spots
Cycles run longer than they should
Dishwasher hums and then quickly turns off
Water doesn't drain properly
Dishwasher isn't filling with water
It's leaking
And more!
Proudly Servicing & Repairing All Major Dishwasher Brands
With years of experience inspecting and repairing residential dishwashers, we proudly service all major brands of dishwashers for residents throughout the Midtown Phoenix region. A few of the common residential dishwasher brands we professionally repair include:
Bosch
GE
LG
KitchenAid
Maytag
Miele
Whirlpool
And more!
All the Parts Your Dishwasher Needs
If your dishwasher isn't functioning properly because it has one or more parts that are worn or defective, we're here to help. Some of the high-quality dishwasher parts we keep in stock to get your residential dishwasher running reliably again include but are not limited to the following:
Float switches
Gaskets
Heating elements
Motors
Pump assemblies
Solenoids
Thermostats
Timers
Valves
Wash and drain impellers
Dishwasher Maintenance Tips
Performing regular preventative maintenance on your dishwasher is one of the best ways to ensure it continues working efficiently and reliably. You can schedule preventative maintenance services with our experts, and some of the things you can do at home to help your appliance last as long as possible include:
Pour one cup of vinegar into an empty dishwasher and run a normal wash cycle to prevent hard water buildup.
Regularly clean the filters and replace them when damaged.
Do not rinse dishes before putting them in dishwasher but scrape the leftover food scraps and debris from all dishes before placing them in the dishwasher.
Refrain from overloading the dishwasher with too many dishes.
Wipe off the door seal with a cloth and white vinegar every few wash cycles.
Contact Your Local Mr. Appliance of Midtown Phoenix Today
Are you experiencing problems with your dishwasher? There's no need to let your dishes pile up or get into the routine of washing them by hand when Mr. Appliance of Midtown Phoenix is just one phone call away. Our highly qualified team of repair technicians has years of experience expertly repairing dishwashers for households throughout Midtown Phoenix, AZ and the surrounding areas, including Phoenix and Cave Creek.
All our parts and workmanship include warranties, and the Neighborly Done Right Promise backs all our work. We're happy to answer any questions, whether you want to know what dishwasher parts we have in stock or would like an estimate for the cost of dishwasher repair services. Contact our team today to learn more and schedule service for your residential dishwasher!