Today's kitchens can have many modern conveniences, letting people cook whatever they're hungry for with little to no trouble. When a problem develops with your kitchen appliances, we strongly recommend contacting Mr. Appliance of Leesburg & Martinsburg. We specialize in timely and conclusive options for range, stovetop, and oven repair services in Leesburg, VA, and Martinsburg, WV. Everyone enjoys having a home-cooked meal, but a broken stove or oven can significantly inconvenience household cooks. Our team of appliance service professionals can fix your kitchen appliances to ensure they run safely and reliably again with our residential oven, stove, and range repair services for homeowners in communities like Sterling, Round Hill, and Hamilton. We invite you to learn more about these common appliance problems and how our repair specialists can help. Reach out to us today to schedule service in your kitchen.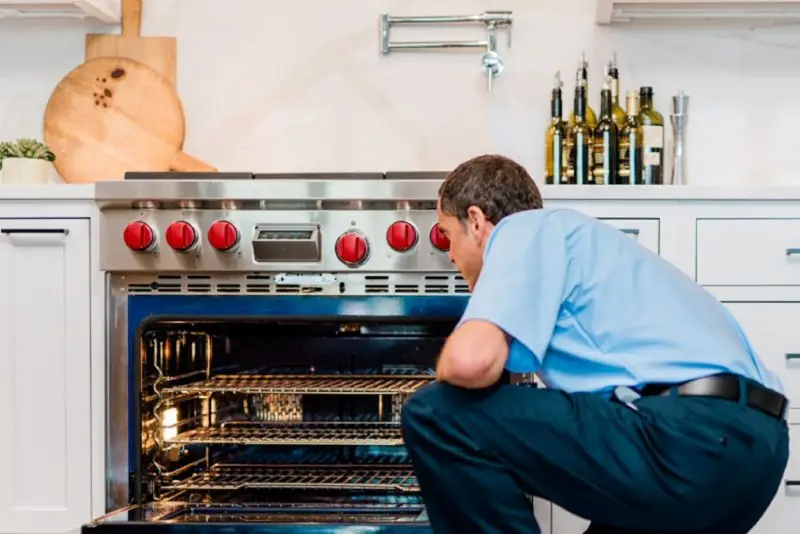 Common Stove Top, Oven, & Range Problems
Our season appliance repair technicians have ample training and experience in the comprehensive oven, stove, and range repair solutions. We've visited homes and handled nearly every type of repair an oven or stove may need to function properly. Our team quickly identifies your appliance's exact problem and resolves it quickly to get you back to spending quality culinary time in your kitchen again. Mr. Appliance of Leesburg & Martinsburg can fix a broad range of common issues your oven, stove top, or range may experience, including the following:
Burner gets too hot

– If the burners on your stove top get too hot regardless of what you set them at, a bad switch is the most likely cause. Our repair professionals can resolve this issue quickly.

Burner won't come on

– If one of your burners refuses to turn on, you can try using a different burner. The issue might be with the burner itself, the receptacle, or the switch.

Oven door is stuck closed

– If your oven door doesn't open, you may have a defective oven control or a misaligned self-clean latch.

Indicator light stays on

– A damaged switch is often the cause of this problem.

Oven will not self-clean

– Your oven won't clean itself if there's an issue with its function selector or self-clean latch switch.

Oven does not heat

– An oven that doesn't heat can be due to many factors, and it may depend on the oven type you have in your kitchen. We may need to replace some of your bake or broil heating elements.

Oven does not bake or broil

– When you cannot bake or broil in your oven, the issue may be a bad bake igniter or valve. We can quickly install new parts to resolve the problem and restore your appliance's capabilities.

Oven produces erratic temperatures

– Uneven temperatures can make cooking a challenge. Our service professionals can repair or replace a selector switch, temperature sensor, or bake oven ignitor.
We Service All Oven & Stove Brands
Kitchen technology has advanced by leaps and bounds over time, so you can find plenty of brands, makes, and models of stoves, ovens, and range tops to make cooking more convenient. Mr. Appliance of Leesburg & Martinsburg's team of repair experts has the necessary equipment, experience, and expertise to handle repairs and other service options for all types of cooking appliances in your kitchen. Our Virginia and West Virginia customers rely on us because we offer consistently high-quality range, stove, and oven repair services, among many other appliance options. Some oven and stove brands we service regularly include the following:
GE
Frigidaire
Whirlpool
Maytag
Dacor
KitchenAid
Thermador
Replacing Various Oven, Range, & Stove Top Parts
Many parts work together in your cooking appliances to let you cook delicious meals for your family, friends, and guests. Whether your primary cooking appliance is an oven, range, or stove top, we have all the necessary replacement parts to get your cooking appliance up and cooking again with quick and effective service. We also gladly give you an accurate estimate of what your oven, stove, or range repairs will cost. You can trust us to replace a wide array of parts in electric ovens and ranges, such as the following examples:
Igniters
Switches
Valves
Temperature sensors
Thermometers
Gaskets
Heating elements
Burners
Spark modules
Spark electrodes
Bake igniters
Controlled boards
Safety valves
Relays
Dials
Self-cleaning latches
Ignition wires
Thermocouples
Signs You Need Oven or Stove Repair Services
Sometimes, your stovetop, range, or oven issue will just be a one-time glitch that resolves itself. However, these easy-to-dismiss glitches can signal a more significant problem in many cases. People's busy schedules today can make it easy to push back or ignore an issue with a kitchen appliance, but neglecting professional solutions to these seemingly minor problems can lead to more expensive appliance repairs or replacements in the future. Mr. Appliance of Leesburg & Martinsburg can inspect your stove or oven when you first notice any sign of a problem, saving you money and stress down the line. Minor adjustments or swapping out a part might be all you need, and it will cost you much less than future extensive repair work or an entire appliance replacement. You should always get in touch with our experts when you notice any problem with your cooking appliances.
Schedule Appliance Repair in Your Kitchen Today
Choosing Mr. Appliance of Leesburg & Martinsburg to handle your oven repair needs means you select a team of qualified appliance repair experts with a reputation for providing service on your schedule. Our courteous, uniformed professionals offer warranties to back our workmanship and parts, and we always stand behind the Neighborly Done Right Promise®. Reach out to us today to schedule service.