A backyard kitchen is a great way to spend summer nights with family and friends. Your next outdoor event can be made better with the addition of outdoor appliances. Call our team of professionals if any issues occur with your outdoor refrigerator, ice maker, dishwasher, or more. Mr. Appliance of Leesburg and Martinsburg offers expert outdoor kitchen repair services for families in Leesburg and Martinsburg, VA. Our team strives to ensure that your backyard kitchen appliances run optimally. We pride ourselves on offering reliable, quick, and efficient outdoor kitchen repair. Learn more about our services and contact us to schedule your next appliance repair.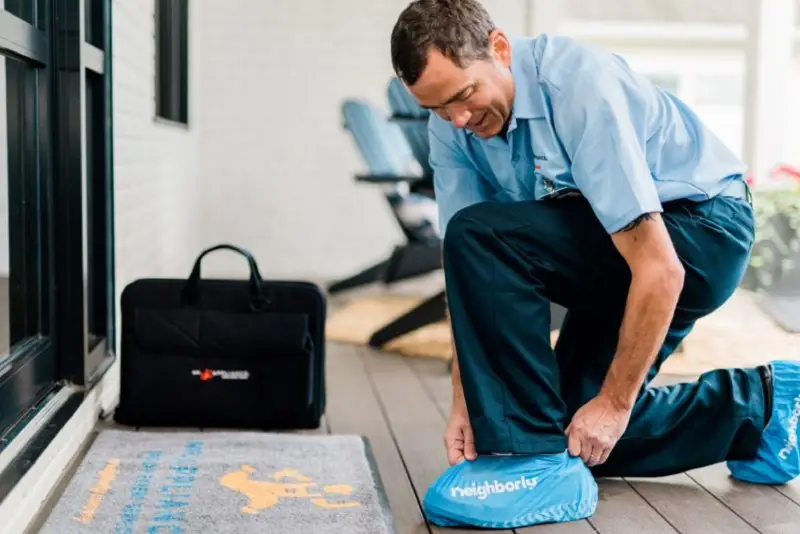 We Can Service Built-In Grill Repair
No backyard event is complete without a grill. Backyard grills significantly enhance your backyard kitchen, but using built-in grills has its benefits. Using a larger built-in grill makes cooking meals for outdoor parties a breeze. Most grills have access to several convenient add-ons like warming drawers and spring-operated hoods. These additions can make grilling that much more exciting. Adding a built-in grill to your backyard kitchen adds a pleasing aesthetic touch and can improve your home value. If you want to add a grill to your outdoor kitchen, you can count on the professionals at Mr. Appliance of Leesburg and Martinsburg to install your new grill and handle any potential repairs quickly and efficiently. Here are some additional benefits of having a built-in-grill:
High-capacity cooking
Extra features and accessories
Aesthetic appeal
Increased home value
More ways to entertain guests and family
Outdoor Ice Machine & Maker Repair
Keep the summer party going with ice-cold drinks. Adding an icemaker to your outdoor kitchen saves you from making several trips to and from the kitchen and lets you stay in the heart of the party. If you notice that your ice maker isn't running like it once did or it's starting to show signs of malfunctioning, be sure to call the repair technicians at Mr. Appliance of Leesburg and Martinsburg. We recommend keeping it out of direct sunlight to ensure you can get the most out of your ice machine. It's best to keep it in a dry, shaded area. Our highly trained technicians have the skills to repair and keep them in great shape for years.
Keep Your Outdoor Refrigerator Running
While not every refrigerator is designed to be outside in the elements, finding the right one can turn your backyard into the perfect place to host guests. Using an outdoor refrigerator is an understated luxury that makes cooking and keeping guests happy a breeze. Refrigerators built for the outdoors are designed with increased insulation and components, allowing them to handle unpredictable environments. To get the most out of your outdoor kitchen refrigerator unit, have your local Mr. Appliance of Leesburg and Martinsburg technicians perform regular maintenance and repairs when necessary. Whenever you call us for repairs, we ensure each of our technicians is equipped to repair your outdoor kitchen appliances. Here are some of the replacement parts we can provide:
Thermostats
Replacement bulbs
Door switches and seals
Water filters
Ice maker components
Condensers and compressors
Outdoor Dishwasher Repair
If you already use weathertight cabinets to store your dishes and silverware in the backyard kitchen, why not install an outdoor dishwasher to keep them clean? If you're considering buying one or already have one, you can trust the professionals at Mr. Appliance of Leesburg and Martinsburg to keep your dishwasher running smoothly. Here are some features most outdoor dishwashers have that we can help with:
Outdoor-rated electrical power cord
Water supply and drain hose
Multiple wash programs and temperature settings
Filtration system designed to ensure clean water throughout the wash
Weatherization instruction to allow the dishwasher to be safely stored outside
Schedule Our Outdoor Kitchen Repair Services
If your outdoor kitchen appliances need routine maintenance services or repairs, don't hesitate to call on the experts at Mr. Appliance of Leesburg and Martinsburg. Our team offers cost-effective solutions that can quickly and reliably correct the issue. We aim to maintain all your outdoor appliances to provide outstanding performance for years. If you're ready to upgrade your out-of-date appliances, we can help install them without concerns. Whether you're looking for an estimate for your maintenance service or want to learn more about our outdoor kitchen repair services, don't hesitate to contact us. Mr. Appliance of Leesburg and Martinsburg takes pride in offering upfront pricing and guaranteeing all our jobs with the Neighborly Done Right Promise. Reach out to us today to schedule your next backyard kitchen service.