Your freezer lets you store perishable food effectively for a long time, but you can easily start panicking when it doesn't work correctly. Mr. Appliance of Leesburg & Martinsburg covers your concerns with professional freezer repairs for your Leesburg, VA or Martinsburg, WV household. Freezers let people save money on groceries and waste less food by keeping it frozen and preventing spoiling. You might love frozen pizza, end your day with a bowl of ice cream, or make dinners simpler with heat and eat veggies. Your freezer makes life more convenient by ensuring you can have food for weeks or even months without letting it go bad. The FDA stipulates that freezing your food at zero degrees Fahrenheit or lower safely stores it and prevents bacterial growth. We invite you to get more information about our residential freezer repair services and then reach out to us today to schedule repairs at your home.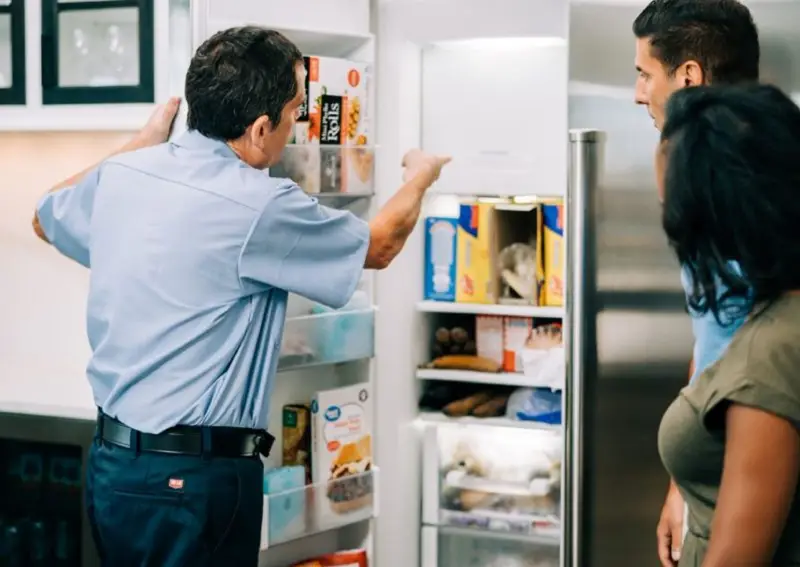 Exceptional Service on All Freezer Brands
No two kitchens are the same, and homeowners in communities like Round Hill, Hamilton, and Purcellville may have freezers from any of the popular brands. Mr. Appliance of Leesburg & Martinsburg can perform fridge freezer repair services on any of the following brands:
Revco
LG
Samsung
Kelvinator
GE
Whirlpool
KitchenAid
We Fix Common Freezer Problems
Your freezer is responsible for keeping your food frozen and preserving it over time. However, this appliance contains many parts that can wear down or break over time. If anything happens to these parts that affect your freezer's functionality, our experienced service professionals can resolve the issue with home service repair for freezers. We urge you to get in touch with us for help if any of the following common freezer problems occur and endanger your stored food:
Freezer won't turn on

– Be sure you've plugged in your freezer and switched on the power. You can also check your breakers to ensure they are functioning properly. If none of these factors is the problem, you'll need our talented team to identify and resolve it.

Freezer does not cool

– Make sure the freezer door wasn't left open by anyone or that nobody accidentally adjusted the temperature controls. Your appliance issue may be non-working freezer door seals.

Freezer over-cools

– Freezers that maintain an overly cold temperature can produce unwanted frosting. If frost in or on your pipes appears or accumulates, you should reach out to us for immediate help.

Freezer temperature is inconsistent

– If you notice your freezer's interior compartment has temperature fluctuations, unwanted spoilage can happen. Dust or debris may be responsible for this issue, but something more serious may also be the cause.

Freezer makes noise while operating

– If noises come from your freezer when it starts up or produces clunking sounds, engine or compressor problems may be the underlying issue.

Freezer door seals are damaged or defective

– Seals that don't do their job can lead to wasted money and energy. You shouldn't be able to pull a dollar bill out of your freezer door while it's shut.
Freezer Parts Replacement by Our Experts
Freezers contain various parts that you may need to replace over time. Many of these parts can be dangerous and trying to replace them without the proper tools or training can result in injuries. You should always leave this job to Mr. Appliance of Leesburg & Martinsburg's experienced service professionals. We can replace any part your freezer contains, such as the following:
Door seals
Defrosters
Thermostats
Defrost timers and heaters
Compressors
Evaporator fans
Evaporator coils
Relays
Seals and gaskets
Evaporators
Overload protectors
Motors
Compressors
Door switches
Switches
Evaporators
Fans
Defrost control timers
Schedule Freezer Repairs at Your Home
We can help you keep your food safe to eat and spend less money with our quick, high-quality freezer repair services. Mr. Appliance of Leesburg & Martinsburg's highly qualified appliance repair experts perform service on your schedule to make our services more convenient. You also get peace of mind knowing our courteous, uniformed professionals offer warranties on all our parts and workmanship and stand behind the Neighborly Done Right Promise®. Our company also offers upfront pricing and accurate estimates covering your freezer repair cost. Get in touch with us today to schedule service.