Your dryer is a valuable appliance that saves you time by letting you dry your clothes quickly, easily, and thoroughly. When a problem occurs with your household clothes dryer, the team of service professionals at Mr. Appliance of Leesburg & Martinsburg can perform professional dryer repair services in Leesburg, VA, and Martinsburg, WV. Most of us rely on our laundry room's washers and dryers, so we share the same frustration when our dryer develops an issue and doesn't work correctly. Sometimes, your dryer will stop working altogether, but it can also run inefficiently and cost you more money to keep it running long enough to dry your clothes completely. If your appliance dries your clothes slowly, your energy bills are increasing, or another problem with your dryer develops, we urge you to contact us to schedule service at your home.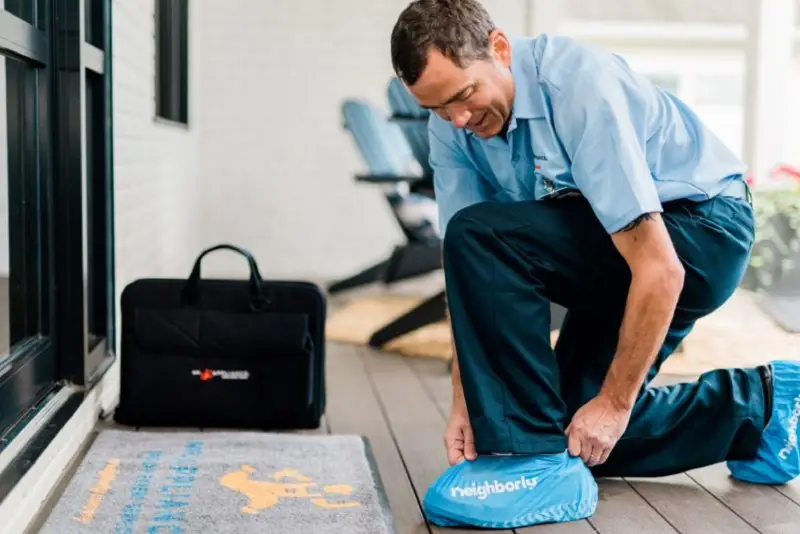 Experts in Comprehensive Dryer Repair Services
Mr. Appliance of Leesburg & Martinsburg's dryer repair experts do everything you need regarding residential dryer repair services. We will gladly visit your Leesburg, VA, or Martinsburg, WV home to inspect your dryer, identify the exact problem, and resolve it with quick, efficient work. We perform vent maintenance services and repair gas and electric dryers to keep your laundry going. Understanding the issues that can affect your dryer requires fundamental knowledge of how this household appliance works. Dryers have a tumbler, which is a rotating drum. The tumbler circulates heated air and evaporates moisture inside your dryer. During this process, humid air gets forced out through the venting system and moves outside your home to open the tumbler space for dry air to get your clothes free of moisture. Our service professionals repair all these appliance parts, and we also clean dryer vents to keep dryer operation safe and smooth. We've described the two main dryer types we repair:
Electric Dryers

– You can purchase an electric dryer at a lower cost than gas models, and it's easier to install. An electric dryer's exhaust requirements are minimal because they only utilize steam venting.

Gas Dryers

– This dryer type operates using propane or natural gas. Gas dryers have a higher upfront cost but can save you money on your monthly power bills because they're more energy efficient. However, a gas dryer also requires specialized venting.
Common Dryer Problems We Can Repair
If you've noticed your dryer has operational issues, you don't need to panic. Mr. Appliance of Leesburg & Martinsburg specializes in professional clothes dryer repair services for Virginia and West Virginia homeowners. We encourage you to reach out to our appliance repair experts if any of the following common dryer issues affect your appliance:
Dryer not producing heat

– Your dryer drum spins but doesn't produce heat. A bad temperature switch, heating coils, thermostat, or fuse might be the cause of this issue.

Dryer not running

– You should start by ensuring you plugged in your dryer and then check to verify your circuit breakers work properly. Dryers not operating may be due to bad thermostats, broken start switches, or damaged terminal blocks.

Drum not spinning

– Sometimes, your dryer's motor will run effectively, but the drum inside won't spin. This issue is most commonly because of a broken belt, but other causes may include bad idler pulleys, rollers, or motors.

Dryer getting too hot

– Dryers may dry your clothes quickly when they get too hot, but they can also cause dangerous situations requiring an appliance professional to address this issue immediately. Some possible causes of a dryer getting too hot include faulty heating coils, clogged vents, or a bad thermostat.
Appliance Repair Solutions for All Dryer Brands
The team at Mr. Appliance of Leesburg & Martinsburg proudly offers local households comprehensive dryer repair services for all major dryer brands, such as Maytag, Samsung, GE, LG, LG, Whirlpool, and many others. We will gladly give you an accurate estimate covering what your dryer repair service will cost. Our appliance experts can provide all the necessary parts to fix your dryer, including the following:
Timers
Thermostats
Motors
Heating coils
Rollers
Belts
Fuses
Switches
Idler pullets
Temperature switches
Schedule an Appointment for Dryer Repair
Mr. Appliance of Leesburg & Martinsburg's service professionals also proudly design our dryer maintenance services to help you spend less money on your energy bills, dry your clothes safely, and avoid inconvenient breakdowns in the future. Our highly qualified appliance technicians offer warranties on our parts and workmanship, and we stand behind the Neighborly Done Right Promise®. Contact us today to learn more about our appliance repair options and schedule service at your home.