We understand that homeowners can get frustrated after running their dishwashers through a full cycle and then opening the appliance door to find their dishes are still dirty. Mr. Appliance of Leesburg & Martinsburg offers professional dishwasher repairs for Leesburg, VA and Martinsburg, WV homeowners. You shouldn't need to clean your dishes manually and then dry them on a rack when you have a dishwasher in your kitchen. Our service professionals can resolve any issue, whether your appliance has an extended wash cycle, drain problems, or any other stressful problem. Let us accurately diagnose your dishwasher's specific problem and fix it quickly with timely, efficient work and long-term results. We can also extend your appliance's lifespan with our dishwasher maintenance services. You can get more information about our dishwasher repair and then reach out to us today to schedule appliance repair services at your home.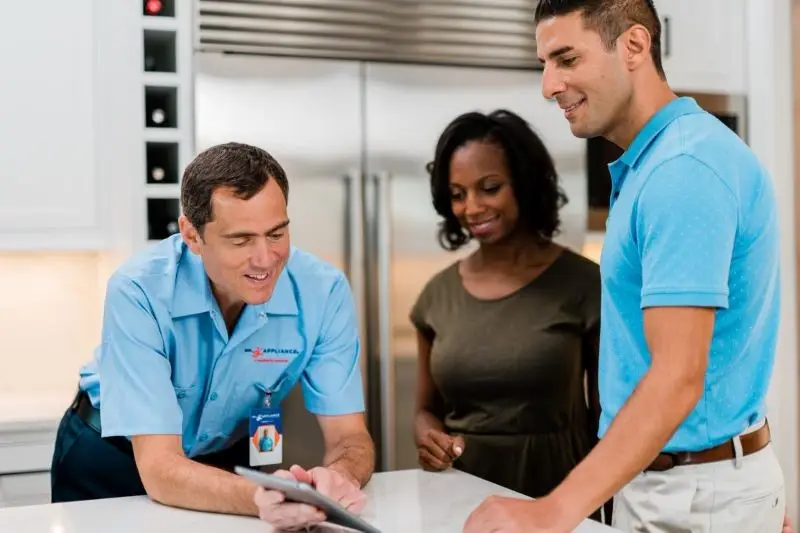 Solutions for Common Dishwasher Problems
Your dishwasher carries out the simple but essential job of washing and drying your plates, cups, bowls, silverware, and other dishes. However, this appliance is very complex, with many parts working together and various potential problems. If any of the following common issues occur with your dishwasher, Mr. Appliance of Leesburg & Martinsburg strongly recommends calling us to schedule professional repair services:
Dishes aren't clean

– Running your dishwasher and finding that it didn't clean your dishes all the way is frustrating. Some possible causes of this issue include a burned-out heating element, a worn-out wash impeller or pump assembly, or blocked spray armholes.

Cloudy glassware

– If your glassware looks cloudy after running a full washing cycle, your home may have extremely hard water. You should always rinse your dishes thoroughly before putting them in your dishwasher and running it. If this step doesn't resolve the problem, you may need to consider purchasing a water softener.

Wash cycles run too long

– A dishwasher running longer than it's meant to might have difficulty completing its full cycle due to a malfunctioning timer or defective thermostat.

Dishwasher hums and turns off

– A dishwasher making a humming noise often means its motor has seized. When this problem happens, you should replace your motor.

Water doesn't pump out

– If your dishwasher doesn't remove the water it uses as it's designed to, the cause may be a clogged drain line, an issue with its drain impeller, or a worn-out drain solenoid.

Dishwasher does not fill with water

– A dishwasher not having water fill in it when you try to start it could be because of a malfunctioning timer, a defective or stuck overflow float switch, a defective water inlet solenoid, or a failed valve.

Dishwasher leaks

– One of the primary reasons a dishwasher can leak is using the incorrect type of soap or too much of it. Double-check your dishwasher soap before you try anything else. Other possible issues could be a leaking motor or pump assembly, worn door gaskets, or problems with your tub-to-motor gaskets or spray arm assemblies.
Experts Repairs for All Dishwasher Brands
Mr. Appliance of Leesburg & Martinsburg's talented team proudly services all major brands of dishwashers found in Leesburg, Martinsburg, Round Hill, Purcellville, and Hamilton households. Our residential dishwasher repair service can keep the following dishwasher brands running longer and more efficiently:
GE
Maytag
Bosch
KitchenAid
Whirlpool
We Have All the Dishwasher Parts You Need
Dishwashers are complicated and handle the cleaning and drying your dishes at the press of a button, turn of a dial, or close of a latch to make life easier in your home. Mr. Appliance of Leesburg & Martinsburg's appliance dishwasher repair service covers various aspects of appliance repair work, such as replacing any worn or broken parts. We advise you to get in touch with us for an accurate estimate of what your home dishwasher repair services will cost. Our highly trained and experienced service professionals can replace any dishwasher part, including the following:
Timers
Gaskets
Solenoids
Thermostats
Pump assemblies
Float switches
Wash and drain impellers
Heating Elements
Motors
Valves
Dishwasher Maintenance Advice
Regular dishwasher care and maintenance are the best ways to prevent significant problems with your valuable household appliance. You can clean your dishwasher using vinegar every three to four months to decrease hard water buildup. Pour a single cup of vinegar into your dishwasher without dishes in it and run a normal wash cycle. The dishwasher will use the on cup of vinegar to clean itself. The following are some other steps you can take to extend your dishwasher's lifespan:
Clean filters regularly and replace them if you see any signs of damage
Scrape all leftover food off your dishes and into your trash before placing them in your dishwasher
Try never to overload your dishwasher
Use a dishrag and white vinegar to wipe the door seal and clean out food residue collecting in your dishwasher
Schedule Dishwasher Repairs Today for Your Appliance
We know you'll enjoy how to clean your dishes are after running a full cycle when you schedule dishwasher repairs from Mr. Appliance of Leesburg & Martinsburg. Our highly qualified and courteous experts offer upfront pricing and perform every service on your schedule. We also offer warranties to back our workmanship and parts while standing behind the Neighborly Done Right Promise®. Contact us today to learn more about our appliance repair solutions and schedule service.