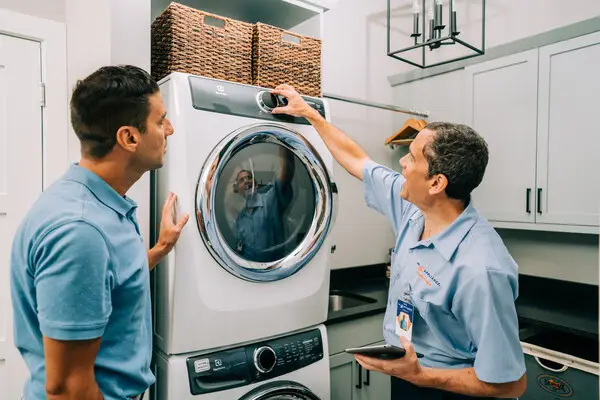 To help prevent unwanted breakdowns, consider running smaller loads of laundry to help prevent damage to your washer's drum.
You should also avoid overstuffing your dryer as this can lead to motor damage from being overworked.
It might sound odd, but we'd avoid using extra detergent for those particularly dirty loads. Doing so could result in not only a damaged washer but damaged clothes as well.
Always clean the lint screen after each load. Doing so will help your dryer run more efficiently.
You might not think of your dryer vent too often, but having it professionally cleaned once every 3 to 12 months can save you, your family, and your home from potential fires and help your dryer run more efficiently.
The laundry room, perhaps, is the home of some of your most beloved and crucial appliances – your washer and dryer. Whether it's your washer's pump, drum, or dryer vent we have your laundry room repairs covered. For your peace of mind, our Fort Myers washer repair team warranty all parts and labor for up to a year. So when either of these cherished appliances breakdown, things can get pretty dicey but they don't have to with Mr. Appliance of Lee County's speedy and expert laundry appliance repair services.
For your convenience, you get to book the repair service for when it's most convenient for you. Get in touch with our Fort Myers laundry appliance repair team to book your service!
Washer and Dryer Repairs | Frequently Asked Questions
How many years should a washing machine last?
Your washing machine should last about 12 years. That is, if you take care of your washer, use it properly, and have some routine maintenance performed on it.
Below are a few ways that can help your washer last:
Don't overload it - overloading your washer can damage its motor, tub bearings, drum, and, honestly, your laundry won't be effectively cleaned. Instead, run normal-sized loads.
Don't use too much detergent - when it comes to detergent, less is more. Using too much detergent can damage your washer's drain pump and block its draining system.
Check the water hoses - check your water hoses monthly for cracks and bulges. If this wear and tear exists, replace the hoses ASAP!
How can I get the most out of my dryer?
First things first, ensure you're cleaning your lint trap after each load. If you're drying blankets, bed sheets, or other heavy linens, you might need to clean the lint trap a couple of times during each cycle.
Next, make sure you're having your dryer vent cleaned at least once a year – depending on how often you use your dryer, you might need to have it cleaned more frequently.
Our Fort Myers dryer repair experts have the skills and determination to get your favorite dryer up and running in no time flat. Our locally owned and operated dryer repair company can service 40+ appliance brands; you can rest easy that we can fix yours.
Need speedy, expert washer-dryer repair in Fort Myers, FL? Request your service online or call us today. We warranty our services!
Experience Laundry Room Appliance Repair Services Like No Other With Mr. Appliance of Lee County
At Mr. Appliance of Lee County, we're in the business of providing quick and expert repairs for your laundry appliances because that's what you count on when you need it most. There's nothing more infuriating than dealing with a company that doesn't return your calls, shows up late, or doesn't show up at all! That's not what we're about. We're there when you need help!
We're locally owned and operated by Bob and Nita Tuck. Bob has worked in the appliance industry for over 30 years and loves our team and serving our customers. Visit our Meet Our Owners page to learn more about us!
We're also backed by positive reviews; check out our testimonials page to see why our customers love our services. If your washer ever runs into any problems, give our local washer repair pros a call at for speedy, expert service!
Book your laundry room appliance repair service by reaching out to us online or giving us a call!