A microwave is a modern convenience that allows us to cook food quickly. When it isn't working correctly, it can be a hassle. Mr. Appliance of League City offers professional microwave oven repair services in League City, TX. You can rely on our service professionals to find the root of your microwave's problem and offer an effective repair. We understand the inconvenience of a malfunctioning microwave. Contact us today to get an estimate on our microwave repair services.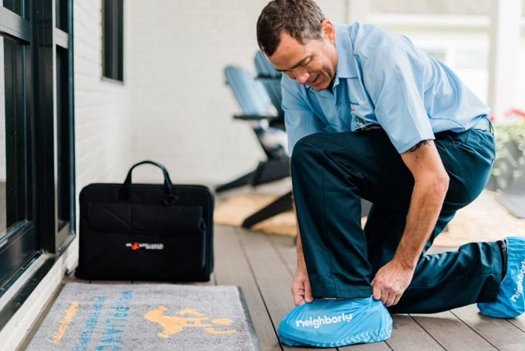 Repairing All Types of Microwave Ovens
Our service professionals can repair all types of microwave ovens, from standalone units to high-tech built-in microwaves. The most common types of microwave ovens we repair include the following:
Countertop – A countertop microwave oven is convenient and common due to its easy setup.
Drawer Style – A sliding microwave oven is typically located below the counter for easy access.  
Over-The-Range – This type of microwave oven is usually located above your oven or stove to save space.
Built-in – Built-in microwaves are typically built into the kitchen cabinetry for a stylish look.
Repairing All Major Brands of Microwave Ovens
We are experts in repairing microwave ovens for all major brands. Our service professionals can handle any brand, make, and model of microwave. The most common brands of microwave ovens we repair include the following:
GE 
Bosch
Samsung
Sharp 
KitchenAid
Maytag 
Whirlpool 
Common Microwave Oven Repairs
When your microwave oven doesn't heat or turn on, it can be challenging to know the problem. Trust our professionals to locate the issue and repair it. The most common issues with microwave ovens include the following:
Microwave won't turn on – When your microwave oven won't power on, it could indicate a blown fuse. Check the plug and outlets before proceeding.
Sparks inside the microwave – The most common reason for sparks inside a microwave is pieces of metal that are mistakenly put into the microwave. It could also indicate an issue with a high-voltage diode short or a defective stirrer.
Control panel problems – A control panel issue often won't allow the microwave to power up at all. We typically recommend a new microwave when the control panel goes out.
Microwave won't heat – Heating issues often indicate a defective diode, capacitor, or magnetron. Our team can quickly replace these microwave oven parts.
We Repair & Replace Microwave Oven Parts
Should you repair or replace your microwave? Our service professionals take the time to find the correct replacement parts for your microwave oven. We do our best to repair it before determining you need a new microwave. The most common microwave oven parts we repair and replace include the following:
Drive bushings
Lights 
Fuses 
Tray motors
Diodes 
Magnetrons
Switches  
Fan motors
Capacitors 
Stirrer belts 
Resetting Your Microwave
One of the first things you can try when your microwave is not working properly is to reset the microwave. If your microwave has an off/reset/cancel button, hold it until you hear a beep to perform a soft reset. If you need to perform a hard reset, you can usually unplug the microwave for 30 minutes.
What If I Blow a Fuse in My Microwave?
Microwaves have multiple fuses, so it can be difficult to determine the culprit of a blown fuse. When your microwave doesn't turn on, you most likely have a blown fuse. We can help you determine why the fuse blew and repair the problem.
Trust Mr. Appliance of League City
You can trust Mr. Appliance of League City for your appliance services in Houston, Alvin, Webster, League City, Friendswood, Seabrook, Kemah, Manvel, and Dickinson, TX. We work quickly to find the problem with your appliance and offer a solution. Our team always provides upfront pricing without any hidden fees. We back our products and work with a guarantee that the job will get done right the first time.
Request Your Microwave Repair Appointment Today
Mr. Appliance of League City is committed to offering fast and efficient microwave oven repair services. We always show up on time and get the job done. We'll take the time to help you understand the issue and explain our approach. We make it as easy as possible to schedule an appointment with us online. Contact us today to schedule microwave oven repair services with our professionals.