Are you looking for reliable and affordable refrigerator repairs in Idaho Falls? Our team at Mr. Appliance of Idaho Falls has over 10 years of experience to ensure your refrigerator continues to function long-term.
Our refrigerator repair services can help your appliance maintain a specific temperature to keep food insulated and extend its life.
If you find that your refrigerator isn't as cold as it used to be or your food is expiring more quickly, it may be putting your health at risk.
Call us and speak to our local technicians who are ready to repair your refrigerator in Idaho Falls today!
How Much Do Refrigerator Repairs Cost?
The cost to repair a refrigerator can vary greatly based on the model and repairs your fridge needs. A such, it's best to always consult with our professionals to provide you with an honest and upfront estimate for your refrigerator repair.
Our team is highly trained and very experienced at assessing the problem and providing you with viable and cost-saving solutions. If you have any questions about a specific repair, please contact us online or call us.
How Long Before I Need to Replace My Refrigerator?
A refrigerator usually has a lifespan of approximately 12 years, but this requires taking care of it. Repairing any issue immediately is a sure-fire way to ensure your most-used appliance continues functioning at an optimal level.
Some common refrigerator issues include:
Refrigerator is freezing food.
Refrigerator isn't getting cold.
Refrigerator is leaking.
Refrigerator is cycling too often and is noisy.
As a general consumer rule of thumb, if the cost to repair your appliance exceeds half the cost to purchase a new one, it's time to start shopping around. However, before you do that, you should always allow a professional to look at the problem so that you can get details on the situation and make the best decision.
Searching for speedy, expert refrigerator repair near you? Book your appointment online or call us today. We can fix any type of fridge!
4 Benefits of Letting a Professional Repair Your Refrigerator
Your refrigerator is a critical appliance in your home that allows you to store food for later consumption safely. While this is probably one of the most important reasons you need immediate, professional, and expert refrigerator repair service in Idaho Falls, there are a few other benefits you may not have considered.
Reduce costly repairs in the future – If you decided to do DIY refrigerator repairs, you could risk only temporarily solving the problem or causing more issues in the long run. Our professional technicians are certified and trained to repair your refrigerator accurately.
Avoid life-threatening foodborne illness – When your fridge goes on the fritz, and you don't call a professional to take a look, you run the risk of letting food spoil and grow mold that could be life-threatening if consumed.
Save time fixing an issue – With your busy schedule and lifestyle, when can you find time to complete the little things, let alone tackle a refrigerator repair? Mr. Appliance of Idaho Falls' technicians offer superior quality repair services, so you don't have to take time out of your day to handle a complicated appliance issue.
Get the job completed accurately – Our Idaho Falls team has years of experience and thorough training to complete your repair precisely, saving you time and money.
Check out our reviews to see why our customers love our services. To book your refrigerator repair services, call us or schedule easily online.

What to Expect from Your Idaho Falls Refrigerator Repairman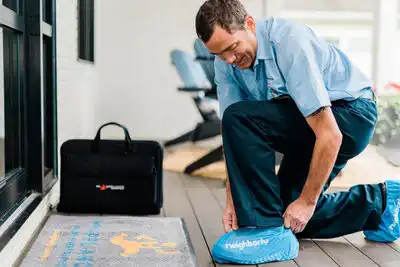 Are you curious about what to expect during your refrigerator service? From text and email notifications to wearing shoe covers in your home, we strive to provide world-class service.Here's what you can expect from your team at Mr. Appliance of Idaho Falls:
Communication
Something that differentiates us from others is our communication. Before your service, we'll send you a text and email containing a two-hour window of when you can expect us. This will also include a picture of your refrigerator repairman, so you know who will show up.
Prompt, Professional Arrival
It's your refrigerator we're dealing with, so we'll arrive when we say we will (no questions asked). We'll show up in our professional Mr. Appliance uniform and in a stocked vehicle. Our aim is to repair your fridge as quickly as possible.
Thorough Diagnosis & Estimate Review
After laying out our doormat and putting on shoe covers, we'll get right to work troubleshooting your fridge. We'll leave no stone unturned to ensure we find the exact issue - we won't give you "the runaround". We'll be up-front and honest with pricing and your repair options.
Speedy, Expert Repair
If you approve the estimate, we'll do all we can to repair your fridge that same day. If we need to order parts, we'll return as quickly as we can and keep you in the loop every step of the way.
Fridge Tips & Suggestions
At some point during your appointment, we'll be happy to share fridge maintenance tips and suggestions. These should help you avoid having problems down the road.
Our job is to help you avoid buying a new refrigerator. We'll stop at nothing to help that be the case! If you'd like, you can read some of our reviews left by our happy customers.
Need a speedy, expert fridge repair person in Idaho Falls? Call us today or book your service online. We'll be over soon!
Refrigerator Maintenance Tip: Clean Your Condenser Coils
Your fridge's condenser coils are vital to the health of your fridge as they cool and condense the refrigerant. When they're clogged with dust and debris, they work a lot harder to release heat. Cleaning the coils is pretty easy; all you'll need is a coil cleaning brush, a vacuum, and a few tools.
First, unplug your fridge. Then, locate the coils - they are either underneath your fridge near the front or behind your fridge. Remove the access panels (tools may be required) and gently use the brush and vacuum to clean up the dust and debris.
Call Us for Fridge Repair Services in Idaho Falls
Mr. Appliance of Idaho Falls is here to make sure your refrigerator continues to run efficiently and functions as a safe food storage option for your home.
As a locally owned and operated business, we are proud to serve our residential customers with exceptional, dependable, and affordable refrigerator repairs in Idaho Falls.
Get in touch with our local experts for help with any kitchen appliance issues you have, from your fridge to your oven - we can help. Call us, or schedule your service online.