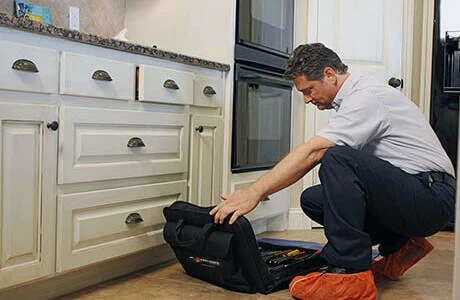 If your refrigerator isn't working, Mr. Appliance of Gainesville is ready to come to the rescue! Our expert appliance specialists will apply years of experience and cutting-edge tools to get your fridge working again quickly. We know how time-sensitive a refrigerator repair can be. Many perishable food items can begin rotting and spoiling in no time. Let our Gainesville appliance repair technicians deliver quality workmanship with the urgency you deserve!
We can service any refrigerator malfunction, including:
Defective compressions
Temperature control
Blocked vents
Faulty evaporator coils
Broken light sources
And much more!
We will troubleshoot and figure out the underlying issue with your refrigerator and freezer. Once we finalize a diagnosis, we will offer an upfront price estimate free of hidden charges and fees. We will then proceed with the necessary repairs and replacements onsite to get your fridge operating smoothly again!
For reliable Gainesville refrigerator repair, give us a call or contact us online!
What Are the Most Important Parts of a Refrigerator?
Our highly trained and knowledgeable Gainesville appliance experts arrive punctually and fully equipped to do everything we can to complete the repair task on the first visit. We have a versatile toolbox and industry-best connections to discounted refrigerator replacement parts. You can trust our team to order a specialty part without delay if it is needed to finish a repair.
We can replace a wide range of refrigerator parts, including:
Solenoids
Rubber gaskets
Valves
Compressors
Water filters
Hoses
And much more!
Finding compatible refrigerator parts can be a challenge. Our specialists know all the details and specs to help you find a replacement that matches your refrigerator's unique make and model. We have a comprehensive inventory of refrigerator accessories already in stock, so we rarely need to hunt down elusive replacements.
Reliable Refrigerator Repairs Near Me
Not all refrigerator replacements are equal! They can differ significantly in terms of quality and price. Fortunately, our home appliance technicians are well versed in the field and will recommend parts that last longer and perform better. Our goal is to find premier replacement options for every repair.
A refrigerator is easy to take for granted — at least until it breaks and your food begins to spoil. Luckily, with Mr. Appliance of Gainesville at your call, there is no need to hesitate or panic when faced with a frustrating refrigerator emergency. Reach out right away, and we'll restore your fridge to working condition as fast as possible.
To ask any questions or to request a cost-effective refrigerator repair in Gainesville, FL and surrounding areas, call or reach out online today!