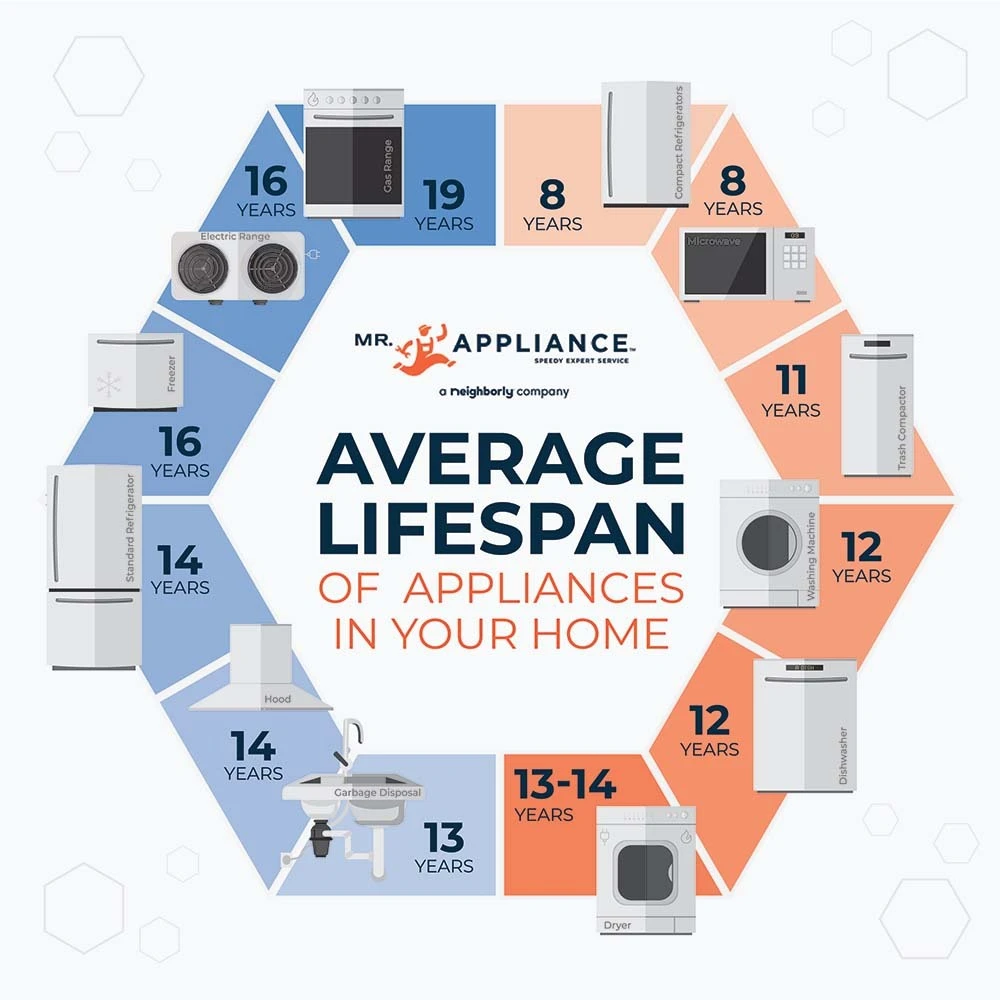 Efficiently operating appliances are a significant reason why your household runs so smoothly. When your refrigerator, stove, washing machine, dryer, or other major appliances malfunction, your entire schedule is thrown into a tailspin. Once you contact Mr. Appliance of Central New Jersey for effective and reliable appliance repair services, you won't have to wait long for a resolution.
Typical home appliance manufactures say that their appliances last around 10 years, give or take a few years:
Refrigerators - Around 14 Years
Washing Machine & Dryers - Around 12 Years
Sinks - Around 13 Years
Ovens - Around 19 Years
Microwaves - Around 8 Years
Dishwashers - Around 12 Years
Note - these are estimates as many factors contribute to the longevity of appliances
We proudly support residents in and around Monmouth County, keeping families from making sacrifices to accommodate a failing appliance. Our licensed and friendly technicians don't shy away from complex appliance repairs. In fact, we love a challenge! There's rarely (if ever) been a time we've resolved an appliance issue we've never seen before.
Contact us today to schedule your appointment.
Types of Appliance Repair Services We Provide
Do you have a leaky dishwasher? Is your washing machine turning on and off without warning? Is your dryer not drying your clothes completely? Regardless of the appliance issue, our technicians in Monmouth County are here to handle it quickly and easily.
We can handle the following repairs:
Washing Machine Repair – You shouldn't have to go even a few hours without clean, fresh clothes. Our team is here to repair your washer immediately.
Dishwasher Repair – Handwashing is sufficient for dishes, but you don't always have time for that. Having a functional dishwasher saves you time and money, and we can repair your dishwasher when it fails.
Stove/Oven/Range Repair – If your stove, oven, or range is malfunctioning, how can you provide your family with a nutritious home-cooked meal? Allow our Monmouth County technicians to fix any issue plaguing your appliances.
Dryer Repair and Cleaning – Not only do we repair your dryer, but we also perform internal cleaning to remove any dirt buildup.
Refrigerator Repair – Safe and reliable food storage keeps your meals bacteria-free, so we know you can't wait when your refrigerator is broken. Fortunately, you won't have to with our team on your side.
Various Appliance Repairs – Icemaker, garbage disposal, and microwave repair are all part of our residential appliance repair services.
You can always rely on our technicians to prioritize your schedule, budget, and satisfaction. We offer industry-leading guarantees and a one-year parts and labor warranty that protects your investment. With Mr. Appliance partnering with you, you get superior quality solutions every time.
We Keep Minor Parts On Hand for Appliance Repair Appointments
Our trucks and facilities are stocked with everything, from hoses and valves to switches and dials. We always come equipped with the tools and parts we need to complete residential appliance repairs. Whether you need parts for a fridge on the fritz or a washed-up washing machine, you can count on Mr. Appliance of Central New Jersey to have it available to avoid any repair delays.
As a locally owned and operated appliance repair company, we're committed to your satisfaction, so you know who to call whenever you have an appliance on the fritz.
To schedule a convenient appliance repair appointment today, call or contact us online now!