From leaks to water and ice dispenser problems, fridge issues don't just pop up overnight. Many times, there is a gradual change in performance. Understanding these common warning signs of fridge repair is important in getting the right appliance services before a full breakdown of your fridge occurs!
Request a professional inspection of your fridge if you notice any of the following:
It's Gotten Loud. Fridges can get louder with age, but they can also be telling you something is wrong. There may not be enough ventilation on all sides, so proper placement should be double-checked. If loud noises continue, it may be the fault of a worn-out motor.
There's Ice or Frost Buildup. Whether inside your fridge or freezer, ideal temperatures shouldn't leave behind ice or frost buildup. If the problem persists, a new thermostat may be needed.
Food is Spoiling Prematurely. Does it seem like your food is going bad rather quickly? It may be to blame on a faulty door seal, thermostat, or cooling element – all of which can be replaced.
All fridges are worth being repaired, especially when times are tough and you're looking to save some extra cash. New fridges can cause thousands of dollars! A repair will help you restore your fridge to like new condition cost-effectively.
Book your service today by dialing or you can book online. Count on our refrigerator repairman in Brandon for speedy repairs!
Our Refrigerator Repair Services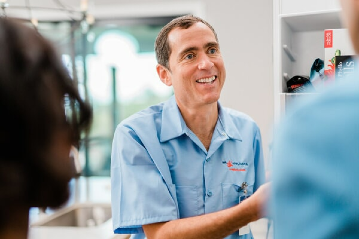 Fridge on the fritz? Ice maker down? Whatever the case may be, you need urgent repair. That's where Mr. Appliance of Brandon and Riverview comes in! When it comes to refrigerator repairs, we've got you covered! From refrigerator' that don't get cold to broken ice machine, count on us for speedy, expert service. Our Brandon refrigerator repair technicians utilize years of training and hands-on experience to quickly troubleshoot your fridge. We'll get to the bottom of any underlying issues, and deliver a speedy repair that saves you time and money.
Types of Refrigerators We Repair
Through our years of working in Brandon, Riverview, and surrounding Florida communities, we've been able to fix a wide range of fridge types.
Just some of the refrigerators we can repair include:
Side-by-side
Under-counter
Quad door
French doors
Top freezer
Freezer-less
Bottom freezer
Outdoor
Brands of Refrigerators We Repair
Our Brandon appliance repair company is equipped with the latest technical knowledge and tools to service fridges from a wide range of manufacturers.
These brands include but are not limited to:
GE
Bosch
LG
Samsung
Maytag
Café
Frigidaire
KitchenAid
Whirlpool
And more!
Don't hesitate to reach out to Mr. Appliance of Brandon and Riverview for help today, regardless of the fridge you own or the trouble it has keeping your food cold. We're experts in all things fridge repair and services, so there's a good chance we've seen your exact situation before.
Schedule Your Fridge Repair with Brandon's Trusted Refrigerator Repair Company
Aside from the top-quality fridge repairs we perform throughout Brandon, Riverview, and the nearby areas, our local appliance repair company is known for providing appliance services that are convenient, quick, and effective.
We're able to do this by offering flexible and easy scheduling. Just reach out to Mr. Appliance of Brandon and Riverview today and we'll schedule a time to meet with you in your home to inspect your appliance and find a solution for your home.
When you call Mr. Appliance of Brandon and Riverview, we can help you diagnose your fridge problem and find a repair, part replacement, or maintenance that'll solve it.
Need speedy, expert refrigerator repair in Brandon? Dial to request your appointment! We show up on time and in uniform.