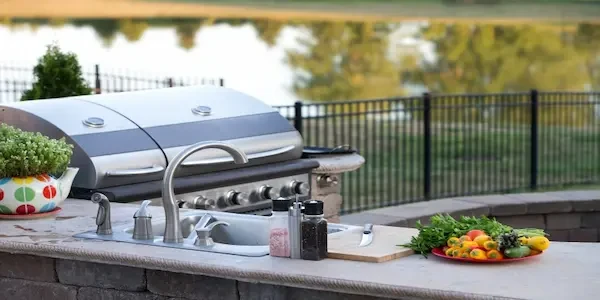 Outdoor kitchens are one of the most popular home design trends of the last decade, and with good reason. Not only do they add resale value to your home,but outdoor kitchens alsoallow you to increase your entertainment space—especially if you live in an area that has a lot of good weather. In addition, outdoors kitchen save money on energy and are easy to clean.
When thinking about adding an outdoor kitchen, some homeowners want to incorporate their regular, free-standing grill into the design. But can thisactually bedone? The simple answer is "Yes" but before you finalize your kitchen design,here are some other options to consider.
Differences Between Free-Standing and Built-In Grills
The grill will be the focal point of your outdoor kitchenand an integral part of your outdoor experience, so you prefer to usepropane, charcoal, or natural gas, choosing your grill is an important part of designing your kitchen. Before you make a final decision, here are somepros and cons to both free-standing and built-in grills.
Free-Standing GrillsPros:These grills cost less, so they're the more economicalchoice. In addition, free-standing grills give you the most flexibility. Depending on how you design your outdoor kitchen, you may be able to move your grill around to different locationsand replace it more easily when needed.Cons:Free-standing grills are smaller and often less powerful than built-in grills, so you can't cook as much at one time. Plus, although high-end free-standing grills are well built, they'remorevulnerable to the weatherand usually don't last as long as-built-in grills.
Built-In GrillsPros:These grills tend to be bigger than free-standing grills. Built-in grills canfit seamlessly intothe design of your outdoor kitchen and usuallyprovideextra countertop and food preparation space. Mostevenprovide enough spaceto store your cooking utensils right next to the grill. Because these grills are built into a wall,they'remore protected, last longer, and have lower maintenance costs than free-standing grills.Cons:Depending on how they're constructed, built-in grills can be very expensive. And since they can't be moved,once they're built into an outdoor kitchen,you'll have to live with your choice until you switch out the grill or change the design—which means additional cost.
Using Your Free-Standing Grill
If lowering costs is an issue, or you have a brand-new grill you already love, you can use a free-standing grill as part of your outdoor kitchen design. Although you can't remove the supports and use it like a built-in, you can incorporate your free-standing grillinto your designbymaking a few critical decisions.
Decide how you want your grill to fit intoyour outdoor kitchen design. If you still want the option of moving the grill around, choose a design with the versatility of two or three possible grill locationswith enough room to roll it from place to place. If you want the grill to remain in one location, build an alcove or custom countertops to surround your grill with a useful workspace.
If you choose the alcove option, be sure to check how much clearance you'll need around your grill to ensure you have enough air flow for it to work efficiently.
Make sure any structures surrounding your grill are made from non- or low-combustible materials like stone and butcher block.
Benefits of a Built-In Grill
Because they last so much longer that the free-standing variety, built-ingrillsareusuallythegrill of choice when designing an outdoor kitchen. Besides their longevity, the biggest advantage of a built-in grill is howseamlesslyonecan be incorporated into different outdoor kitchen designs.
If you have a small space, consider an island design that combines the grill and prep area with a small socializing area to create an entertainment hub. Placing the grill along a wall is also good for small spaces, especially if you only need to accommodate one cook. For larger spaces, try an L-shaped or U-shaped design. Both give you more counter space and room for other useful items like a refrigerator, sink, or even an outdoor dishwasher. When choosing a grill location, make sure the grill is in a place that keeps fumes and carbon monoxide away from you and your family.
No matter what outdoor kitchen design you choose, Mr. Appliance can helpyoumaintain all your outdoor appliancesand make sure they're always ready for backyard entertaining. Just call or go online toschedule serviceand the professional technicians at Mr. Appliance will make sure you and your family can enjoy all the wonderful conveniences of an outdoor kitchen.