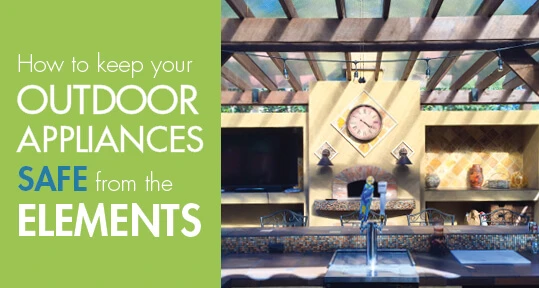 If you recently installed an outdoor kitchen, or you're still contemplating making this upgrade in your backyard, you want the investment to last for many years. This means choosing the right appliances and taking steps to protect them from harsh storms and cold winter weather. Here's how.
Indoor vs. Outdoor Appliances
At the very least, every outdoor kitchen needs a built-in stainless steel grill. Charcoal and gas grills should only be used outdoors where fumes and carbon monoxide can dissipate away from you and your family. As for other outdoor appliances, make your selection carefully.
Indoor vs. Outdoor Refrigerators
The fridge is one of the hardest working appliances in your home. Move the refrigerator outside in the summer, and it has to work even harder. That's why you should select a model designed specifically to work in a harsh, hot environment.
Outdoor refrigerators are more compact than full-size indoor kitchen units. The most common measurement is 24" by 34" with a storage capacity of 5.5 to 6 cubic feet. Outdoor fridges also come with thicker insulation and more powerful components to keep food cold in conditions up to 100 degrees F. In addition, they have waterproof electronics and a rust-resistant exterior to provide safe, durable operation in wet conditions.
Indoor vs. Outdoor Dishwashers
Outdoor dishwashers can be extremely convenient if you already store cookware and cutlery in weather-tight cabinets. This way, you don't have to lug plates, cups, and utensils to and from the house.
If you install a dishwasher in your outdoor kitchen, it must be specifically designed to stand up to extreme weather and wash hard-to-clean dishes. A stainless steel interior and exterior, weatherproof electronics, and winterizing capabilities are all a must.
How to Keep Outdoor Appliances Safe from the Elements
Just because your appliances are outside doesn't mean you must leave their fate to Mother Nature. Whether at the height of summer or the depth of winter, follow these tips to keep your outdoor appliances safe from the elements:
Install the outdoor refrigerator and dishwasher under the counter, even if you have freestanding units, to shade these appliances and protect them from hail damage.

Reseal outdoor granite countertops at the end of each season and anytime you notice that water no longer beads up on the surface.

To winterize the outdoor refrigerator, turn off the appliance and unplug it. Clean the inside thoroughly with soap and water. You might want to avoid using an outside refrigerator cover, which could only allow moisture to accumulate and damage the appliance. Instead, protect the exterior by applying a coat of stainless steel finish.

To winterize the outdoor dishwasher, ice maker, and sink, drain the water lines leading to these appliances so the pipes can't freeze and burst. Then, apply a coat of stainless steel finish to protect the exterior.

To winterize the grill, clean it thoroughly after using it for the last time in the fall and cover it to keep snow off. Make sure you choose a cover that allows moisture to escape.
Maintain & Repair Your Outdoor Appliances
Whether you've dealt with avoidable repairs in the past or you're preparing for your first winter with a new outdoor kitchen, it pays to follow these tips. Then, anytime your outdoor appliances require maintenance or act up, count on Mr. Appliance® for our services. We'll help your outdoor grill, ice maker, refrigerator, and dishwasher run smoothly for many years to come.
To schedule a visit, please give us a call today! We provide quality maintenance and repair services for all types of indoor and outdoor appliances.