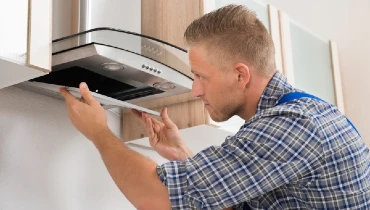 Your kitchen is one of the most utilized rooms in your home. You probably spend hours preparing dozens of meals and snacks in your kitchen on a weekly basis. But as you are preparing all those delicious meals do you ever wonder how they might be impacting your indoor air quality? Smoke, fumes and cooking residue are all byproducts of meal prep. If your cooktop lacks proper ventilation, then all these byproducts wind up in the air you breathe.
If you currently have ventilation over your cooktop, is it sufficient, or do you need to replace or upgrade? Before making a final decision on your current ventilation system or an upgrade, there are a few things you should consider – building codes in your area, the difference between an exhaust fan and downdraft system, and what type of range hood you have. In the article below we'll help you sort through these questions so you can determine if you should keep, replace, or upgrade your current ventilation system.
Check Your Local Code
Depending on where you live, some municipalities have specific requirements for residents regarding kitchen ventilation. Before purchasing an exhaust fan or downdraft system, it's important to check your city or town building code to confirm what, if any, ventilation requirements are in place. If there is a local code in place concerning kitchen ventilation, it is best to purchase an exhaust fan or downdraft system that complies with those specifications. It could save you some headaches later on. In addition, non-compliance with such codes could have a negative impact on any homeowner's insurance claim you file, should your kitchen be damaged due to fire.
Exhaust Fan Verses Downdraft System
Though a wall exhaust fan over a cooktop and a downdraft system serves essentially the same purpose, there are diferences.Exhaust Fans: An exhaust fan is the most common type of ventilation option. It is mounted directly above the cooktop surface and is designed to pull smoke, vapors, and grease outdoors once it passes through the exhaust fan cover and filtration system. Some exhaust fans will recirculate the air back into the kitchen, once it has been passed through the exhaust fan filter. Exhaust fans are popular because of their design features and ease of use. However, exhaust fan installation and repair can be challenging, so it is best to have one installed by a professional.

Downdraft System: Downdraft systems are built into your cooktop counter. They are usually located behind the burner area, though some models offer the option to locate them elsewhere. A downdraft system is less visible than a traditional exhaust fan, which can be a plus if your cooktop is centrally located within your kitchen, such as on an island or peninsula. Many people like this design because it is easier to install and doesn't require any additional ductwork. However, most downdraft systems are not as effective as the more traditional exhaust fan system.
Types of Range Hoods
There are several different kinds of range hoodsto choose from: A ducted system that ventilates outdoors and a ductless system that brings the filtered air back indoors. There are also convertible systems, which give you the option of switching between both. These can eitherbe set up as a ducted or ductless system. Range hoods canalso be mountedunder a cabinet (such as a microwave with an exhaust fan), within an island orfrom theceiling, wall hood, downdraft hood, or chimney hood.Range hoods also come is a variety of different colors, stylesand finishes (from stainless steel tocopper).Which type you choose will likely depend on thecurrent style of your kitchen; however, if you are in the middle of a kitchen remodel, many of these options are yours for thechoosing.
Get Professional Assistance
Your kitchen is often the hub of your home, with lots of activity on a daily basis. Making sure your cooktop is properly ventilated can help improve the overall air quality in your home. Your local Mr. Appliance pros are experts in kitchen ventilation systems. We can help you determine which type of system is right for your kitchen, and help you upgrade, replace or install a new one. To learn more, call us or schedule an appointment online today!