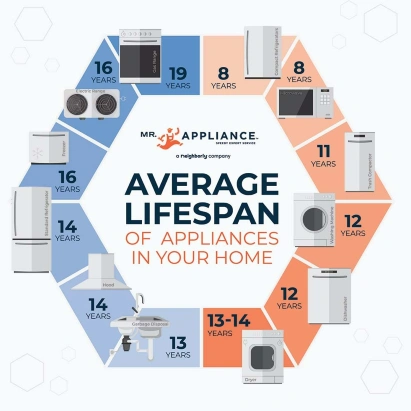 Has your oven, stovetop, or range been acting up lately, or simply not working? If so, contact our expert appliance repair technicians at Mr. Appliance to help you out. Our technicians are highly trained to fix malfunctioning kitchen appliances so they can work again and you can get back to your regularly scheduled life again in no time. Our repair specialists are able to work with just about any major brand, from GE, Dacor, Frigidaire, KitchenAid, and many, many others.
Call us or schedule service online for appliance repair near you today!
We've encountered just about every type of kitchen appliance complication you could imagine in our years of troubleshooting. Some of the common reasons residential customers call us for oven, stove, and range appliance repairs in Alpharetta include:
Burners won't turn on
Burners are too hot or too low no matter what setting they're on
Self-cleaning features don't work
The oven will not bake or won't broil
The oven produces erratic temperatures
The vent hood will not vent to the outside
Faulty pilot lights and sensors
Crooked doors or loose clean latches
Defective safety valves and switches
Jammed spark igniters
Give us a call or schedule service online for oven repair in Alpharetta today!
Trusted Guarantees Back Our Repair Work
You can trust the industry-leading tools and techniques our Mr. Appliance repair technicians use, and that's not just lip service. We know you've likely been given the run-around before and have had to overpay repair companies who have delivered slow service or subpar results. That's not how we operate. You can count on Mr. Appliance of Alpharetta to provide straightforward solutions and a per-job pricing structure – that means we don't charge by the hour or charge overtime fees, regardless of how long the repair job takes. We charge flat rates and your bill will be free of hidden fees. Period.
Our goal is to repair kitchen appliances to save you time, money, and headaches. We even offer a Done Right Promise® - that means we stand by our promise to do the job right. If you believe our workmanship did not live up to your expectations, contact Mr. Appliance of Alpharetta within 1 year of your residential oven, stovetop, or range repair service and our team will re-perform the services at no additional fee. That's because we stand by our work and always will.
Give Mr. Appliance of Alpharetta a phone call for oven, stovetop, and range repair services in Alpharetta and the surrounding areas by calling today.