The job of a clothes dryer is to completely dry your clothing after it comes out of the washing machine. When a dryer isn't doing its job, it can be a problem. Mr. Appliance of Alpharetta offers professional dryer repair services in Alpharetta, GA. We know the frustration of a malfunctioning dryer, so we work quickly to repair it. We can handle any type of dryer problem. Contact our team today to get an estimate on dryer repair services.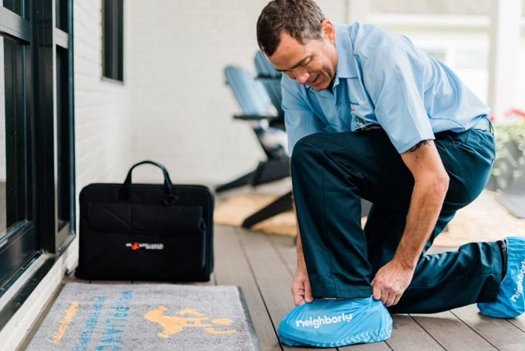 We Service All Dryer Brands
 Our service professionals are trained to service any type of dryer. We can service and repair all dryer brands, including the following:
Maytag
Kenmore
GE
LG
Samsung
Whirlpool
We Service Gas & Electric Dryers
Your clothing dryer works with a tumbler that circulates hot air through the dryer and evaporates moisture. The circulated air is pushed through the venting system to the outside of your home. Our team services the following dryer types:
Electric Dryers
An electric dryer does not have exhaust requirements and uses steam venting. Electric dryers are less expensive than gas dryers and easier to install.
Gas Dryers
A gas dryer needs natural gas or propane to operate. Gas dryers are energy efficient but cost more money upfront than electric dryers. A gas dryer needs specialized venting for proper ventilation.
Common Dryer Issues
A dryer has a simple job, but it has parts that can get damaged. The most common dryer problems relate to your motor, belt, and heating element. Some of the most common dryer repairs we perform include the following:
Dryer not getting hot
When your dryer isn't heating, we inspect for a damaged thermostat, heating coil, or fuse.
Dryer won't run
If your dryer won't turn on, we check your start switch, terminal block, and thermostat.
Dryer gets too hot
A dryer producing too much heat may indicate a clogged vent, damaged thermostat, or faulty heating coils.
Dryer won't spin
When the dryer won't spin, we check your rollers, belts, idler pulleys, or motor.
Dryer Replacement Parts
Our team will inspect your dryer to determine if replacement parts are the best solution for it. Some of the most common dryer replacement parts we provide include the following:
Motors 
Rollers
Belts
Timers
Fuses
Heating coils 
Switches
Thermostats 
Idler pulleys 
Temperature switches 
Do I Need a Dryer Repair or Replacement?
Our team does our best to perform dryer repairs before determining it's best to invest in a dryer replacement. Some of the things we consider when making this decision include the following:
Warranty
When a dryer is under warranty, your costs for repairs should be covered.
Severity of Issue
There are times when the dryer issue is so severe that we recommend a dryer replacement.
Ongoing Costs
If your dryer needs constant repairs, it's often more cost-effective to purchase a new one.
Efficiency
It's important to have an energy-efficient dryer in your home.
What To Do if Your Dryer Smells Like Gas
The most common reasons your dryer may smell like gas are a faulty igniter or a leak in the exhaust system. If the dryer isn't running, and you smell gas, there may be an issue with your gas valve seal. It's essential to stop the dryer and contact us immediately.
Why Choose Mr. Appliance of Alpharetta?
Mr. Appliance of Alpharetta is your trusted team for all appliance repairs. Your dryer is a high-voltage appliance that runs on a significant amount of electricity. Our team is trained to safely handle electrical appliances, so it's essential to contact our professionals when you have dryer issues. Our team will quickly locate the issue and recommend an appliance solution. We offer estimates for our appliance services. We want to keep your appliances in the best possible health.
Schedule Dryer Repair Services Today 
Mr. Appliance of Alpharetta is here for your dryer repair needs in Alpharetta, Roswell, and Cumming. Our service professionals provide cost-effective solutions for your appliance needs. We help you save money on energy costs and ensure you make informed decisions. Our team always walks you through your appliance service options. Contact us today to request dryer repairs or to get an estimate on our appliance services.