GE is an established brand known for its innovation. Their washing machines offer versatile operations that help make them among the most popular in the U.S.
However reliable you may find your GE washing machine to be, it's normal for malfunctions to occur from time to time.
What Does GE Warranty Cover?
Should your washer stop working as it should, GE offers a standard one-year warranty that includes parts and labor. Beyond the standard warranty, GE has varied types of warranties for different washing machine models.
To verify whether or not your washer is still under warranty, check your appliance's instruction manual for your model number and coverage details.
Should You Repair or Replace Your Broken GE Washer?
The decision to either seek a GE washing machine repair service or replace your washing machine altogether should be dependent upon a couple of factors:
Age: How old is your unit? Washing machines last 10 years on average. If your machine is fairly new, repairing it may be the wisest option. On the other hand, even older machines can function well with correct part replacement and installation.
Cost: . It's important to weigh the cost of a new appliance against the needed repair cost. It may be less expensive to fix your washer than to replace it altogether, but will your machine need another repair again soon? If so, then purchasing a new unit might make sense
Common GE Washing Machine Problems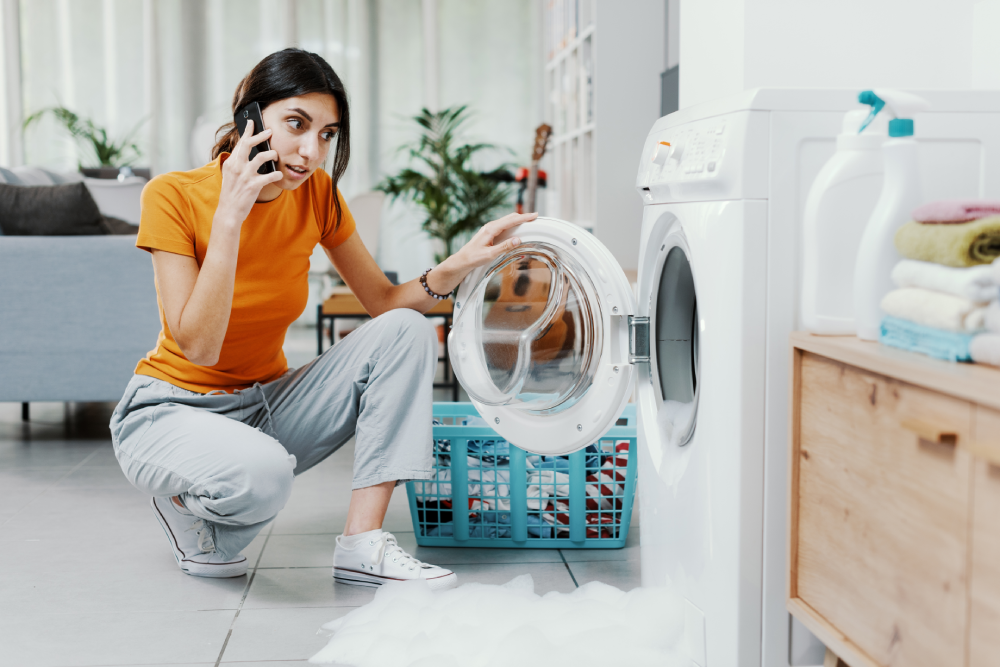 Mr. Appliance® provides GE washing machine repair service in the unfortunate event that your unit isn't working as it should. Read on to discover some common causes for any defects you may be experiencing, along with some DIY tips and when to call the pros.
GE Washing Machine Has an Unpleasant Odor
If you don't own one of GE's select front-loading washers designed to fight smells, there's a possibility that your washer may acquire a bad smell.
For front-load machines, make sure that you are using the appropriate amount of detergent as indicated on the packaging. Sometimes excess suds can get trapped in the wash basket and form a residue with an unpleasant smell. Your drain pump, dispenser drawer, and pump filter should also be cleaned periodically (check your appliance manual for specific instructions).
Foul odors coming from top-load washers could be attributed to mildew. To avoid this problem, avoid closing the lid right away when the washer's tub is still moist.
You may also be smelling the result of dirty, drained water creeping back through your drain hose and into your machine.
GE Washing Machine is Leaking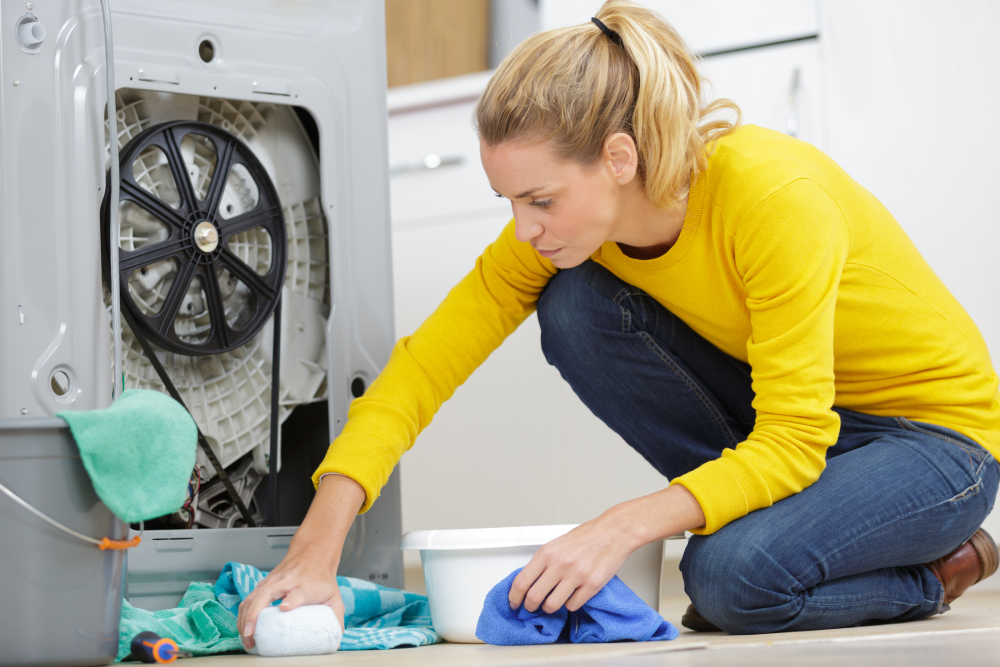 A leaking washer has the potential to destroy your flooring and even pose a fall risk for individuals in your family depending on the severity of the leak. The process for fixing a leak depends on its location and the type of washer you own. Take a look at what can be done for each leaking area:
For front-loading washers, the culprit is usually a faulty or filthy door. If the door is simply dirty, it can be cleaned to prevent further leaks. However, faulty doors will need to be replaced by a reputable appliance professional.
The cause for a top-load washer could be overstuffing the tub or using detergent in excess. Putting too many clothes in the load may not allow the machine to drain properly, while using too much detergent may simply produce too many suds.
Leaking in the back: Regardless of your washer type, a rear leak is often due to the machine's hoses. The hoses may be loose, which would only require a quick tightening. Or the hoses could be damaged, in which case you'll need to have them replaced by a technician.
Overflowing: If your machine is overflowing, do not attempt to solve the problem on your own as you could potentially cause further damage. You need the assistance of a qualified appliance professional. Overflows are typically caused by issues with the water valve or pressure switch.
Leaking oil from the bottom: If you find that oil is leaking from the bottom of the unit, turn it off immediately and call your local appliance professional for a probable transmission repair.
GE Washing Machine Refuses to Drain
So you've gotten your clothes nice and clean in your GE washer. Now there's only one problem: your load is still full of sudsy water. If your washing machine is not draining, a clogged drain hose, pump, or drain may be to blame.
If you own a top-load machine, there's also a chance that the lid switch is damaged and therefore not sending the washer a signal that the lid is closed. When this happens, the unit does not have any indication to move to the next cycle. Call a service professional for assistance.
GE Washing Machine is Not Spinning
If your top-load washer refuses to agitate and you're certain that there's not a power issue in your home, be sure to check the motor as it may need to be restarted.
If your washer is being stored in unusually cold temperatures, you'll likely need to thaw the motor before restarting it.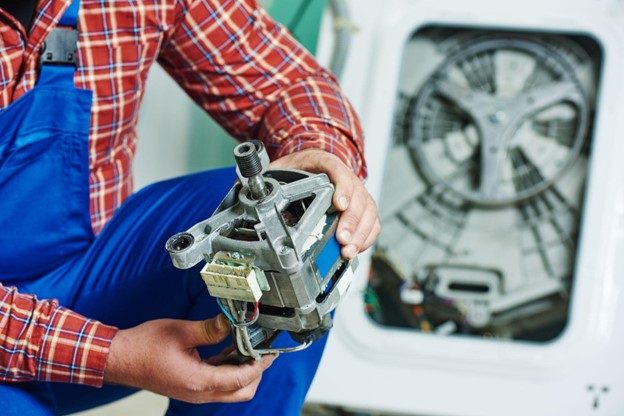 GE Washing Machine Doesn't Fill
What good is having a top-of-the-line machine that doesn't load with water? The good news is, you don't have to live with this issue. This problem is usually seen in top-load machines and can be caused by a frozen water pump or low water pressure in your home.
GE Washing Machine Makes Squeaky Noises
Squeaking should not be among the noises that you hear when your washing machine is operating. If you do hear this noise, chances are there's a problem with your washer's drive belt (the piece that's partly responsible for the tub spinning). If the belt is damaged, it will need to be replaced by a professional.
Types of GE Washing Machines We Can Fix
Unitized
Top load
Front load
Stackable
Portable
GE Washer Models We Service
GE Profile Series
GE Smart UltraFresh
GE Spacemaker
We Will Help You Find the Right GE Washing Machine Parts
Whether you're sure or unsure of the GE washing machine part you need, Mr. Appliance will assist. We supply the following parts:
Belts
Timers
Pumps
Hoses
Lid switches
Lid plungers
Pressure switches
Agitator assemblies
Drive spindles
Wigwag plunger/lifters
Transmission mode levers
Transmissions
Solenoids
Damper/snubber pad
Have a question about a part that you don't see listed above? Check with your local Mr. Appliance team.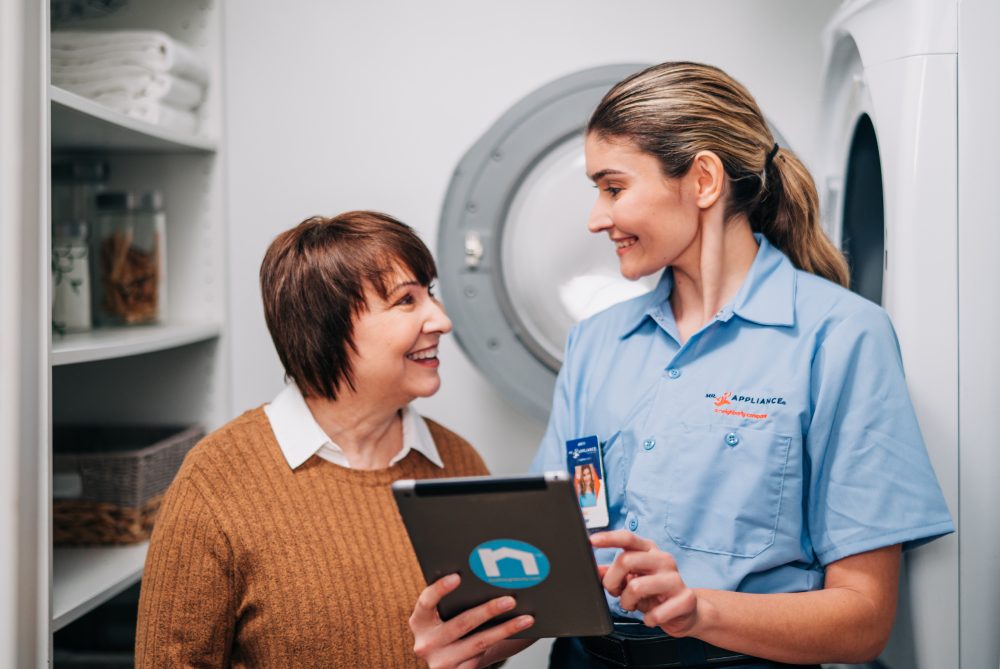 Trust Mr. Appliance with your GE Washing Machine Repair
Washing with high-quality appliances should be a high-quality experience. For our GE washing machine repair service, call us or schedule an appointment online to talk to your local appliance professionals.