Can you imagine what your day would look like if your refrigerator, washing machine, dryer, stove, and/or dishwasher stopped working? Your day would immediately come to a standstill. No one ever wants to have to deal with a malfunctioning appliance, but issues happen.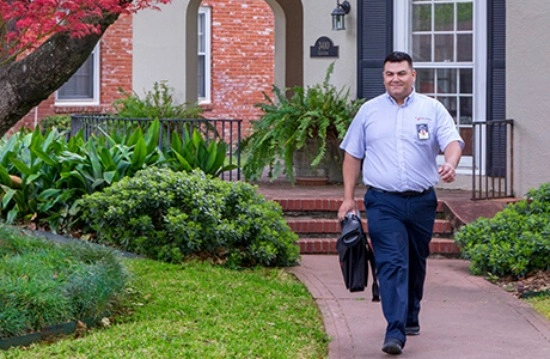 Do you have a knowledgeable and affordable expert to help?
At Mr. Appliance of Wichita, we're your premier provider of residential appliance repair services in Wichita. We cover your most-used appliances, from your dryer to your stove. We deliver a customer-centered experience that supports the upkeep of all your major household appliances. Our team of highly trained and qualified repair specialists use skills honed over years in the industry, following best practices and standards.
Call to schedule your repair service for your Wichita appliances and safeguard your home.
What Residential Wichita Appliances Can You Fix?
At Mr. Appliance of Wichita, we offer:
Freezer repair
Ice machine repair
Dishwasher repair
Garbage disposal repair
Microwave repair
Vent hood repair
Wine cooler repair
Trash compactor repair
Washing machine repair
Dryer repair
Dryer vent cleaning
Common Appliance Issues We Fix (And You Can Avoid)
Because we have worked with various name-brand appliances, including GE, Maytag, LG, and more, we have plenty of repair expertise.
Our technicians can make quick work of issues, such as:
A refrigerator that won't get cold – When your refrigerator won't cool down, there could be several reasons for this issue. Without the proper food storage temperature of 37 degrees Fahrenheit, your health and safety could be at risk. Our team will assess your fridge, performing a series of actions to test the issue and give you a straightforward answer.
A dishwasher that won't turn on – Keeping your dishes clean and disinfected promotes a more comfortable home environment for you and your entire family. A broken dishwasher means dishes may begin piling up in the sink, creating a breeding ground for germs and bacteria. We can arrive promptly, evaluate your dishwasher, and present viable repair options.
A dryer heating feature that doesn't work – The point of putting clothes into a dryer is to ensure they're thoroughly dried and ready to wear in the future. If your dryer isn't getting your clothes completely dry, bacteria and mold can start to thrive. To keep your family's health protected, call our experts to provide effective dryer repair.
A washing machine that won't agitate – Like your dryer, your washing machine is an essential appliance in your home that keeps your clothes clean. One of the most common washing machine issues many people encounter is an agitator that won't work, which is the main feature that cleans your clothes. Our Wichita appliance repair technicians can gauge the problem and discuss repair solutions.
A stove/oven that won't get hot – How are you expected to take care of your family sufficiently without a stove to cook healthy and satisfying meals? The heating component on your stove/oven is critical and can stop working for various reasons. Don't let a malfunctioning stove/oven sit unaddressed. Contact our professionals to help!
Missing parts and components – A broken or inefficiently working appliance isn't the only problem our professionals can handle. Sometimes, you may just need a replacement part to get things back up and running again. We keep an inventory of commonly missing/new parts to anticipate this type of problem, so you don't have to wait long for repair.
Our Wichita residential appliance repair pros use state-of-the-art tools and advanced methods to deliver the exceptional service you deserve. When you work directly with our team, you can expect flexible and convenient appointments, prompt arrival times, honest pricing, and industry-leading warranties that protect your investment.
Frequently Asked Questions
Do you offer Kenmore appliance repair?
Yes, Kenmore is just one of the 50+ brands of appliances we can service. Whether you have a Kenmore refrigerator, dishwasher, oven, stove, range, washer, or dryer, we can repair it!
Don't let a broken appliance keep you from making the day a success. Call us or schedule service online today!