What's the most important part of your kitchen? The refrigerator surely ranks among the top three appliances you use on a daily basis. So, when your refrigerator breaks down, you'll definitely notice as food begins to go bad. Fortunately, Mr. Appliance of White Marsh is here to get your essential appliances up and running again. We serve clients across the region, including those with Baltimore, Forest Hills, Towson, and Phoenix, MD addresses. Thanks to our team, you'll be enjoying cool drinks and fresh veggies again in no time. Learn more about our speedy, expert repair services.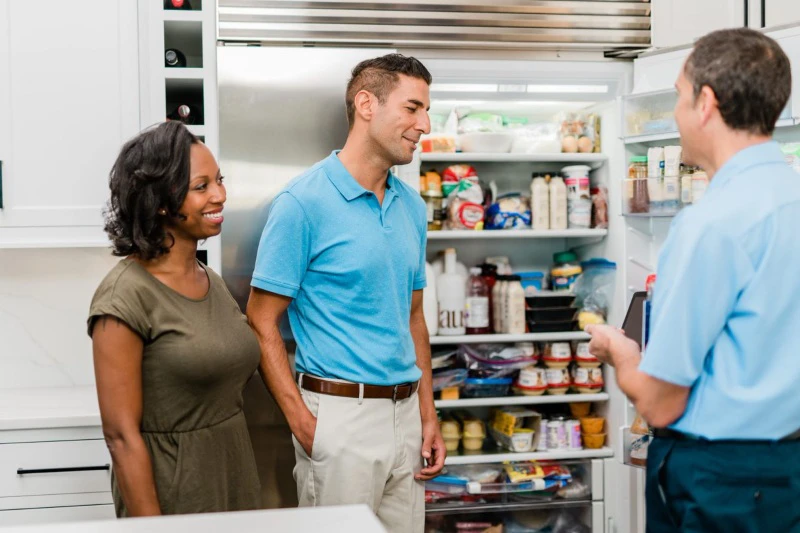 Specializing in All Types of Refrigerators
Our team has years of experience with refrigeration repairs, and we can handle nearly any repair task. Our technicians are trained to work with a vast range of models, so you can rest assured we'll take care of the repairs you need. If you own any of the following types of refrigerators, count on us for maintenance:
Top freezer refrigerators
Counter depth and built-in refrigerators
Bottom freezer refrigerators
Side-by-side refrigerators
Compact refrigerators
French door refrigerators
Freezerless refrigerators
Which Refrigerator Brand Do You Have?
In addition to working with many different types of refrigerators, our technicians are also skilled with a variety of brands. We service all of the following:
GE
Bosch
Thermador
Viking
Fisher & Paykel
Electrolux
Frigidaire
Whirlpool
KitchenAid
Maytag
Kenmore
And more!
We Have Replacement Parts in Stock
Much of the time, a broken refrigerator only requires a few replacement parts before it's ready to run again. Thankfully, our team keeps plenty of parts in stock so we can take care of refrigerator repairs as soon as possible. Whether your thermostat has stopped working or your ice maker just isn't pumping our ice anymore, we have you covered. We regularly replace these refrigerator parts:
Drawers and bins
Shelving
Condensers and compressors
Thermostats
Water filters
Solenoids
Valves
Ice makers
Defrost heaters
Evaporators and fans
Cold controls
Door switches and seals
Deciding Between Repair and Replacement
In many cases, the Mr. Appliance of White Marsh team can finish your refrigerator's repairs in no time. However, old and worn-down appliances will need to be replaced eventually. If your refrigerator is starting to show its age and doesn't work like it used to, a replacement may be in order. The general wisdom is to replace a refrigerator every 14 years or so. While the initial cost of a brand-new appliance may be more repair work, investing in an updated refrigerator will save you money on maintenance (and perhaps energy bills) over time. If you're having trouble deciding between repairs and replacement, our seasoned team can help you explore the pros of each option.
Give Us a Call Today
Whenever you need prompt, high-quality refrigerator repair services, don't hesitate to give our team a call. The technicians at Mr. Appliance of White Marsh boast a wide range of expertise, and we'll make sure the job gets done right the first time. We're trusted across the Baltimore area for all kinds of appliance repair services, and our team prioritizes customer satisfaction. Contact us to learn more about our numerous service offerings.