Frozen food is a staple for families across the United States. Whether you love sitting down around a frozen pizza or like having a tub of ice cream at the ready, you probably make the most of your freezer. However, these appliances malfunction all the time and can leave you with a shelf of melted groceries. To keep your freezer in top shape, look to the professionals at Mr. Appliance of White Marsh. We have years of experience working with a range of kitchen appliances. Our team has all the resources to ensure your food stays frozen and free of harmful bacteria. We welcome customers from White Marsh, Baltimore, Towson, Phoenix, and Forest Hills, MD to request our services.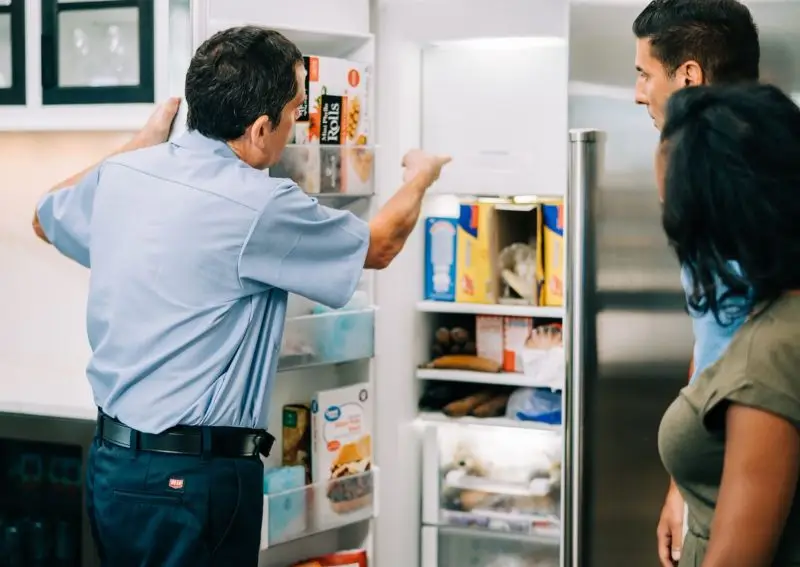 Trusted to Repair These Common Problems
Our team is well-versed in all the most common freezer repair jobs. When we arrive at your home, our technicians will diagnose the issue and come up with a speedy, reliable fix. Here are just a few of the problems we can address:
The freezer is too cold—An over-cooling freezer can cause frost to build up and render your appliance less effective.
The freezer isn't cold enough—Did you open your freezer door to find melted ice cream? Your appliance may not be cooling properly. Our technicians will check the door seals, temperature controls, and other potential culprits.
The freezer doesn't turn on—If there's no reason why your freezer shouldn't be turning on, give us a call. We'll examine its components and find the root cause.
Lack of consistent temperature—A properly-running freezer should be able to maintain a constant temperature. If you notice fluctuations, we'll check for dust, debris, and other problems.
Odd sounds—While you might hear the freezer hum once in a while, it shouldn't be making loud clunking noises. If you begin hearing strange sounds, ask us about freezer repairing services.
Damaged door seals—If your freezer doors aren't properly closing, you could be putting your food at risk of spoiling. What's more, you may be losing excess money every month on energy bills.
Years of Experience Working With Top Brands
Trying to complete freezer repairs on your own is challenging (not to mention dangerous in some cases). Fortunately, Mr. Appliance of White Marsh can handle nearly any issue with any freezer brand. Our technicians have years of experience repairing appliances from the following brands:
LG
KitchenAid
Samsung
GE
Revco
Whirlpool
Kelvinator
Don't Splurge on a Full Replacement Right Away!
If your freezer is constantly breaking down, it may be time for a replacement. But don't assume you'll have to replace it right away! Thanks to our repair team, numerous Maryland residents have saved money on replacements, opting for professional repairs instead. Depending on the problem with your appliance, we may provide you with one of these replacement parts:
Thermostats
Door seals
Switches
Defrosters
Defrost control timers
Compressors
Evaporator coils
Fans
Motors
Gaskets
Door switches
Overload protectors
Relays
Reach Out to Mr. Appliance of White Marsh Today
Whether you need residential or commercial freezer repairs, call on the team at Mr. Appliance of White Marsh. We're proud to serve customers all around the Baltimore Metro Area, and we're known for world-class service. Our technicians know how inconvenient a broken-down freezer can be, and we strive to bring you quick service you can count on. Simply give us a call to explain the problem, and we'll get you on our schedule. Contact us today to get started.