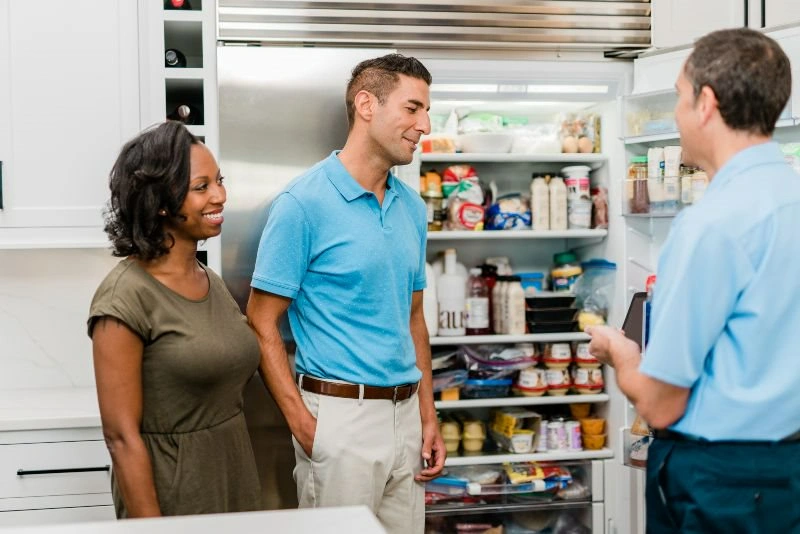 Mr. Appliance of Wesley Chapel is your trusted refrigerator repair company in Wesley Chapel, FL. Our appliance professionals serve Wesley Chapel, Zephyrhills, and Dade City, FL, residents. Your refrigerator helps you store food safely with thermally insulated compartments. It has many parts that work together to keep your groceries cool. We will quickly repair your refrigerator to ensure your groceries don't spoil. Contact our team today to get a free estimate on refrigerator repair services.
Expert Comprehensive Refrigerator Repairs
Mr. Appliance of Wesley Chapel performs repairs on all types of refrigerators. We'll locate the issue and find an effective solution for your type of refrigerator, including:
Bottom freezer refrigerators
French door refrigerators
Counter depth or built-in refrigerators
Freezerless refrigerators
Top freezer refrigerators
Side-by-side refrigerators
Compact refrigerators
What Refrigerator Brands Do You Service?
Our appliance professionals are trained to repair all makes and models of refrigerators. The most common refrigerator brands we service include:
GE
Maytag
Bosch
Kenmore
Viking
Fisher & Paykel
Thermador
Whirlpool
Frigidaire
KitchenAid
Electrolux
Do I Need a Refrigerator Repair or Replacement?
Our refrigerator professionals know the best way to approach your refrigerator issues. We will determine if your refrigerator problems are beyond repairs or parts replacements. We advise against attempting to perform your own refrigerator repairs. We can often repair newer refrigerators quickly and efficiently. It may be time for an upgrade if you have an older refrigerator model or have faced countless repairs. An average refrigerator lasts about 14 years with proper maintenance. The most common refrigerator parts we replace include the following:
Thermostats
Ice maker components
Water filters
Replacement lightbulbs
Cold controls
Solenoids
Defrost heaters
Condensers and compressors
Door seals and switches
Bins, drawers, and shelves
Valves
Fans and evaporators
Offering the Perfect Solution
Our refrigerator technicians understand some problems are fast and easy to diagnose and repair. A burnt-out light bulb or leaking water line is much quicker to diagnose than a complicated issue like a broken evaporator. Our trained appliance technicians carefully inspect your refrigerator to find the problem. We never take a guess and lead you down the wrong path. We will correctly diagnose your refrigerator's issue and offer a free estimate on the repair or replacement services.
Why Choose Mr. Appliance of Wesley Chapel?
Mr. Appliance of Wesley Chapel does our best to offer exemplary appliance services for your home. We take our time to find the root of the problem. Our qualified appliance experts offer a guarantee on our services. We always give you honest pricing without any surprises. You can trust us with all your appliances.
Contact Mr. Appliance of Wesley Chapel
Mr. Appliance of Wesley Chapel sends licensed and insured professionals to your home to repair your appliance issues. We provide peace of mind that we will repair or replace your refrigerator to help it run as good as new. Our appliance company is your trusted leader for comprehensive appliance repairs. We do it all, from refrigerator repairs to washing machine repairs. Contact Mr. Appliance of Wesley Chapel to schedule refrigerator repair services or get a free cost estimate today.