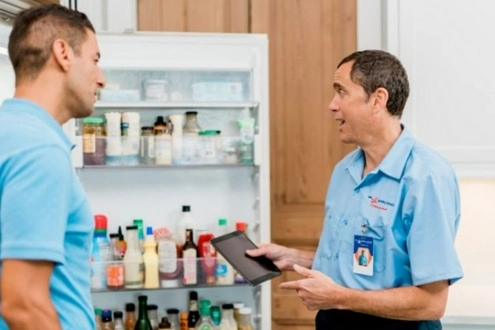 If your refrigerator isn't maintaining its cool, we are here for you. Mr. Appliance of Wesley Chapel helps Wesley Chapel & Zephyrhills, FL homeowners cool down their refrigerators. Your refrigerator's job is to keep groceries cool and fresh. Its temperature should be set at 40 degrees Fahrenheit or lower to do its job adequately. If it's correctly set and still not cooling, we can help you. Our appliance professionals will carefully inspect your refrigerator and locate the problem. Contact us for an appointment to evaluate your refrigerator issue and provide up front pricing.
Refrigerator Cooling Checklist
It does not always mean your refrigerator is broken when you have a cooling issue. You can check your refrigerator parts, including:
Is your refrigerator plugged in? – The plug may have come unplugged from its outlet.
Is the thermostat set correctly? – The refrigerator thermostat sometimes gets switched on accidentally.
Do the doors seal? – The refrigerator's elastic strips on the door may not be properly sealed.
Is the air circulating? – The refrigerator vents may get blocked by groceries and will not circulate air throughout the fridge.
Why Is My Refrigerator Not Working?
Since your refrigerator has so many working parts, many things can go wrong. Our appliance professionals will adequately repair and replace refrigerator parts to keep your refrigerator cool. The most common parts and issues that break on refrigerators include:
Compressor – The compressor's job is to compress and push refrigerant vapor into your coils. The pressure creates heat that is then cooled and absorbed from your freezer. If the fan is still running without getting cold, the compressor may be damaged.
Condenser coils – Condenser coils transfer the hot air from your condenser to the evaporator coils. The refrigerator is turned into a liquid as it cools and travels through the coils. When a condenser coil is clogged, it will not properly circulate air.
Condenser fan – A condenser fan keeps the compressor and condenser coils. When it is damaged, your compressor can overheat and raise temperatures in the refrigerator.
Evaporator fan – The evaporator fan pulls air across the evaporator coil, cools it, and pushes it through your refrigerator and freezer. A malfunctioning evaporator fan will not allow the fridge to produce cool air.
Air damper – An air damper controls air from your refrigerator to the freezer. The air damper may be stuck if the refrigerator is not cooling but the freezer is.
Refrigerator Replacement Services
It can be frustrating to face refrigerator repairs. Mr. Appliance of Wesley Chapel's appliance experts will diagnose the problem and offer up front pricing. Most refrigerators have a lifespan of about 10 to 18 years. When the costs of your refrigerator repairs exceed the purchase of a new refrigerator, it's time to upgrade.
Contact Mr. Appliance of Wesley Chapel
Mr. Appliance of Wesley Chapel provides comprehensive appliance repairs to Wesley Chapel, Zephyrhills, and Dade City, FL, residents. We can repair or replace any type of refrigerator. If your refrigerator isn't working or won't get cold, we will help you. We offer upfront pricing and we back our work with a guarantee that the job will get done right.
Contact Mr. Appliance of Wesley Chapel to get an appointment for your refrigerator repairs today.