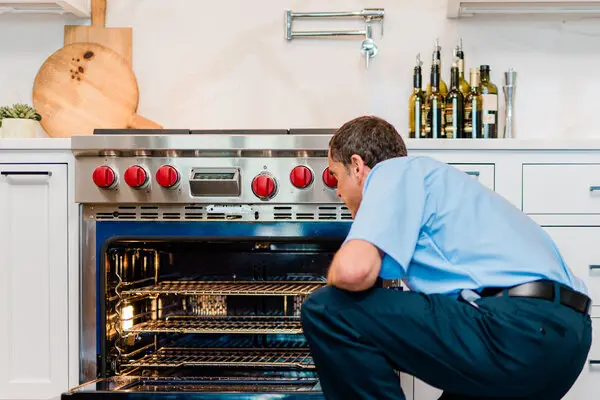 When your kitchen appliances aren't doing their job, our trusted appliance experts will help you get back to cooking. Mr. Appliance of Wesley Chapel offers ovens, stoves, and range repair services in Wesley Chapel, FL. You can't make a home-cooked meal when your oven or stove isn't working. We send experienced appliance professionals to find your problem and offer an effective repair. We'll help you understand common appliance problems and tell you how we can help. Contact us today for service on your oven, stove, and range repair services.
Comprehensive Repair Services
We understand the ins and outs of your ovens, stoves, and ranges. Our appliance experts offer repair services for all types of issues with your appliances. Some of the most common problems your oven, stove, or range may have include the following:
Range burner won't turn on – When burners don't turn on, there may be a problem with the receptacle, switch, or actual burner.
Burner is too hot – If your burners are burning up, you probably have a malfunctioning switch.
Oven door won't open – Your oven door may have a defective oven control or a misaligned self-clean latch or defective oven control.
Oven won't self-clean – When the oven refuses to self-clean, it has a problem with its function selector or the self-clean latch switch.
Indicator light stays on – You may have a damaged switch if your indicator light will not go off.
Oven won't broil or bake – Your valve or bake igniter may be out of commission when it won't bake or broil.
Oven won't heat – An oven that does not heat can be caused by heating elements or other factors.
Oven has uneven temperatures – when your oven won't stay the same temperature, it often indicates a malfunctioning bake oven ignitor, temperature sensor, or selector switch.
Major Appliance Brands We Service
We know there are countless makes and models of all types of stoves, range tops, and ovens. Mr. Appliance of Wesley Chapel's appliance professionals have the necessary training to repair all brands. We service these oven and stove brands, including:
Dacor
Bosch
GE
Maytag
Whirlpool
Thermador
KitchenAid
Frigidaire
Oven, Range, & Stove Replacement Parts
Your oven, range, and stove require many different parts to cook your food. We can replace any of the parts that malfunction on your electric ovens and ranges, including:
Temperature sensors
Igniters
Dials
Ignition wires
Safety Valves
Gaskets
Heating elements
Ignition wires
Valves
Thermometers
Switches
Relays
Self-cleaning latches
Spark electrodes
Spark modules
Thermocouples
Controlled boards
Dials
Burners
Do I Need Stove or Oven Repairs?
It can be challenging to wonder if your oven or range is acting up or if you really have a big problem. It's important to pay attention to your stove, range, and oven's signals. If the appliance continues to have the same issue, it's time to contact our professionals. You should have your stove or oven inspected when you first notice any issue to save time and money down the line. Our appliance professionals can often make a minor adjustment or install a replacement part.
Contact Mr. Appliance of Wesley Chapel
Mr. Appliance of Wesley Chapel is your trusted appliance team in Dade City, Wesley Chapel, and
Zephyrhills, FL. We stand by our work with a guarantee that we will get it done right the first time. We are always here to provide service on your stove, oven, or range repair. Our prices are honest and upfront. Contact Mr. Appliance of Wesley Chapel to get an appointment for your appliance today.