Garbage disposals play a vital role in modern kitchens, providing a simple and environmentally friendly solution for disposing of food waste. They help prevent unpleasant odors and reduce landfill waste, making them an environmentally friendly addition to your home. Is your garbage disposal unit at home giving you trouble? Whether it's making strange, concerning noises or is not working altogether, our team at Mr. Appliance is here to help!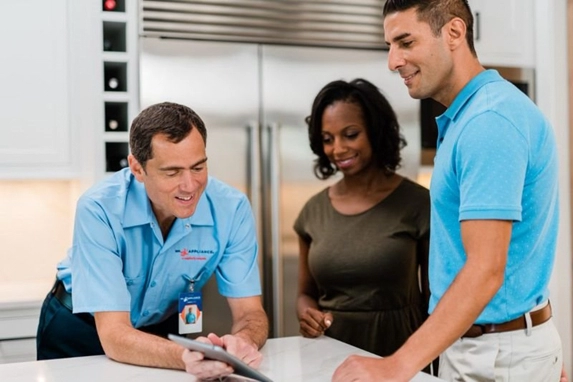 Mr. Appliance of Wesley Chapel is proud to offer professional garbage disposal repair services to home and property owners in Wesley Chapel, FL and the surrounding areas, including Zephyrhills and Dade City, FL. Our experts are dedicated to providing world-class repair solutions for all your home appliances, including your garbage disposal unit, to keep your kitchen functional and efficient. We'll assess your unit and ensure it's restored to its original performance state. Learn more about our impressive ability to repair any garbage disposal issue and get in touch with our team at Mr. Appliance today.
Recognize the Signs Your Garbage Disposal Needs Repair
Garbage disposals are handy devices installed under the kitchen sink and connected directly to your home's plumbing system. They utilize a high-speed motor and sharp blades to grind food scraps into small particles, ensuring a smooth flow through plumbing pipes without causing blockages. When it begins to act up and behave out of the ordinary, calling our repair specialists at Mr. Appliance of Wesley Chapel can save you time and money and prevent any substantial damage from occurring to your plumbing. Watch for common signs of trouble with your unit, which can include:
Odd or excessive noises during operation – If your unit is making loud, unusual noises, it could indicate damaged or misaligned internal components that need to be fixed.
The garbage disposal drain is clogged – A clogged drain may be a sign of a malfunctioning garbage disposal or trapped food waste, requiring professional attention.
The garbage disposal is jammed – Jammed units often result from foreign objects or large food particles getting stuck in the grinding chamber, demanding expert repair service.
Leaking water around the unit – Water leaks can be caused by loose connections, worn gaskets, or even cracks in the unit. Our technicians can easily identify the leak at the root source.
Inability to operate or work effectively – Garbage disposals that struggle to grind food waste could be due to a faulty motor, electrical issues, or worn blades. If your unit has no power, a tripped circuit breaker or malfunctioning unit could be to blame, necessitating replacement options.
Why Choose Mr. Appliance of Wesley Chapel
When it comes to garbage disposal repairs, Pasco County, FL homeowners continue to put their trust in Mr. Appliance of Wesley Chapel for a multitude of standout reasons. Our commitment to excellence and complete customer satisfaction is reflected in many aspects that set us apart, including:
Skilled, Qualified Repair Experts – Our technicians are highly trained and experienced, ensuring your garbage disposal repairs are handled with precision and the utmost care.
Workmanship & Parts Guaranteed – We stand behind our work and provide a comprehensive guarantee on both parts and labor for your peace of mind.
Upfront Pricing & Contactless Payment – No surprises here! We always offer transparent, upfront pricing with no hidden fees or surprise charges.
Courteous, Uniformed Professionals – Our repair specialists convey integrity and professionalism in every phase of our business, providing top-notch service while treating your home and property as our own.
Service on Your Schedule – We understand your time is valuable, so we will always work around your schedule and busy lifestyle with flexible service options.
A Proud Neighborly Company – As part of the Neighborly brand of home maintenance experts, we promise to complete repair service correctly the first time, every time – guaranteed. That's our Neighborly Done Right Promise to all our valued customers.
Wesley Chapel's Go-To Home Appliance Repair Company
Your search for an effective solution to your garbage disposal concerns ends at Mr. Appliance of Wesley Chapel! If your unit continues to complicate your daily routine and stress you out, we're here to provide the appliance repairs you need for a price you can afford.
Don't let a faulty garbage disposal unit give you any more trouble – Mr. Appliance can get your unit back up and running in no time. Contact our friendly repair experts and discover Wesley Chapel's premier source for professional garbage disposal repairs. View our special offers and schedule your service with Mr. Appliance today!