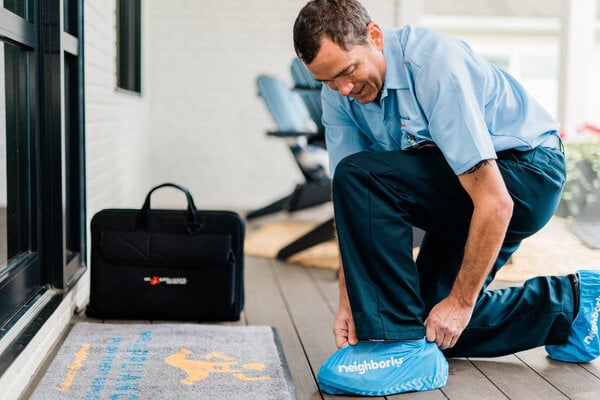 Most homeowners rely on their dryers to heat and dry their clothes easily and quickly. When your dryer isn't working properly, it can throw off your laundry schedule. Mr. Appliance of Wesley Chapel offers professional dryer repair services in Wesley Chapel and Zephyrhills FL. Our appliance professionals understand the frustration of malfunctioning dryers. Whether your dryer won't turn on or won't heat, we will find the problem quickly and repair it. It's important to contact us if you notice your dryer isn't drying your clothing or you have a spike in your energy bill. Reach out to us for an appointment for dryer repair services.
We Repair Gas & Electric Dryer
Our dryer experts are trained to repair electric and gas dryers. We visit your home to inspect the dryer, find the problem, and offer an effective solution. We can even perform vent maintenance services. Dryers work with a tumbler that circulates hot air while evaporating moisture. The hot air is pushed into the venting system to the outdoors. The dry air continues to dry the clothing. The two types of dryers include:
Electric Dryer – An electric dryer is fast and easy to install. It has minimal exhaust requirements because it only uses steam venting.
Gas Dryers – A gas dryer operates on propane or natural gas. They are typically more energy-efficient and require specialized venting.
Most Common Dryer Problems
Whether you have minor dryer issues or major problems, we are here for you. You may notice subtle signs your dryer isn't doing its job before it completely stops working. The following are common signs your dryer is struggling, including:
Dryer will not get hot – If your dryer spins and doesn't produce any heat, you may have a damaged fuse, switch, heating coil, or thermostat.
Dryer won't run – A dryer sometimes won't operate because it has a broken start switch, a damaged terminal block, or a malfunctioning thermostat.
Drum doesn't spin – The motor may run, but the drum won't spin, indicating a damaged belt, motor, roller, or idler pulley.
Dryer gets too hot – Dryers should get hot but can get too hot when they have a malfunctioning thermostat, damaged heating coils, or clogged vents.
Dryer Brands We Service
Our appliance experts know how to repair any brand of dryer. While all dryers do the same job, they are all unique. The most common dryer brands we service include:
Maytag
Samsung
Whirlpool
GE
LG
Kenmore
Installing Dryer Replacement Parts
The team at Mr. Appliance of Wesley Chapel is trained to perform dryer repairs on all makes and models of dryers. We can replace any parts of your dryer to help it work like new. Our appliance experts will install any dryer part, including:
Motors
Belts
Timers
Thermostats
Rollers
Switches
Fuses
Heating coils
Idler pullets
Temperature switches
Schedule Dryer Repair Services Today
Mr. Appliance of Wesley Chapel repairs dryers in Wesley Chapel, Dade City, and Zephyrhills, FL. We provide warranties on our parts and workmanship. We proudly stand by the Neighborly Done Right Promise. Our team provides honest upfront pricing. Contact Mr. Appliance of Wesley Chapel for your dryer repairs today.