We understand how homeowners can feel frustrated after running their dishwashers through a complete cycle and opening the appliance's door to find their dishes are still dirty. Mr. Appliance of Wesley Chapel offers professional dishwasher repair services to Wesley Chapel, Zephyrhills, and Dade City, FL homeowners. You shouldn't deal with washing your dishes by hand and setting them on a rack to dry when you have a dishwasher in your kitchen. Our highly trained professional team can fix nearly all appliance issues, including drain problems, extended wash cycles, and many others. Let us examine your dishwasher, identify its specific problem, and resolve it with quick and efficient repairs. We also perform dishwasher maintenance services to help you get the best performance and longest life out of your appliance. Keep reading about our impressive dishwasher repair solutions, and reach out to us whenever your household unit develops an issue.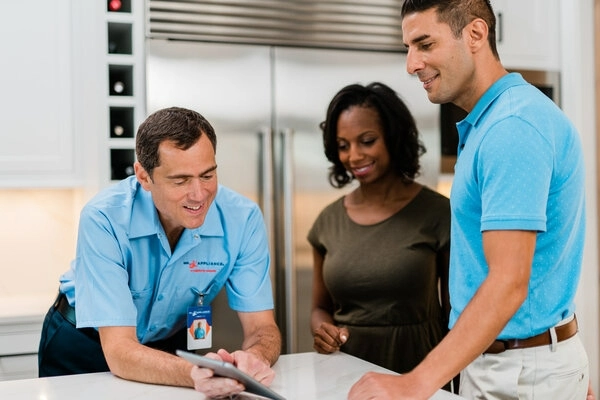 Solutions for Many Common Dishwasher Problems
Your dishwasher washes and dries your cups, bowls, plates, and silverware, but this appliance is fairly complex, with many parts working together and various potential problems. If any of the following common issues affect your dishwasher's performance or leave your dishes dirty, get in touch with Mr. Appliance of Wesley Chapel to schedule repair services as quickly as possible:
Dishes aren't clean – Running your dishwasher and finding your dishes still filthy and covered in food residue is a frustrating scenario. Your dishwasher's issue might be a burned-out heating element, worn wash impeller or pump assembly, or blocked spray armholes.
Cloudy glassware – If your glasses look cloudy after a full cycle finishes, your home might have extremely hard water causing this problem. Ensure you rinse your dishes thoroughly before placing them into your dishwasher and running it. If the problem doesn't go away, buying a water softener may be your best move.
Wash cycles run too long – A dishwasher running longer than it's meant to might have difficulty completing its full cycle due to a malfunctioning timer or defective thermostat.
Dishwasher hums and turns off – A humming sound produced by your dishwasher typically indicates its motor has seized. The only way to fix this problem is to replace the motor.
Water doesn't pump out – If your dishwasher doesn't remove water from the inside as it should, the issue might be with the drain impeller, a worn-out drain solenoid, or a clogged drain line.
Dishwasher does not fill with water – You might attempt to start your dishwasher, and the water doesn't fill it. This issue could be because of a defective or stuck overflow float switch, failed valve, malfunctioning timer, or defective water inlet solenoid.
Dishwasher leaks – Using too much soap or the wrong kind of soap in your dishwasher are two main reasons it may leak. Double-check the dishwasher soap you use and how much is appropriate before contacting us for professional repairs. Other problems leading to a leaky dishwasher include problems with your tub-to-motor gaskets or spray arms, worn door gaskets, or a leaking motor or pump assembly.
Repair Service for All Dishwasher Brands
Mr. Appliance of Wesley Chapel's team proudly services all major dishwasher brands at households in and around Wesley Chapel, FL. We make our residential dishwasher repair service available for a broad range of major brands, including the following:
KitchenAid
Whirlpool
Maytag
Bosch
GE
All the Parts You Need for Your Dishwasher
Dishwashers are complicated and carry out the responsibility of cleaning and drying your dishes and silverware, making domestic life easier and ensuring you have what you need for meals and drinks. Mr. Appliance of Wesley Chapel's appliance dishwasher repair service covers part replacement to change out any worn or broken parts. We encourage you to reach out to us to request an accurate estimate of how much our home dishwasher repair services will cost. Our appliance repair specialists can replace any dishwasher part, including:
Gaskets
Solenoids
Timers
Motors
Valves
Thermostats
Heating Elements
Pump assemblies
Float switches
Wash and drain impellers
Dishwasher Maintenance Advice
You can prevent significant dishwasher problems from developing in the future by performing regular appliance care. Cleaning your dishwasher using vinegar every three to four months can reduce hard water buildup. Pour one cup of vinegar into your dishwasher and then set it to run a normal wash cycle without dishes in it, and your dishwasher will clean itself. The following are some other steps you can take to extend your dishwasher's longevity:
Clean filters regularly and replace them if they show signs of damage
Scrape all residual food off your dishes and into your trash before placing them in your dishwasher
Never overload your dishwasher
Wipe your dishwasher's door seal with white vinegar and a dishrag to clean out food residue accumulating inside it
Schedule Dishwasher Repairs at Your Home Today
We're positive we will impress you with how clean your dishes come out after a full cycle when you contact Mr. Appliance of Wesley Chapel to schedule dishwasher repair services. Our highly trained and friendly appliance repair technicians offer service on your schedule with upfront pricing. We pair our workmanship and parts with warranties and stand behind all our work with the Neighborly Done Right Promise®. Contact us today to discuss your dishwasher issue and schedule service.