Let Mr. Appliance of Vero Beach Fix Your Fridge
Are your refrigerator and freezer not cold enough? Mr. Appliance of Vero Beach can help! Our experienced service technicians are ready to diagnose and repair any issue your fridge may be experiencing. We provide high-quality care for all makes and models so you can feel confident that your refrigerator will be running like new in no time. Learn why your domestic refrigerator is not cold enough and how our experienced repair professionals can help restore its chill in Vero Beach, Fellsmere, or Fort Pierce, FL.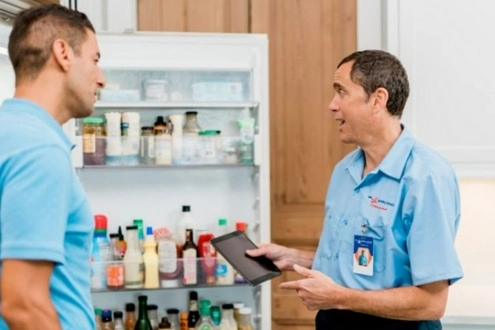 Reasons for a Refrigerator Not Getting Cold Enough
There are a few possible reasons why a refrigerator may not be getting cold enough. One reason could be that the compressor, which pumps colder air into the fridge, is malfunctioning. A second potential cause could be inadequate insulation, causing the cold air to escape and not circulate properly. Clogged condenser coils can also decrease temperature as they prevent the heat from being removed from inside the fridge. Another possible issue could be the thermostat not correctly adjusting itself or being set too low. Finally, refrigerator doors that do not close properly can also lead to insufficient cooling. Whatever the reason that your refrigerator is not cold enough, the expert service professionals at Mr. Appliance of Vero Beach can offer repair services to save your perishables from spoiling.
Our Refrigerator Repair Services
If a refrigerator won't get cold enough, it may require repairs to get it running properly again. The first step to diagnose your refrigerator's problem is to check if the compressor is working correctly. This can be done by listening for any strange noises such as buzzing, clicking, or humming. Also, checking and cleaning the condenser coils is important, as this will help them run more efficiently. Inspecting and improving the insulation around the fridge may also be necessary to improve its efficiency. Finally, it is essential to check the thermostat setting and ensure it has been set correctly or adjusted. The service professionals at Mr. Appliance of Vero Beach can gladly take away the stress of dealing with these issues and repairs. We also frequently offer deals and discounts for many of our most common repairs, so check with a team member to learn about our current specials.
How Long Will a Refrigerator Last?
Refrigerators are typically designed to last between 10 and 15 years. However, the lifespan of a refrigerator can vary significantly depending on its usage, regular maintenance, and environment. For instance, units in rooms that experience more extreme temperatures throughout the year may have shorter lifespans than those in environments with more moderate weather conditions. Other factors, such as dust buildup and electrical issues, can also reduce a refrigerator's expected lifespan. To help maximize the life of your refrigerator, it is important to keep it clean and perform regular checks on its functionality. With the help of service professionals at Mr. Appliance of Vero Beach, your refrigerator can experience a full working lifespan.
Choose Us for Refrigerator Repair Services
At Mr. Appliance of Vero Beach, we strive to meet the needs of our customers. Our experienced technicians have a deep understanding of refrigeration repair and can quickly diagnose any issue with your refrigerator. We use only high-quality parts for all repairs and provide upfront pricing before beginning any job, so you know exactly what you're paying for from the start. Customer satisfaction is our biggest priority, so all of our services are backed by our Done Right Promise and come with a full-year warranty for all parts and workmanship. Additionally, we offer fast response times, so you don't have to wait for your fridge to work again.
Bring the Chill Back to Your Refrigerator
If your refrigerator will not get cold enough, don't wait any longer! The experienced professionals at Mr. Appliance of Vero Beach are here to help. We offer upfront pricing and use only high-quality parts for all repairs, so your fridge will run like new.
Contact us
today to schedule a refrigerator repair service and restore the chill in your refrigerator.