Keep Drinks Cold With Ice Machine Repairs
When an ice machine stops working, it can lead to frustration. But don't worry - the service professionals at Mr. Appliance of Vero Beach are here to help. We provide professional ice machine repair services in Vero Beach, Fellsmere, and Fort Pierce, FL for all residential ice makers, regardless of the make and model. Our experienced technicians can quickly assess and repair any issues your ice machine is experiencing, so you can get back to enjoying cold drinks.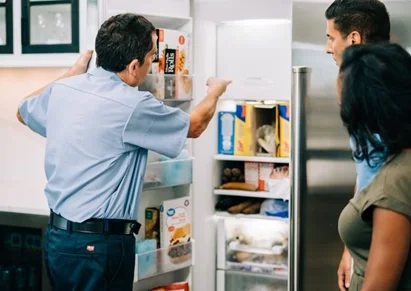 Professional Repairs for All Types of Ice Machines
Our expert team repairs all types of ice machines, including portable ice makers, built-in models, and freestanding units. From a simple ice maker repair to a more complex job, our team can diagnose and fix any issue you are experiencing. Whether the water supply is blocked, or the machine has stopped producing ice, we can identify and fix the problem quickly and efficiently. Our experienced service professionals are highly skilled in all aspects of ice machine repairs, so you can trust them to fix your ice machine correctly. We use only the highest quality parts and materials to ensure your ice machine is as good as new.
Our team will also provide preventative maintenance services, helping you catch any issues before they become more serious problems. Whether it's a leaky valve or a clogged filter, our certified service technicians can help your ice maker run smoothly again. We can service all major brands of ice makers, including Whirlpool, Samsung, Kenmore, Frigidaire, and KitchenAid. We offer competitive prices for our residential ice machine repair services, and we guarantee fast turnaround times for most jobs.
Our Ice Machine Service and Repair
Whether your freezer's ice maker is experiencing issues, or it seems to take a long time to produce ice, Mr. Appliance of Vero Beach can get you answers and solutions. Our service professionals are trained to repair all makes and models of freezers and ice makers and are gas and refrigeration certified. We offer a full range of repair services for your ice machine, including:
Freezer too warm – We'll ensure temperatures stay between zero and five degrees Fahrenheit for optimal performance.
Issues with freezer switch – Our technicians will check if it's defective or accidentally shut off.
Water inlet valve malfunction – If this electromechanical valve is not working properly, we'll replace it.
Low incoming water pressure – If it is lower than 20 PSI, we'll inspect the plumbing and adjust pressure as needed.
Clogged filters – We can clean out any blockages in the filter or replace it if necessary.
Why Choose Mr. Appliance of Vero Beach
At Mr. Appliance of Vero Beach, we understand that an ice machine repair is an inconvenience in your busy life, and we are here to diagnose and address the problem as quickly as possible. We are committed to providing top-notch service and guarantee our work with the Done Right Promise. Our team is available for same-day or next-day appointments, so you can get back to enjoying cold drinks fast. Plus, we never charge extra for overtime and have flexible scheduling options to work around your busy schedule. You'll receive reliable repairs at competitive prices from trusted professionals dedicated to customer satisfaction. If you are worried about ice machine repair costs, we offer special deals and discounts for popular appliance repairs. Be sure to inquire about them to get the best deal possible. Contact us today for all your residential ice machine repair needs.
Get Your Ice Machine Repaired Today
The team at Mr. Appliance of Vero Beach is here to provide fast and reliable ice machine repair services for residential customers in Vero Beach, Fellsmere, and Fort Pierce, FL. No matter what issue you are experiencing with your ice maker, our technicians can diagnose and fix it quickly. Contact our team today to learn more about our services and schedule an appointment.