Let Us Keep Your Perishables Ice Cold
Mr. Appliance of Vero Beach is your local source for residential freezer repair services in Vero Beach, FL. We understand that keeping food fresh and safe requires a functioning freezer, and we will work to restore your appliance quickly and effectively. Our experienced service professionals have seen it all when it comes to freezer malfunctions, from gasket issues to broken compressors, and are ready to diagnose and repair the issue. If you're having trouble with your freezer door not sealing properly, call us today for fast, reliable service. We also offer maintenance services to keep your freezer running efficiently and prevent any future breakdowns. With our comprehensive appliance repair service approach, you can feel confident that your freezer is in good hands. Trust us for freezer repair cost estimates and fridge & freezer repair service in Vero Beach, Fellsmere, and Fort Pierce, FL. We look forward to assisting you in keeping your perishables ice cold.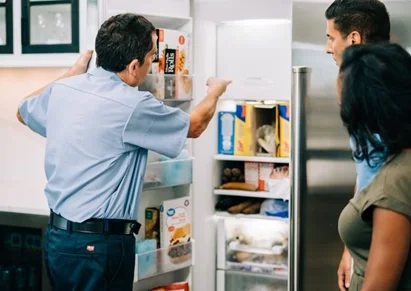 How to Know if Your Freezer Needs Repairs
Signs that your freezer may need to be repaired include loud or unusual noises, uneven temperatures, condensation inside the unit, and frost buildup. If the temperature in your freezer is too warm or cold, this can indicate a problem with the thermostat. Faulty door seals can also cause air leaks and make it difficult to keep the temperature consistent. Additionally, if you notice any frost or ice build up inside of your freezer, this may mean that the defrost timer is not functioning properly and could result in costly repairs if left unchecked. At Mr. Appliance of Vero Beach, we have encountered every possible situation that can affect the function of freezers. Our service professionals can find the problem, offer a solution, and provide home service to repair a freezer quickly, efficiently, and precisely so your perishables can stay chilled and fresh.
Freezer Parts That Can Be Repaired or Replaced
Freezers contain several parts that can be repaired or replaced if they become broken. These include the thermostat, door seals, evaporator fan motor, compressor, air filter, and condenser coils. Some of these repairs may require specialized tools and expertise, so it's best to hire a professional technician for help. It is also important to install quality replacement parts to ensure your freezer runs properly. With regular preventative maintenance and routine inspections, you can make sure that your freezer stays in top shape for years to come. The service professionals at Mr. Appliance of Vero Beach can help you to choose the best quality and most affordable replacement or repair solutions to get your freezer back into peak condition.
Freezer Repair Costs
Mr. Appliance of Vero Beach is committed to offering high-quality service at an affordable price. Our team will provide you with a thorough inspection and accurate, upfront cost estimate before any repairs begin, so there are no surprises. Additionally, our service technicians can often provide cost-effective solutions that minimize the need for expensive parts replacements. We also offer special deals on many of our most popular freezer repair services, so ask our service professionals which discounts are currently available. Our staff is always happy to answer any questions about freezer repair costs and help you find the best possible solution for your situation.
Why Choose Mr. Appliance of Vero Beach
At Mr. Appliance of Vero Beach, we provide industry-leading appliance repair services to keep your freezer running smoothly and efficiently. Our experienced technicians have years of experience in the field and are certified to work on all major brands and models. We take pride in our quick response times and excellent customer service, so you can rest assured that your appliance is in good hands with us. In addition, we use only top-quality parts for repairs, so you won't have to worry about costly breakdowns or repairs down the line. Our team provides cost estimates before any work begins - there are no hidden surprises. Call us today for reliable freezer repairs at an affordable price.
Contact Us Today for Freezer Repair Services
When it comes to freezer repairs and maintenance, trust Mr. Appliance of Vero Beach for reliable service with a smile. With decades of experience in the appliance repair industry, we can get your freezer up and running so you can rest assured that your food and perishables will stay fresh.
Contact us
today for freezer repair services in Vero Beach, Fellsmere, and Fort Pierce, FL.